Every day on the Radio and in the Live Trading Room I tell you that the only secret in trading is that "There is NO Secret". OK.... maybe just 1.

Now don't tell anybody or it won't be a secret. Ok? (lol)

I can sum up #Soybeans in one word - AWESOME!

They pay $50 per penny of movement just like the S&P 500 Emini pays $50 per point. 1 point in the ES has 4 ticks, 1 penny in the Beans has 4 ticks as well.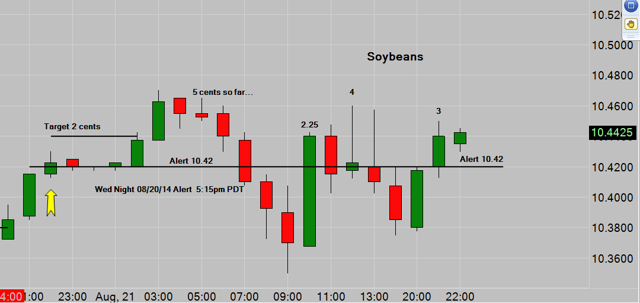 The trading day is shorter, volatility is, well.... AWESOME and if you thought only Farmers could trade grains, you might be missing out on one of the greatest trading opportunities available to the active trader. While they pay the same as the S&P, they are nowhere as tricky. This is a great market for the beginner and the pro.

We Day Trade the Beans every day in our Live Emini Trading Room. We also issue Trading Alerts on our Google Plus Page, Check out our latest blog post and then go check out the recap for August so far on the Beans.

https://plus.google.com/u/1/109532057484296548607/posts/7Dw3pTi4bsc

Once you read that, I'm pretty sure you will want to know how that's possible. Well, my best suggestion is to come take our 5 Day Free Trial in our Live Emini Trading Room. No CC required, no obligation, just a desire to become a better trader.

If you need a second chance, just ask by hitting Reply on this email.

That's all there is to it. See you at the bell!

Blessings
DeWayne
Friday Open House - You Are Invited
Live Trading Room Link:https://www1.gotomeeting.com/register/179895432
Password - ukraine (don't forget the password)
9:30am - 11:30am EDT
Ask questions while we trade Real Money in Real Time!
Trading's Not Easy - But It Can Be Simple!
---
Questions?
Call us toll free @ 866-928-3310 during normal business hours.
After Dark - email support@cfrn.net or call 949-42-EMINI