Everything that we are, that we've accomplished, that we do, strive for, look up to and have worked diligently, tirelessly and even often without pay for, these past "9 plus" years...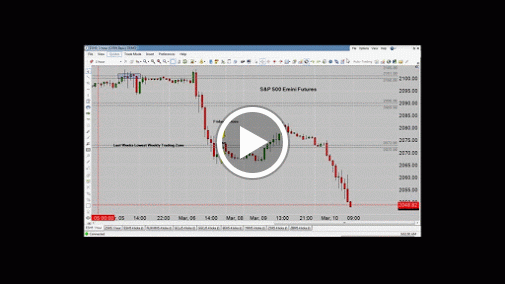 is in this video. How is that possible? (It's a very long video)
No, I was just in one of those moods.... soap box, cry out to the masses, please get out of the 90% line and start building a business. If not with us.... with Someone!
We trade LIVE for 2 hours every day - 9:30-11:30am EDT. Real Money, Real Time, Real People. Anyone can look like a genius with a historic chart, but one thing never lies...
A LIVE Real Time Chart. Now, the guru can dance around the live chart and try to turn spit into shinola, but today's consumer is well educated.
You know when you're being made mock of. Don't you?
Along with trading live for 2 hours, we then do 2 hours of Live Radio. We trained traders for FREE for 4 years until our lives became so overwhelmed we were forced to put a price tag on it. We make no apologies for that. It was quite altogether... or the alternative....
If you drop into the Radio Show you'll find that after the 2 hour show I'm still there burning up a Podcast (as I've done for 9+ years) and Vodcast, teaching and training whomever shows up.
We also offer our Concierge Trade Alert Service - there was a 3+ year Public Beta Test before we released the product. It's about as transparent as it gets. I send our Partners and Clients an Email each night with 8 markets / 2 trades per market / 16 potential trades. The trades are good multiple times around the clock until the new set of Alerts arrive the following night.
Each day on the Radio Show, I meticulously go through each Alert, each trade, bar by bar, to see just what the end results were. As I'm doing the re-cap, those Alerts are still viable. Again, a Live Chart CAN NOT Lie. While I yammer, the audience asks questions.
We've backed ourselves into a corner where we are forced to tell you the truth day in and day out. If we have a rough day, we just show you. Not only do we show you, we video it as it happens and then we video it as we tell you about it.
If you ever want to see s recap video from a specific day or even a Live Trading Room video from a specific day.... just ask.
If you watch the video above, i really think you'll want to take our Trial.
Platform, Data, Indicators, 2 hours of Live Trading - 5 Trading Days in a row, Private mentoring (just ask), and even the trade Alerts if you take the right trial.
If you're new to trading you'll take a look at us and say - 'Fair enough".
If you're a beat up veteran like me, a mediocre trader who walks with a limp, you'll be a little more skeptical. You'll be more concerned with finding the chinks in our armor than actually learning what we have to teach you. I encourage you, please leave the Chip at the door, come with an open mind, if we're not your cup of tea, said Chip will still be waiting. No one will steal it.
A guy wrote me the other day and said "I've been burned more times than...", I extended my apologies for his losses and assured him I had traversed a similar path. He said "I've watched you, clocked you, and I'm quite certain you're the real deal. In fact, I'm so certain that I'm willing to pay you more monthly "pro-rata" than you charge annually or quarterly."
As money hungry as I am, I was forced to turn him down. Both times. Why? It would be unfair to those who came, watched, traded, and then made a commitment of both time and money, to Learn How to Trade". We'll they'll never know. True, but I will.
We are becoming what we sat out to be -
"The Greatest Trading Company In The World". (IN A HUMBLE MODEST WAY) =)
Not the tallest, smartest, richest, heck we don't even smoke cigars or have surgically enhanced wives... we're just Traders with a vision. We promised EACH OTHER after many years of struggling, IF we cracked the code, we would share the wealth.
Come visit tomorrow. http://cfrn.net/apply Get your share...
If you're turned down because you've already had a Trial - http://cfrn.net/second-chance
If you're turned away there, email me - support@cfrn.net .
Make me 1 promise and I'll let you in any way.
The promise is you will meet me tomorrow afternon in a small group meeting with others who are on their second or third trial and with open mic's, we're going to figure out why many of our people stand proudly in the 10% line, and yet so many outside our community remain in the 90% line.
Don't worry, your identity is safe with us. You'll be addressed by your first name only. If you prefer to type than talk on the off chance someone will hear and recognize your voice, fair enough.
From Rockefeller to Trump, they've all written that to create true wealth requires multiple income streams. We're blessed because we have 3 in one.
We trade.
We teach and mentor.
We sell the only computers built in America by hand, designed specifically for Eminis
We also have streams outside of the Trading World. Real Estate by the way has never been better. Rates are low and Janet keeps Yellen she's gonna keep them low. A second wave of foreclosures are about to rock this nation like a Tsunami. Better yet, go buy property in Greece, maybe even a business. If you want to grow your trading business beyond your own trading desk, Greece (if there's any reliable hi-speed internet left) is the perfect spot.
If you need to learn to trade in time to make next month's mortgage, we can't help you. If, on the other hand you have 6 months to a year, to focus and build a business, we may be your guys.
Use the links above and if need be, email me - support@cfrn.net
If you really want to see what we have and what we do, I'll get you in. I am the Founding and Managing Partner so they humor me like that.
Let's do it. Let's see if YOU have the stuff. In 5 trading days, I'll be honest, but gentle.
See you tomorrow.
Blessings
DeWayne
ps/ if the links above turn you away, email me and I'll get you in.
Read about us in Trader Planet.