The E-Mini S&P 500 gave way to the Bulls today! The economic data was mixed perhaps uplifted somewhat on rumors that China's GDP due out Friday may report 9% growth, Euro Zone may find ample funding and/or the poor jobs data may contribute to the Feds rethinking a potential QE3!
Earnings season kicked off to a positive start with Alcoa Inc. coming in first with much better than expected revenues. Trading volume is still light leaving the market open and vulnerable to swings. The US trade deficit decreased 12.4 % to $46 billion in February. US Initial Jobless Claims were up 13,000 to a seasonally adjusted 380,000 new benefits claims filed. Forecasts were for 355,000. This is still below the all-important 400,000 level, but after Friday's US Unemployment report showing only 120,000 new jobs created reflecting some backsliding in the recovery. US Producer Prices were up 0.4%, unchanged from last month. Wholesale prices increased 0.3% excluding the food and energy sectors. Typically, in April the indices hit their highs and venture lower in the following months.
The Euro Zone had some uplifting news in that Mexico, Sweden, Japan, Norway and Poland may have further funds available for the International Monetary Fund! The International Monetary Fund is set up to help stabilize the global community and aid impoverished countries. The bond yields dipped somewhat for Italy and Spain with good demand leaving investors with more confidence in the Euro Zone. Italy still faces a contracting economy and 1.9 trillion euros debt. Italy has a redemption for this month of about $27 billion euros. For the moment, there are no potential defaults on the horizon, but the Euro countries remain vulnerable as they attempt to adhere to budget cuts and tax hikes.
Energy traders are still keen to follow the resumption of talks between Iran and six world leaders beginning tomorrow! OPEC nations and leaders from Iran have expressed in the past a desire to see oil at $100.00! The market has been sensitized to supply fears more than realty with price swings. Japanese shipping insurance firms have only agreed to insure one ship at a time with Iran oil in accord with the sanctions imposed by the US and the EU. The EU will ban insurers of the Euro Zone to ship any Iranian oil past July. Saudi Arabia has been pumping additional oil and is prepared to pump more. Each week the EIA inventories report seems to show an ample oil supply to date. Upon successful talks, the crude oil could have a knee-jerk downslide which may affect some of the other markets. It is a wise trader that knows what is going on to influence his/her trades!
On the stock side: JP Morgan Chase and Co. (JPM) was up 2.18 % to $44.98. Citigroup Inc. (C) was up 3.41 % to $34.73. Bank of America (BAC) was up 3.61 % to $9.18. Alcoa Inc. (AA) was up 2.63 % to $10.16. Boeing Co. (BA) was up 2.27 % to $73.40. Caterpillar Inc. (CAT) was up 4.58 % to $106.41. General Electric Co. (GE) was up 1.26 % to $19.25. Halliburton Co. (HAL) was up 3.30 % to $33.19. Hewlett Packard Co. (HPQ) was up 7.30 % to $25.12. SPDR Select Sector Fund - Financial (XLF) was up 1.61 % to $15.45.
E- Mini S&P 500 Chart.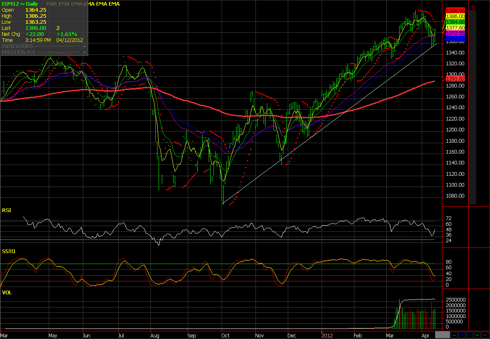 Friday, what to expect! We maintain a bearish bias unless the E-Mini S&P 500 penetrates $1394.50! Today, we anticipate an inside to higher to outside day! Thursday's range was $1386.25 - $1363.25. The market settled at $1386.00. Our comfort zone or point of control for this market is $1374.50. Our anticipated range for Friday's trading is $1394.50 - $1364.50.
Disclosure: I have no positions in any stocks mentioned, and no plans to initiate any positions within the next 72 hours.