REALISTIC EMINI TRADING EXPECTATIONS
I have labored the past few months to create a series of videos which outline what I believe to be realistic potential for those with a desire to daytrade the S&P 500 Emini Futures. Today I have prepared a chart for you which begins with the opening bell. What you will see:
Every trade setup
Every entry both long and short
The entry price as provided by our system "to the tick" (before the trade)
The distance each trade moved (maximum potential)
The trades that got stopped out (we only risk 2 points per trade)
How we turn Maximum Potential into Realistic Net Potential
S&P 500 EMINI FUTURES
Here are the trade setups from Tuesday May 29, 2012.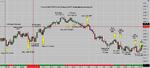 ES 05/29/12 (click to enlarge)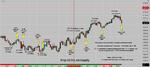 ES 05/29/12 Part 2 (click to enlarge)
Drop by the Live Trading Room and I'll show you these same charts with our indicators applied and answer any questions you have about realistic expectations.
Connect with us:


Please leave a review on iTunes
5 DAY FREE TRIAL
Live Emini Trading Room - Platform / Data / Indicators / Training