I just love the technical set-up on MACK (NASDAQ: MACK).
It's a text-book bull flag pattern, above the moving averages on the Daily chart, but most importantly it has now cleared above the 20MA on the Weekly chart.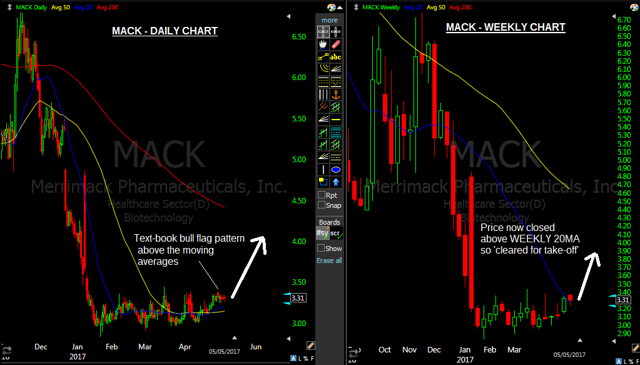 Currently, 33% of the share-float is short, meaning that 33% of the share holders are betting this company will be going down. That is well above average. When they're proved wrong, and the stock begins to rise in value, they will need to cover their shorts to avoid and limit their losses, so they will need to buy the shares en masse, resulting in a short covering rally which will propel the stock higher, sometimes in spectacular fashion (see these examples: SDRL in March '16, CVI in Dec 16, DRYS in Nov 16).
As a potential buyer I'm always on the lookout for these highly shorted stocks opportunities, and with a crisp chart formation, I'm almost ready to enter the trade.
There is one box still unticked on my check list, however.
MACK is announcing earnings Wednesady 10th May, before the opening bell. This is the wildcard which is holding me back. Many a time, I've seen great chart patterns in the run up to earnings, which subsequently failed spectacularly on the earnings announcement.
To enter a trade infront of earnings decreases the chances of success, practically to a 50/50 trade.
That isn't high enough for trading, and simply reduces the trade to a gamble. There is no gambling in trading. We only trade when the odds of success are in our favor.
Once earnings passes, if the chart pattern remains intact, that checklist will be complete and I can enter the trade.
At tradingwithzach, we teach members to trade with a plan and a process. Stick to it, remain faithful to the rules of the game, and it'll pay you...for life.
Disclosure: I/we have no positions in any stocks mentioned, and no plans to initiate any positions within the next 72 hours.