VRX has dropped over 90% in the last 2 years. However, it seems the bottom is in. Since the low of April, VRX has moved markedly higher in a series of bullish formations.
We are now above the WEEKLY 50MA (Yellow line - chart below), and we are making a text book bullish pattern on the DAILY chart with a beautiful arrangement of tightly forming candles.  This means VRX is gathering steam, much like a stiff coil being squashed, imminently to release its energy, ultimately to make a good push higher.
The WEEKLY moving averages (20 & 50 MAs) are now turning higher, indicating that VRX is about to enter a longer term uptrend.
VRX announces earnings on Aug 8th. As a general rule, I stay away from holding into earnings as this increases investment risk, however, members of my site, tradingwithzach.com have already been alerted to enter the trade via options.
Our strategy anticipates a rise in price in the run up to earnings, at which we point close half our position and bank some profits, holding the rest into the earnings announcement, which hopefully propels the stock even higher. If the announcement disappoints, with options our risk is limited to what we have remaining in the trade, but given we would have banked a profit beforehand, we are certainly in the driving seat.
To find out what options we've bought and what are our expected gains, come over to tradingwithzach.com and take the 7 day FREE trial.  See all our past trade alerts, track record and see how we profit by reading the charts.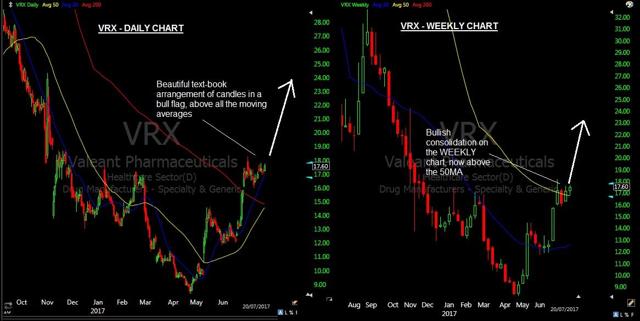 tradingwithzach.com
Disclosure: I am/we are long VRX.