Despite worsening economic and market conditions in the semiconductor and automotive industry, I am optimistic about Cypress' (CY) long term future because of its product strategy and its dynamic management team, which executes Cypress 3.0 strategy relentlessly.
Transforming the Company
During the fiscal year 2016, Cypress launched various long-term strategic initiatives to transform the company towards fast-growing markets such as IoT (internet of things) and the automotive industry.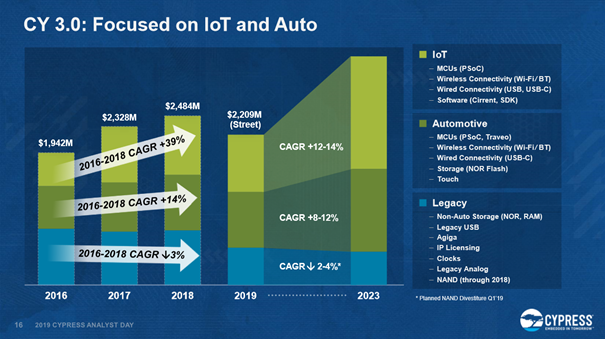 Source:  Cypress Q1'19 Investor Presentation 
However, these strategic changes were already visible in earlier years when Cypress and Spansion were merged.
"This merger represents the combination of two smart, profitable, passionately entrepreneurial companies that are No. 1 in their respective memory markets and have successfully diversified into embedded processing," Cypress former President and CEO T.J. Rodgers said.
Later, in April 2016, Cypress Semiconductor Corp. and Broadcom Limited announced the signing of a definitive agreement under which Cypress would acquire Broadcom's Wireless IoT business and related assets.
"Cypress is a significant player in the IoT today because of our ultra-low-power PSoC programmable system-on-chip technology, but we've only been able to pair it with generic radios so far. Now we have the highly regarded Broadcom IoT business—state-of-the-art Wi-Fi, Bluetooth and Zigbee RF technologies—that will transform us into a force in IoT and provide us with new market opportunities as well," Cypress former President and CEO T.J. Rodgers said.
How well does the management execute its strategy?
Cypress was able to boost its revenue in the last five years and, despite some setbacks in net income, the company is on a growing trajectory. Free cash flow was increased significantly and can be deployed to develop new products or to distribute them to shareholders in the form of dividends or share buyback.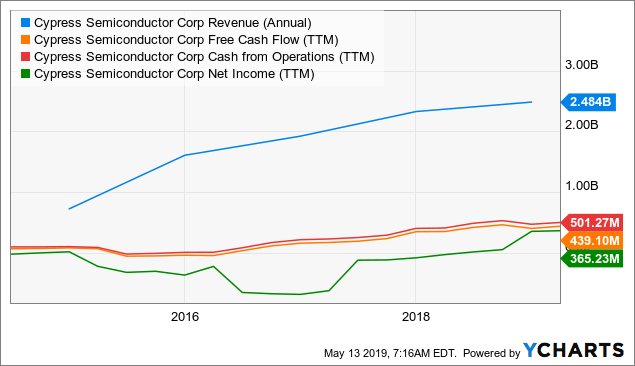 Increasing operation and gross profit margins also underline that the execution of Cypress 3.0 strategy works.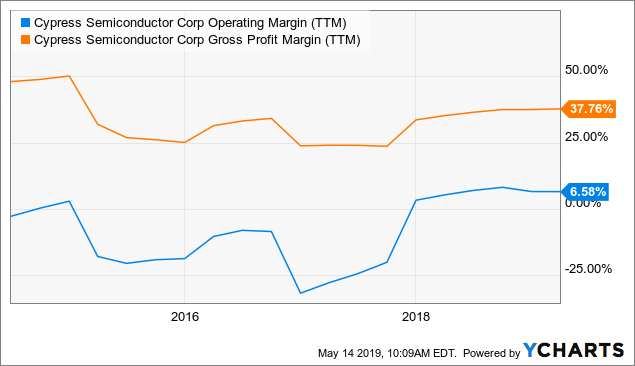 Cypress reported successful 2018 results and raised the targets. In short, it is clear that the new CEO, Hassane El-Khoury, steers the company well to be a significant player in automotive and IoT businesses.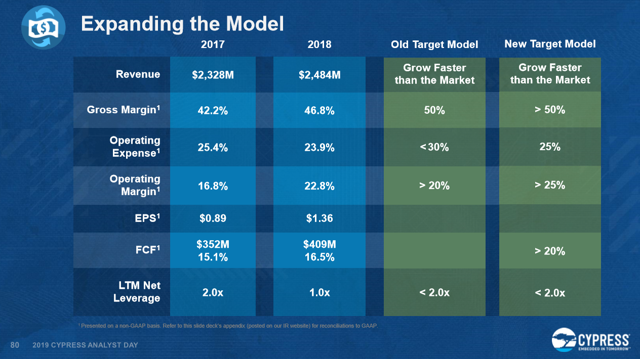 Source: Cypress Q1'19 Investor Presentation
Additionally, Cypress currently pays  $0.11/share dividend quarterly. The company started distributing dividends in 2011 and has not raised the $0.11/share quarterly dividend since 2012. So, here we do not really speak about a company that increases the amount of its dividend payout yearly. But, at least, this is a tech company that is willing to distribute some money to its shareholders in the form of dividends.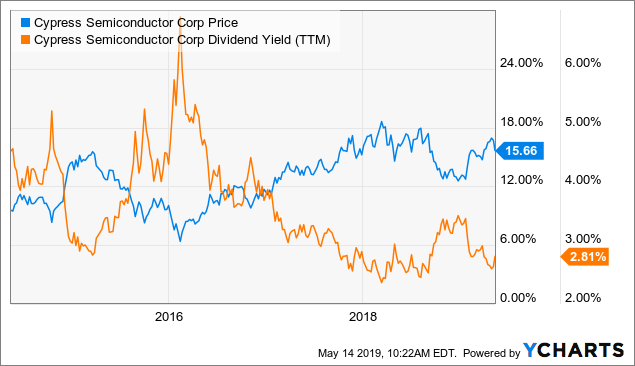 What risks should you take into consideration?
There are several risks factors associated with an investment in a semiconductor company such as Cypress and these risks are clearly stated in the company's annual report (2018 Annual Report). For example, it might happen that Cypress fails to execute its long term strategic goals and eventually cannot enhance its position in fast-growing automotive and IoT segments. I see here only a minor risk because I believe that the management is up to the task and focused on creating a bright future. The major risk here, in my opinion, is the unfavorable economic and market conditions that may in the future adversely affect Cypress' business and financial condition or may contribute to business uncertainties.  
How does Cypress perform compared to other companies in its sector?
Cypress mentions the companies below in its 2018 Annual Report direct competitors to its business.
Adesto (IOTS), Everspin Technologies (MRAM), Fujitsu (OTCPK:FJTSF), GigaDevice Semiconductor, GSI Technology (GSIT), Hynix, Integrated Silicon Solution, Macronix, Marvell (MRVL), MediaTek (OTCPK:MDTKF), Microchip Technology (MCHP), Micron Technology (MU), Nordic Semiconductor (OTCPK:NDCVF), NXP Semiconductors NV (NXPI), Qualcomm (QCOM), Realtek, Renesas (OTCPK:RNECF), Richtek, Semtech (SMTC), Silicon Laboratories (SLAB), ST Microelectronics, Texas Instruments (TXN), Toshiba (OTCPK:TOSBF), VIA Labs, XMC and Winbond.
To minimalize the number of competing companies, I selected based on market capitalization the ten largest companies listed on a stock exchange. With 5.81 billion USD market capitalization Cypress is in the 11th position in the list.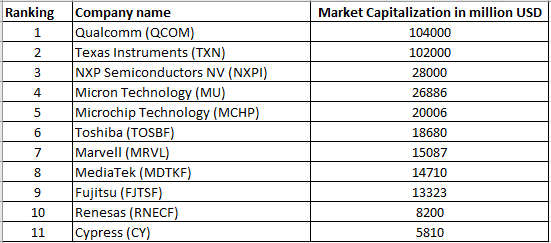 So let's see how Cypress performs compared to its competitors. With no claim of being exhaustive, I selected ROIC, Shareholder Yield, and Free Cash Flow as the basis for the comparison.
Based on ROIC Cypress ranks number five behind Toshiba, Texas Instruments, Micron, and Fujitsu.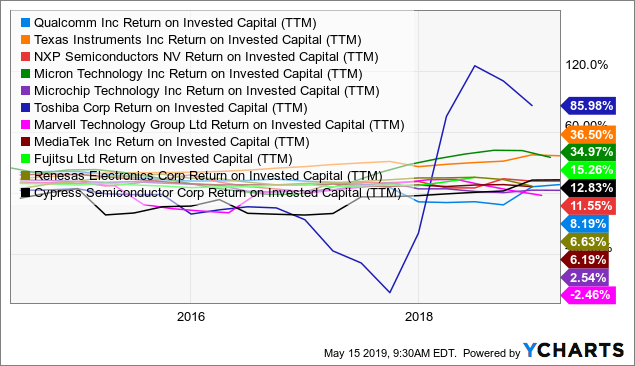 With a 4.03% shareholder yield, which I consider low, the company is also in the fifth position, behind Qualcomm, Toshiba, Texas Instruments, and Micron.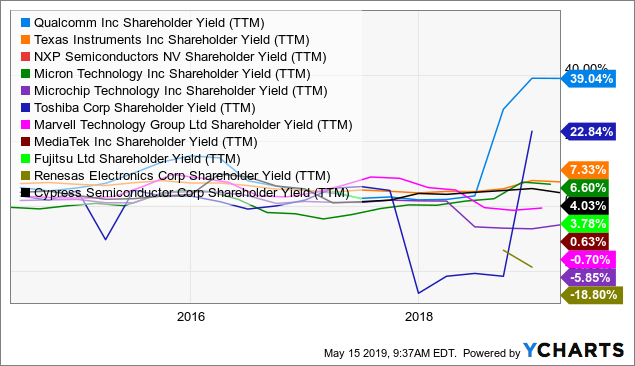 Cypress, with a 7.46% free cash flow yield, is again in the fifth position behind Micron, Toshiba, NXP, and Renesas.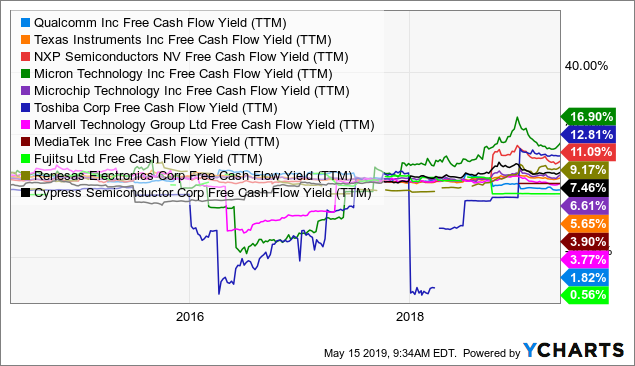 All in all, I am fine with these numbers and Cypress' ranking, however, I am not overly impressed.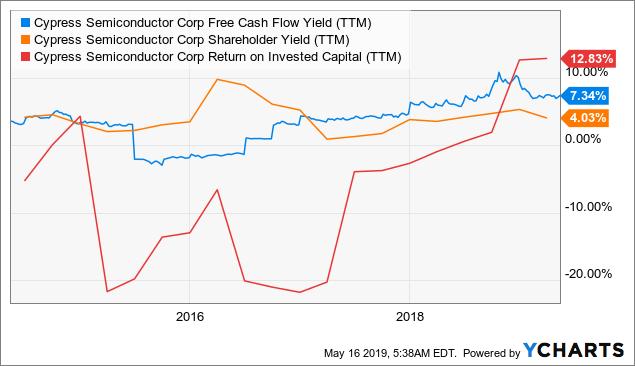 Valuation and Expected profit
I would love to analyze further the valuation of Cypress with the F.A.S.T. Graphs tool, but I am not a subscriber. However, based on analyst estimates, it is not difficult to make a rough prediction. I checked some analyst forecasts about Cypress on Yahoo Finance, which shows 2019's EPS at 1.1 USD and 2020's EPS at 1.21 USD. Unfortunately, I could not find data for later years, therefore, I assume the EPS will grow every year around 10%. This way, the 2021's EPS is calculated to be at 1.331 USD. Calculating with the current P/E, which is around 16, I come to the following prediction:
| | | | |
| --- | --- | --- | --- |
| | EPS | Current P/E | Predicted Price |
| 2019 | 1.1 | 16 | 16.6 |
| 2020 | 1.21 | 16 | 19.36 |
| 2021 | 1.331 | 16 | 21.296 |
This prediction represents around a 28% gain from the current price within two years. As you can see from the chart below, to gain this reasonable profit, the company has to generate more earnings and the P/E valuation metric has to stay at least at the current level.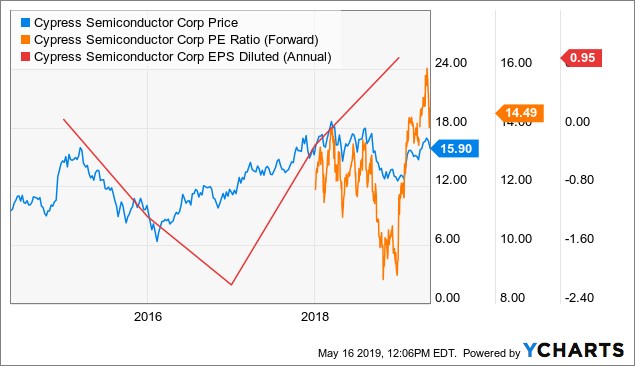 Conclusion
I was a Cypress shareholder until last year when I sold my position with a nice profit to compensate for my major loss in crude oil options trading. Despite being optimistic about Cypress' future prospects and I am confident its management is doing the right thing with its Cypress 3.0 long-term strategy, I will wait before pulling the trigger on this stock. Recently, many car makers and suppliers lowered their guidance. For example, Magna International's share price (MGA) dropped 10% after the company reported lowering future guidance. I believe these negative market conditions in the automotive sector will affect Cypress' share price, ultimately creating a much better entry position. Therefore, I will build up my position gradually, starting with a very small position to track the company and slowly increasing the size in case an opportunity arises.
Unfortunately, shares of Cypress Semiconductor surged on a report that the chipmaker might be a takeover target. I might miss this opportunity but I will initiate my position only if Cypress share price goes below $15. 
Disclosure: I/we have no positions in any stocks mentioned, but may initiate a long position in CY over the next 72 hours.