Coinstar Inc (NASDAQ:CSTR) flashed a confirmatory Buy Signal on Dec 14th 2012 when its 20-day Moving Average closed above its 100-day Moving Average just two weeks following the bullish cross of its 10-day above its 20-day Moving Average. This sets up CSTR to fill the gap up to the $59 level from which it fell on July 27, 2012, representing a quick 12.8% uptrade from Monday's close of $52.28.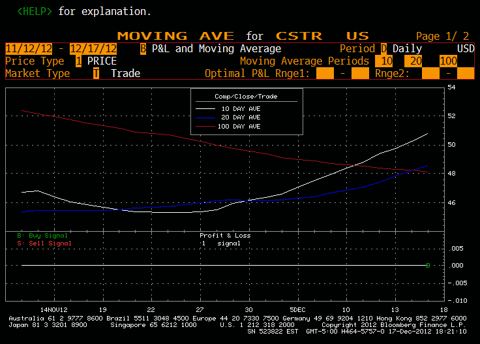 Some traders look at moving average crossovers as a way to time their purchases or stop out of their short positions. A bullish crossover occurs when a faster Moving Average (or a shorter period Moving Average) crosses above a slower Moving Average (or a longer period Moving Average).
The 3 Simple Moving Average method can be interpreted as follows:
1.The first crossover of the shortest MA (in our example, the 10-day MA) above the next longest SMA (20-day SMA) acts as an alert that prices are starting to move higher. This occurred on Nov 29, 2012.
2.The second crossover of the shortest MA (10-day) over the longest MA (100-day) finally triggered the buy signal. This occurred on Dec 11th, 2012.
3. The final crossover occurred on when the 20-day MA crossed the 100-day MA on Dec 14, 2012. This confirms the buy signal and points to a probably uptrend to fill the gap up to $59.
Disclosure: I am long CSTR. I wrote this article myself, and it expresses my own opinions. I am not receiving compensation for it. I have no business relationship with any company whose stock is mentioned in this article.
Additional disclosure: I am long options on CSTR.