Last week
Centerra Gold Inc (TSE:CG)
saw it's share price fall as dramatic events unfolded in Kyrgyzstan.
On Wednesday Centerra's share price dropped 11.4 percent after a popular uprising ousted the president, the BBC reported...
"The violence was the culmination of weeks of discontent over rising prices and allegations of corruption in Kyrgyzstan.
Clashes in the capital, Bishkek, and other towns left at least 78 dead and more than 1,600 injured.
The country is now in the hands of an interim government led by Ms Otunbayevea, the former foreign minister."
Whilst Centerra were quick to issue a response assuring the markets that their flagship mine, Kumtor, is largely unaffected the company's share price was rocked.
BMO Capital Markets followed other analysts and dropped Centerra shares 12-month price target to C$12.50 from C$16.50.
There are two main issues investors will seek assurances for; Firstly is the question of safety and the ability to continue to transport workers from the capital located 430 kilometers away. Secondly the company signed an agreement with the Kyrgyzstan government only last year following suspicions that the mine might be nationalised. Investors will need to know this agreement will be honoured.
Problems of ownership with the Kumtor mine have plagued Centerra in the past. And the issue looked to have been resolve when, last year, Cameco corp (the former parent company of Centerra) reached an agreement with the Kyrgyzstan government which saw the central asian government double its stake in Centerra Gold Inc, to 33 percent.
Centerra Gold Inc are an unhedged, mid-tier, Canadian listed gold producer. They currently operate two mines... Kumtor in the Kyrgyz Republic and Boroo in Mongolia. Kumptor is the flagship, open pit mine and accounts for close to 10 percent of Kyrgyzstan's GDP.
A recent presentation details the company's expansion plans and current assets (click here).
Going forward we'll have to wait and see how events unfold and who takes control of the country. If officials in Kyrgyzstan keep to the agreement then the current depressed price looks good value.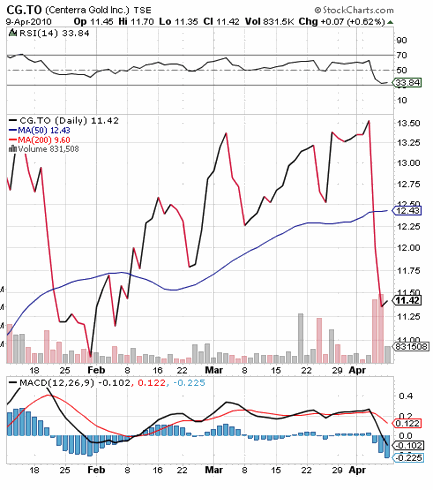 Disclosure:
No positions