Take Advantage Of A Growing Chinese E-Vapor Market With Relx Technologies
Please Note: Blog posts are not selected, edited or screened by Seeking Alpha editors.
Summary
RELX is a market leader with 62.6% market share among e-cigarette manufacturers in China while also ranking 1st in terms of brand awareness with a mindshare of 67.6% among users.
CEO Kate Wang, a Columbia MBA graduate, was the general manager of Uber China and subsequently Chinese rideshare company Didi Chuxing.
RELX opened a bioscience lab in Shenzhen to research the effects of vaping. In 2018 RELX established a chemical and physical laboratory to ensure the reliability and quality of RELX.
RLX is in tune with their customers changing tastes and target nostalgic flavors for Chinese gen X such as mung bean and laobinggun.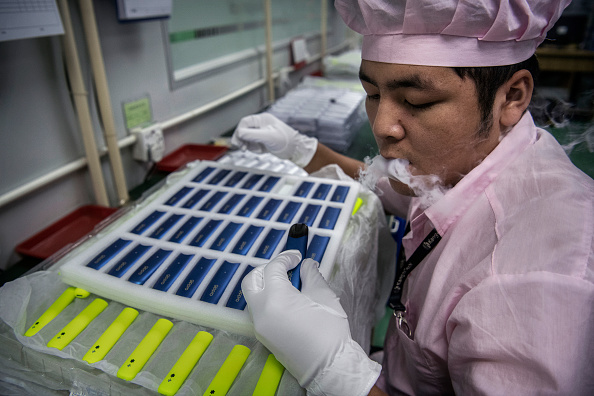 Secular Tailwinds
China Tobacco International, a state monopoly, accounts for 97% of China's cigarette sales and accounts for roughly 5% of Beijing's tax revenues.

As China seeks to decrease cigarette consumption domestically, the government will need additional tax revenue to offset the difference. E-cigarettes have an opportunity to prove themselves as a healthier alternative to adult smokers and gain market share. 1 

China's policy-makers implemented the Healthy China 2030 initiative seeking to decrease the smoking rate (tobacco) from 27.7% in 2015 to 20% by 2030. Based on a 2018 research report on BMJ, a medical journal, there exist three potential implementations to achieve the targeted reduction in smoking.

First method: under the 'business as usual' scenario the rate of smoking falls to around 26.6% in 2030
Second method: non-price tobacco control measures implemented drops rate of smoking to 22% (20.9% - 23.1%)
Third method: excise tax per pack roughly doubled by 2030 to increase real cigarette prices by 50%. Rate of smoking falls to 19.7% (18.2% - 21.3%) 1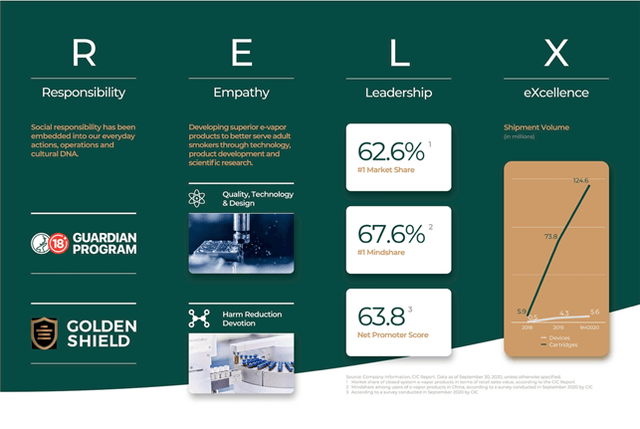 TAM/Opportunity
Global sales of combustible tobacco products amounted to $850.7B in 2019 and is expected to reach $1017.2B by 2023.
The E-vapor market in China is severely underpenetrated at 1.2% in 2019 vs. 32.4% in the US up from 0.4% and 21.2% in 2016 respectively. E-vapor penetration is defined as the number of e-vapor users divided by the number of adult combustible tobacco product users.

Cigarettes represented 94.1% of China's combustible tobacco market in 2019

China's State Council has set a goal of reducing smoking prevalence by 2030. As a result, retail sales volume of China's cigarette market is expected to decrease at a CAGR of 1.2% between 2019 and 2023. Meanwhile, China's harm-reduction alternatives market by retail sales value grew at a CAGR of 36.2% between 2016 and 2019, and is expected to grow at a CAGR of 65.9% between 2019 and 2023.

Relx is seeking to submit its Premarket Tobacco Product Application to the US FDA by the end of 2021. Upon completion of a review process that will take no longer than 180 days, the FDA will take "action," which could be marketing authorization, a request for more information or denial. 3

Donald Graff, formerly Juul Labs principal scientist, is spearheading PMTA for Relx. PMTA is an extensive, meticulous, costly bureaucratic process for vaping products to establish that they are "appropriate for the protection of public health" before being marketed in the U.S.

High costs of PMTA keep small players from entering the US. Relx estimates the entire process will cost more than $20M

The company also plans to soon open flagship stores in Southeast Asia and London.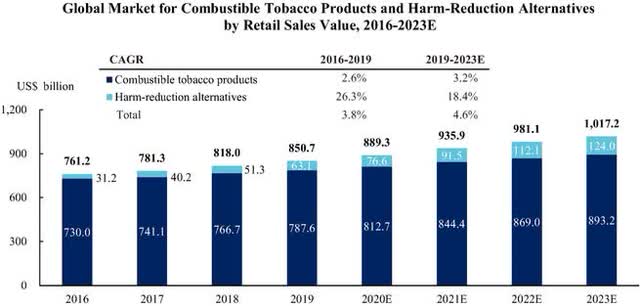 Sales Channels
In 2019, Chinese officials banned online sales of e-vapor devices citing health concerns for minors. As such, Relx pioneered an integrated offline distribution and "branded store plus" retail model which includes mall kiosks as well as storefronts in tier one Chinese cities. As of September 2020, Relx is currently partnered with 110 authorized distributors to supply products to over 5,000 Relx branded partner stores and over 100,000 other retail outlets nationwide, covering over 250 cities in China.
As of December 2019, one month following the online sales ban, 26.1% of sales came from third-party e-commerce platforms and 73.5% from offline distributors. Now, 98.2% of sales come from offline distributors as of September 2020. Relx's large network of distributors has also created a vibrant grey market for third-party sellers through platforms such as Wechat.4  According to a Xinhua article on the national vape sales ban, users on QQ, Wechat, Microblog, and other social platforms have found ways to bypass the 'e-cigarette' keyword ban with keywords such as 'RELX' or 'FLOW' (another Chinese disposable vaporizer). Data released by the tobacco control office of the China CDC states that 45.4% of access to e-cigarettes still originates from the internet.
Based on this information I believe it is likely that a significant portion of Relx sales continue to originate online. In addition, having visited both Relx's branded partner store and authorized retail outlet, the contribution of retail outlets to sales is questionable. The Relx branded partner store is located in central Shanghai with high foot traffic. The flagship store held displays of new products, flavors, as well as device engraving services and other customer experiences. Meanwhile the authorized retail outlet was located in an office building (with no connection to Relx) with such little branding it was almost impossible to find. Products were sitting on a plastic table in the middle of the office with one sales representative typing away at the computer. No other customers were present at the time, and I find it difficult to believe retail outlets in outer cities fare better than in Shanghai.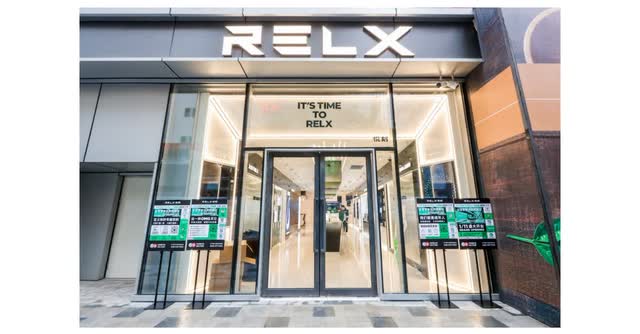 Regulation
China Tobacco dominates the nation's tobacco supply from manufacturing to retailing. The same entity controls regulation under a different name – the State Tobacco Monopoly Administration.
In May 2017, the regulator claimed jurisdiction over heat-not-burn smoking devices - an alternative type of e-cigarette that creates a vapor from raw tobacco leaves. The decision effectively barred Phillip Morris International Inc from Chinese sales of its IQOS device, a heat-not-burn e-cigarette popular in Japan.
Lack of clarity from Chinese regulators regarding their position on e-vapor devices present risks to Relx on two fronts.
Potential for China Tobacco to introduce their own electronic smoking devices to offset loss of traditional tobacco sales.
Potential for the State Tobacco Monopoly Administration to increase regulation on use or sales of electronic smoking devices.
Risk of Fraud
Following the delisting of fraudulent Luckin Coffee in 2020, American investors have reason to be cautious of Chinese consumer companies with unbelievable sales growth. Luckin Coffee claimed their COO orchestrated the fraud by inflating sales with vouchers for cups of coffee which were never redeemed. The company also inflated expenses proportionately to avoid any suspicions. Thus despite their immense sales growth, the company was never able to reach profitability. In hindsight, the company's inability to generate positive cash flow despite their triple digit sales growth should have flashed warning signs. An examination of Luckin's financials show growing expenses and operating liabilities driving further negative cash flows.

On the other hand, the astronomical growth of Relx's top-line (92.7%) from Oct 19 – Oct 20 was accompanied by 1650% growth in net income from 3.6M RMB to 63M RMB. Relx's strong gross margins and operating cost control has allowed the company to reach operating profitability less than two years after inception (2018). In addition, Relx's cash balances have increased from $20M in 2019 to $40M in 2020 suggesting strong excess cash flow with minimal capital spending as capex accounted for only 0.5% of revenue in 2020. The company believes that future capital expenditures can be funded through existing cash and cash generated from operations.

Valuation/Projection
At an EV of $30B, Relx trades at 19x EV/Sales '21E and 52x EV/Gross '21E. With more than 800% sales growth in 2019 and 81% sales growth in 2020, RLX doesn't command the same premium multiple as other hypergrowth companies likely due to possible regulatory overhang.
RLX has operating margins of 28.1% and net margins of 23%. Strong operating leverage has translated into a 313% increase in cash flow from operations for 9M ending September 2020 versus the 9M period ending September 2019.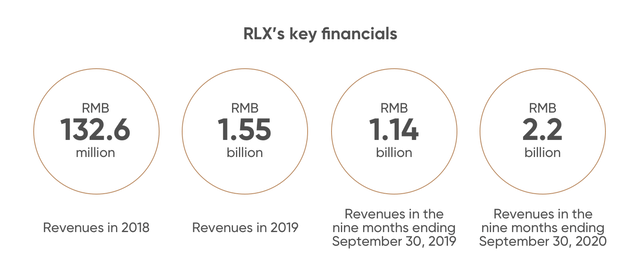 Using a top-down valuation approach starting with the global tobacco market, I believe there is an opportunity for Relx to exceed $4B in annual revenue by 2023 and $9B by 2025 up from $640M in 2020. The following assumptions were used in this sales projection:
Global tobacco market grows at 4.57% CAGR from 2020 – 2025
China tobacco maintains their current 44% share of global market
China e-vapor penetration grows from 1.2% in 2019 to 15.6% in 2025 (58% CAGR)
Closed-system devices maintain their current 31% share of Chinese e-vapor products
Relx maintains 45% market share of closed-system devices from 2022 – 2025 down from 62.6% currently due to increased competition
At an EV of $30B, Relx currently trades at 6.2x EV/Sales '23E and 16.7x EV/Gross '23E. Based on 2025 projections, Relx trades at 2.8x EV/Sales '25E and 7.4x EV/Gross '25E. Assuming a base case where Relx follows the growth trend of China's e-vapor market, the stock trades at an attractive multiple comparatively to today's price.
Using Juul's EV/Sales multiple of 12.8x for the Altria investment in 2018, we arrive at a price target of $40 as of '23E and $90 as of '25E. Relx is shaping up to be the growth story Juul had hoped for prior to the ban of flavored nicotine pods in some US states. There's also plenty of upside to the aforementioned price targets thanks to Relx's optionality in international expansion which they've already begun to pursue.
Conclusion
With China's Healthy China 2030 initiative likely to decrease domestic cigarette consumption through increased regulation and taxation, a unique opportunity exists for healthier smoking alternatives such as e-cigarettes to take market share. The culture for youth smoking has been heavily ingrained in Chinese culture and surveys suggest lack of intent to quit. Under penetration of China's e-cigarette market over the past few years has created opportunities for high growth from players in the industry. The e-vapor market in China is expected to grow from $1.5B in 2019 to $11.3B in 2023 representing a CAGR of 65.9%. As the market leader with 62.6% market share, Relx is likely to outpace industry growth projections. Relx also has embedded optionality from international expansion as it seeks FDA approval in the US and enters the EU. FDA approval of its Premarket Tobacco Product Application would create significant upside to current sales estimates which include only domestic China sales. Relx is also a leading innovator in the e-vapor market with new product releases seeking to amend inefficiencies with prior generation products. At the current share price of $20, Relx presents an attractive buy-and-hold opportunity for investors seeking exposure to the rapidly growing Chinese e-cigarette market.
Resources
1 Tobacco control and Healthy China 2030
2 China's tobacco monopoly means big risks for e-cigarette startups
3 China's vaping giant Relx gears up for US entry
4 RELX was criticized by Xinhua News Agency for online Wechat sales * VAPE HK
Analyst's Disclosure: I am/we are long RLX.
Seeking Alpha's Disclosure: Past performance is no guarantee of future results. No recommendation or advice is being given as to whether any investment is suitable for a particular investor. Any views or opinions expressed above may not reflect those of Seeking Alpha as a whole. Seeking Alpha is not a licensed securities dealer, broker or US investment adviser or investment bank. Our analysts are third party authors that include both professional investors and individual investors who may not be licensed or certified by any institute or regulatory body.