Over the past few months and years, market data value for the financial feed and stock feed has been increasing steadily for the live feed. The 20 minutes delayed feed is free of cost.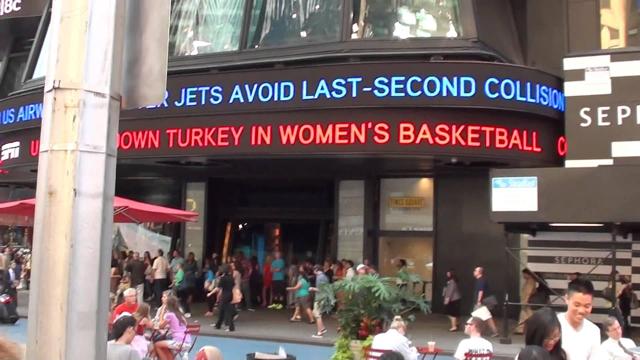 Where does all the data come from?
Streaming and scrolling live data such as stock feeds, equities, financial feed, sports scores, sports news, rss news, twitter feed is the best way to engage customers and get them hooked to your LED Ticker. General LED Signage have just the ability to scroll custom messages and text in a repetitive fashion and are not "tickers". Financial led stock ticker tapes are accustomed to scroll and show smooth content of feed. Stock Tickers for university are also now becoming more prevalent due to the growing business of ticker tapes.
What does a LED Sports Ticker Do?
An ESPN or NBL sports ticker tape is the best way to create a sports atmosphere anywhere. The flexible cabinet design lets you accustom your led sports ticker anywhere in your mancaves, sports bars and restaurants, casinos etc. Your customers and clients while having some beer can enjoy the latest sports scores and rss news while watching their likable games. People can stay abreast with latest scores, odds, schedules, timings, injuries etc.
The same information or the RSS can be viewed on the TV but is not accessible as it's very small and the viewers have to focus extremely tight in order to view. Hence, in order to cut off that, we introduced LED Sports Ticker Tapes for our customers so that they can enjoy their favourite games to the fullest. Madness LED Sports tickers are the best time to purchase since we give good discounts in the month of March.
While travelling through airports, one can see a monochrome led sports ticker at a bar at Chicago. It's an outdated LED Sports Ticker running monochrome text which does not at all attract the eyes of the viewer. The corners of the ticker tape are not at all curvy and they leave a gap which looks abrupt and not soothing to the eyes of the viewer. Digital Led Stock Ticker displays are an one time investment to create an enthralling atmosphere. With Pebblecold's ticker displays, one can specifically wrap up the corners with ease and can extend their led tickers to any length they need to.
Full Color Stock Tickers are a treat to watch with vibrant colors spanning all the corners of a room. Having 16.7 million color shades, RGB LED Tickers are the ones most sought after.
How much a College should invest on a Finance and Trading Lab? These are the questions that pop up in mind of the management when deciding whether to build a lab or not. Most of the university business schools are being said that they have spend an unncessary amount of money on the labs. The state-of-the-arts finance and trading labs firstly attracts hundreds of viewers and then become neglected since universities and schools could not cope up with the increasing costs of these labs maintaining them. We are the best LED Ticker manufacturer in California and Massachusetts.
Disclosure: I/we have no positions in any stocks mentioned, and no plans to initiate any positions within the next 72 hours.