Janet Yellen
This week marked the last week of Janet Yellens' term as Chair of the Federal Reserve which started in February of 2014. A term that managed to avoid any major crises, as well as a term marked with both historically low Feds Fund Rates and unemployment levels.
During her time as Chair, Yellen hesitated to note anything as "bubbles", skillfully tip-toeing around the word, as seen in the following quotes;
"Rates of return in the stock market relative to - remember that the level of interest rates is low and taking that into account. I believe it's fair to say that they remain within normal ranges." - December 2016
"But economists are not great at knowing what appropriate valuations are. We don't have a terrific record. And the fact that those valuations are high doesn't mean that they're necessarily overvalued." - December 2017
"I don't want to label what we're seeing as a bubble, but I would say that assets valuations generally are elevated," Yellen said, advising investors to "be careful to diversify in their investments." - February 2018

The above statements are a clear indication that Yellen is becoming increasingly worried about equity valuations and this is seen through her tone change from "within normal ranges" to "elevated" when describing equities. We also need to consider that she was the Chair of the Federal Reserve when these comments were made. Meaning, she is likely going out of her way not to spook the markets or cause any shocks.
Overall, it's likely that we can place Yellen in the camp of at least being concerned about the current valuations of equity markets, anything more than that would be an assumption (albeit rational and justified).
Alan Greenspan
As well-known, Greenspan was the Chair of the Federal Reserve from September 1987 to January 2006. Known as the "Rock-Star" of Wall Street, he was known for his easy-money policies which are attributed to causing both the Dotcom Bubble and the Subprime Mortgage Crisis.
Irrespective of your opinion of him, Greenspan is clearly well-versed with economics, and his thoughts on the current state of the economy should be greatly respected.
His recent comments in January 2018 paint a gloomier and perhaps more honest opinion about both the equity and bond markets, compared to Janet Yellen's;
"There are two bubbles: We have a stock market bubble, and we have a bond market bubble"
"At the end of the day, the bond market bubble will eventually be the critical issue, but for the short term it's not too bad"
"But we're working, obviously, toward a major increase in long-term interest rates, and that has a very important impact, as you know, on the whole structure of the economy"
"What's behind the bubble? Well the fact, that, essentially, we're beginning to run an ever-larger government deficit"
In addition to the above, he added "debt has been rising very significantly" in relation to GDP.
Although he placed much more emphasis on his opinion of the bond market, it should be noted that the bond and equity markets are very much intertwined. This was perfectly illustrated in the past week as we had one of the worst days for equity markets since 2016. Why? Bond yields continued to breakout, following a move that started in September 2017.
Greenspan sees this as important to not only the equity markets, but the economy as a whole. Mostly because of, as he noted, the increasing amount of government debt outstanding (currently approximately 20 trillion USD), with specific emphasis on Debt-to-GDP (which grew from 62% in 2008 to 104% in 2017).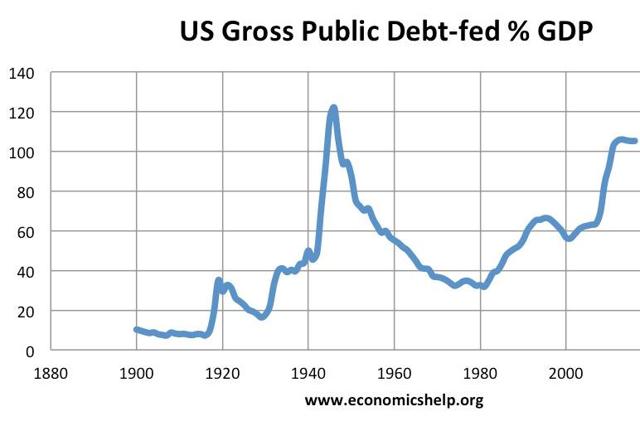 So are there currently any asset bubbles?
To answer this question we will analyse both the bond and equity markets.
Bond Market
The bond market has seen a multiple decade long bull market, and is likely in a bubble setting. The main reason behind this is the vast amount of Treasuries that were purchased by the Federal Reserve during their 3 Quantitative Easing (QE) programs which ballooned its balance sheet as illustrated below.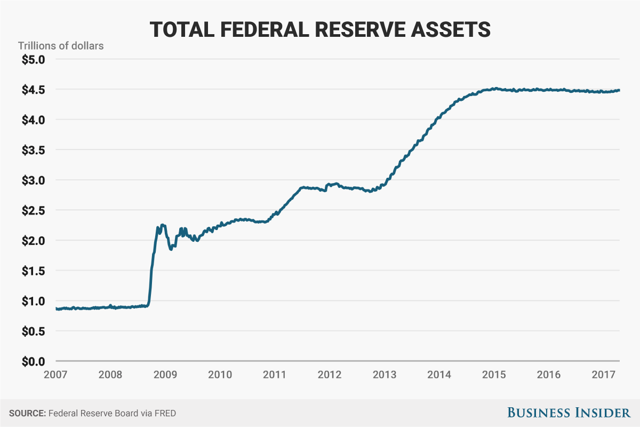 Essentially, the Federal Reserve significantly increased the money supply via QE by purchasing Treasuries, which pushed yields to historically low levels (10Y Yield at 1.49% in 2012 and then again in 2014).
The second reason behind the bubble is historically low interest rates (which controls short term yields). The Federal Funds Rate was lowered to <1% in 2008, where it stayed until 2017. This is the longest period of the Federal Funds rate being <1% in the history of the Federal Reserve setting rates (starting from 1954).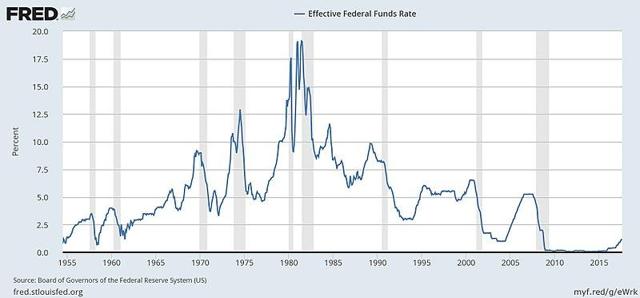 It was likely a combination of low interest rates and a significant increase in the money supply that has caused the profound bond market bubble and as will be noted below, they are also the reasons for the equity market bubble.
Equity Market
Our analysis of the equity market will begin with the P/E Ratios of the S&P 500 just before prior bear markets. The chart below does a good job of illustrating the P/E Ratios as well as the 10Y Yields at these points.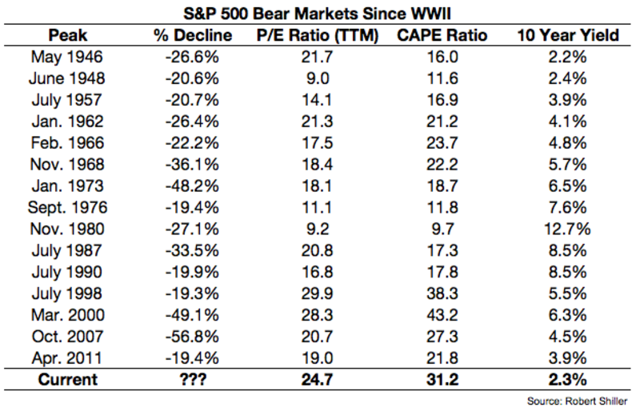 The "current" portion of this graph refers to October 2017. The updated numbers are a P/E Ratio of 25 and a 10Y Yield of 2.84% for 2018. When we compare these levels to the averages of a 18.4 P/E Ratio and 5.8% 10Y Yield, we see that currently the S&P's P/E Ratio is 36% higher than average, while the 10Y Yield is 51% lower than the average.
So what do these comparisons mean? Essentially, the market is elevated (compared to historic comparisons) due to a low 10Y Yield, which has been impacted by the Federal Reserve keeping their Fed Funds Rate historically low.
Another reason to view the current equity market condition as a bubble, is due to the significant amount of stock buybacks that have been performed since the Great Recession. (see below)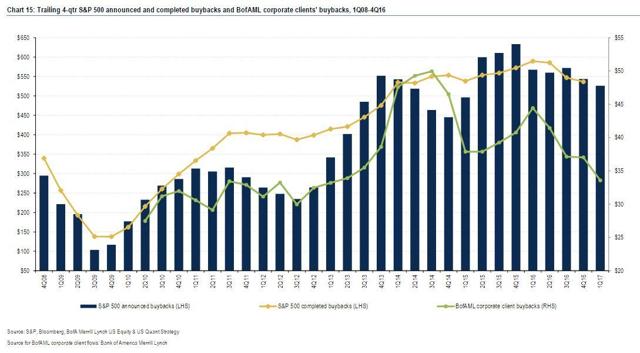 These significant buybacks have contributed to the distortion of equity prices during the past handful of years. It is even noted that with the upcoming capital saved from the Trump Tax Plan, companies will further their stock buybacks, rather than performing capital expenditures (this trend started post Great Recession).
How do historically low interest rates play into this? Well as illustrated below, this "cheap money" caused by low rates is being used towards these stock buybacks. Essentially, companies are taking on debt not for capital expenditures, but for share buybacks.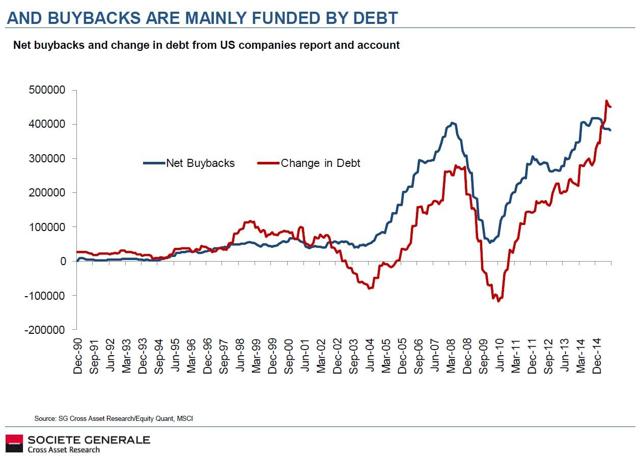 So to recap, we have a bond market that was propped up by the Federal Reserve via 3 different rounds of QE, we have an equity market that is at a critical P/E Ratio level as well as being supported by extensive share buybacks, and the highest GDP to Debt percentage since the 1940's. This is all while the Federal Reserve is talking about balance sheet normalization, and has a hawkish stance on interest rates (with 3 expected during 2018).
The two very important questions I have to ask are;
do we have to accept that increasingly low interest rates are the new norm, and not the exception?
and, if QE and low interest rates were so beneficial for both the economy and equity markets, why is it also being said that rising interest rates and an unwinding of QE are going to be positive for the economy and equity markets as well?
Only time will have the answers to these questions.
Disclosure: I/we have no positions in any stocks mentioned, and no plans to initiate any positions within the next 72 hours.