Momo Inc. (NASDAQ: MOMO)

05/22/2017 Focused Stock Trader Team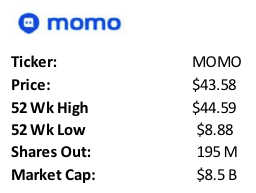 Company Overview:
Momo is one of China's leading social apps. Momo is a location-based mobile social networking and entertainment platform launched in August 2011. Momo enables users to connect with each other in a personal and lively way through short-form videos and live streaming. Users can check out people nearby and discover nearby groups, message boards as well as events. Momo was founded by Mr. Yan Tang. All co-founders and senior team members are alumni of China's top internet companies such as NetEase, Phoenix New Media, and Sina.
Investment Conclusion:
We believe Momo is well positioned to take market share in China's live video broadcasting space as the market enters a consolidation stage. As the company re-focuses on user expansion in 2017, potential upside in user growth should address market concern surrounding the company's longer-term sustainability.
We are especially bullish on the growth outlook for the company's live video service in 2017 due to (NYSE:I) the potential expansion in active users through re-activating dormant users out of the 300 million registered user base where just 81 million are monthly active users currently; (ii) increasing conversion from platform user to live video users, and (NASDAQ:III) marketing efforts to improve brand awareness and drive user spending.
Consensus calls for sales growth from $550 million last year to over $1.1 billion in 2017 and upwards of $2.0 billion by 2020. The robust top line growth underpins consensus EPS of $1.33 this year expanding to $3.00 in 2020. Based on the financial outlook, we believe shares can appreciate 75-100% over the next several years. The company reports first quarter 2017 earnings this Tuesday 5/23. Consensus is looking for sales of $244 million and EPS of $0.31.
Investment Highlights
Overview:
Momo is one of China's leading social apps. The company is exploring new venues, such as live broadcasting and short video initiatives, to increase user interaction and stickiness. Momo's live broadcasting initiative has received significant success largely by leveraging its existing user base and platform positioning. Momo's total active user base, however, is seeing much milder growth than its live broadcasting category. We expect live broadcasting paying conversion ratio to continue to rise, driven by elements such as improvements in streaming quality and algorithm optimization. Momo's large user base, continuing improvement in its algorithm and steady augmentation in bandwidth should help convert more existing users to live broadcasting. Momo's short video and other new functions should also continue to improve the platform sociality. Platform active users should grow steadily. A current low advertising load rate suggests substantial advertising revenue growth potential. That was a lot of jargon. The bottom line is we see massive growth ahead in #1 users and #2 advertising revenue.
Adding new features to drive interaction:
The Moment function was launched in version 7.0. Users are available to post short video of less than 10 seconds with descriptions and stickers. The videos appear no more than 24 hours. Friends can send virtual gifts or write comments about the moment posts. We regard Moment function as an important gateway to increase user activity. We expect to see most monetization potential occurring through virtual gifts. Apart from its interaction, we view the Moment function as the first step in a broader short video movement which could emerge as the next battle field. Short videos are widely used across many social media platforms, including WeChat, Weibo, Facebook, Instagram and Snapchat. Videos on Snapchat are as many as 6 billion times per day. Platforms have indeed revealed stronger demand for information and socialization through a video format compared to text and pictures. Toutiao claims to host 1bn daily video views, and as such has become an important content carrier. Toutiao announced RMB1bn subsidies to short video originators in early October. We regard this as the biggest investment in short video content in recent years. Similarly, Sina recently announced an $100 million investment in mobile video.
Streaming video advertising:
Momo recently launched video streaming ads on its the Nearby Moment and Friends Moment tabs. The ads generally show as mobile landing pages, and are commonly app downloads. Advertisers are able to customize the length of the video ads, target advertising based on location, interest tags, behavior data and other user properties. Bai Wei Beer, for instance, ran the first video ad on Friends Moment. The newly-launched video ad has already attracted industry leaders, including Ctrip, Toutiao, and Meizu. An earlier test of Momo video streaming ads revealed that the click through rate was twice as high as text and picture-based ads. Given China's high smart phone and 4G network penetration, video consumption continues to grow. According to Beijing Shang Bao, some 69% of internet data consumption will come from video in 2017. Video streaming indeed has become an increasingly important portion of marketing. Social platforms meanwhile are regarded as the most important media on which to run video ads. Mobile penetration in the online video ads market reached 53.4% in 2Q16 according to iResearch. We are seeing Weibo and Facebook, for instance, are adding more short videos than ever before. Some 25% of Facebook feed ads are video. We expect these new elements to enable a 32% FY17-19 CAGR in mobile marketing revenue.
Balancing top hosts with "long tail" hosts:
Momo cut its revenue sharing ratio to hosts from 50% to 40% in May 2016, and saw tens of top hosts switch to other platforms. We believe the cut in revenue share related to Momo's emphasis on user interaction and engagement between users. Momo seems interested in shifting its reliance away from top hosts. We believe Momo is moving in the right direction. There were roughly 444,000 hosts on Momo in September, within which 4,000 were "top hosts". These top hosts look to broadcasting for their basic livelihood. These individuals contribute to 40-50% of live broadcasting revenue. We view these 4,000 professional hosts as a largely stable group of
performers. Momo meanwhile has another 400,000. This group contributes to only 10% of platform revenue. These lower echelons are growing faster than the top ones as a result of increasing conversion.
Initial success in live broadcasting:
Momo, as one of China's leading mobile social platforms, has positioned itself as a location and interest based platform, which is particularly suited to connecting strangers. Its live broadcasting function, launched 8 months ago, has helped it regain users after the platform had gone through a somewhat painful clean-up process in 2015. Live broadcasting, with a straightforward item-based business model, quickly became Momo's major revenue driver, and surged to >70% of revenue just recently in 3Q16.
Regaining user growth momentum but at a moderating pace:
Momo has seen a clear recovery in MAU and user time spent year-to-date, driven by the live broadcasting function rolled out early this year. MAU has been gradually climbing (by 3.5-3.6% sequentially) in the past several quarters. We believe live broadcasting along with other user engagement features, such as Moment (launched in August 2016), will continue to drive a platform MAU recovery, but at a more moderate pace. We expect total MAU to growth massively.
Looking for healthy user penetration:
Following Momo's gradual growth in MAU, we expect greater upside room from its live broadcasting conversion. Live broadcasting user penetration increased to 20% in 3Q16 from 13% in 2Q16. With users of the Momo platform being more open and more willing to reach out to strangers than other social networks, live broadcasting serves as an effective means to entertaining and socializing apart from the chat room. We would expect significant portion of Momo's active users to be potential live broadcasting users. We expect live broadcasting penetration to continue to grow.
ARPU to be diluted by new users:
Similar to all other emerging live broadcasting platforms, Momo monetizes on the virtual gifts that viewers send to hosts. We regard Momo's virtual item design as being quite basic in comparing them to YY's sophisticated privilege packages and rankings. We, however, expect a focus on monetization will come much later. In the early stages, user growth and the conversion ratio should be the main drivers for the live broadcasting business. As more new users watch live broadcasting, blended ARPU will likely fall. We expect ARPU to trend down a bit for the next few quarters and stabilize from 2H18 when paying user growth tapers. It's just mechanics and not of concern.
More than virtual gifts: integrating native ads into live broadcasting:
Although most of the current live broadcasting platforms are monetizing from virtual gifts, we see great potential as players integrate advertising into the current model. Many platforms such as Taobao, Weibo, and Inke are actively looking for new monetization opportunities. Borrowing from the Korean precedent, AfreecaTV initially monetized live broadcasting purely on virtual balloons, and then extended its business model to advertising embedded in live video. Performers, under such a model, act as spokespersons for certain brands. AfreecaTV basically takes a share from the spokesperson's fee.
Financial Outlook:
Disclosure: I am/we are long MOMO.