POWERING UP A LA-Z-BOY
By the Financial Foghorn
"Rise early; work hard; strike oil."  John Paul Getty
Perhaps you saw this recent news story:  Man Pleads To La-Z-Boy DWI
"October 21, 2009:  Dennis Anderson, 62, has pled guilty to driving a motorized La-Z-Boy chair under the influence.  Mr. Anderson's chair vehicle is powered by a Briggs & Stratton lawnmower engine, and has  a built-in cup holder, and headlights.  It also displayed two National Hot Rod Association (NHRA) decals. According to a Proctor, Minnesota Police report, Mr. Anderson blew a .29 blood alcohol level, more than three times the legal limit.  But they probably wouldn't have stopped him just for driving an illegal banquette.  No, the Police were able to apprehend Dennis because he was found  unconscious in his chair loun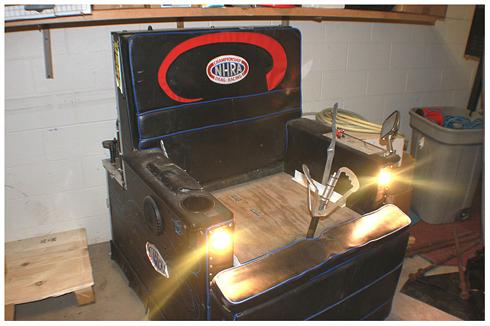 ger after he rammed a parked car at 2 AM in the morning.
Police impounded the chair for lack of registration, seat belts, and other vehicular transgressions, and announced that it would be sold at auction."  www.thesmokinggun.com/archive/years/2009...
    CREATING THE XR-1
Wouldn't you like to have been in the living room to hear the conversation that led to the building of the nicknamed "Anderson XR-1"? 
One spring cleaning day, Mrs. Anderson said, "Damn it Denny, get off that La-Z-Boy.  I swear, the only way you'd move your butt to help clean this place is if that f**king chair had a motor in it!" 
"Hmmm..."  Thought Dennis.
FF ROAD TEST
But once the motorized rumble seat had been built, and the news cycle stirred, I recognized this as an exciting dry-land opportunity for the Financial Foghorn.  At unimagined expense your author flew to Minnesota, and road tested the XR-1.  
GENERAL MODEL SPECS:
Body Style:  No door, "Sport" version.  Factory air conditioning - air from Denny Anderson's factory/garage included.
Drive Wheels:  Skate board wheels all around, driven from rear.
Seating:  1 front; 0 rear; lap dancing perhaps optional.
Engine:  Briggs & Stratton 830 cc lawnmower engine.  30 gross horsepower, with full pressure lubrication, a dynamically balanced crankshaft, and an AVS anti-vibration system.  Briggs and Stratton literature says:  "Your B&S engine allows you to be king of your lawn, and master of your sod...  Sit back, relax and enjoy your B&S powered throne."  [I am not making that up.]  www.briggsandstratton.com/engine_power/e...]
| | |
| --- | --- |
| Predicted Reliability:  Better than Expected.  (Expectations were nil.) | Fuel Economy:  With electronic fuel mgmt, say, oh...2000 miles per gallon. |
| Owner Satisfaction:  Owner in jail.  Probably not very satisfied. | Acceleration:  Meaningless...but as long as you're not in a hurry, is OK. |
| Predicted Depreciation:  Depends on outcome of police auction. | Handling:  Brick-like.  Steering around parked obstacles good...if driver sober. |
| Accident Avoidance:  Problematical -  due to absence of brake pedal, and apparently...brakes.  | Owner Costs:  Low... if driven only at night.  Auto insurance probably not available, and would be silly anyway. |
| Crash Protection with Airbag:  Zero.  Helmet & heavy woolens suggested. | Interior comforts:  No comforts, except cup holder, detected.  |
SUMMARY:  This fun-to-drive La-Z-Boy model would inspire beer cheers in any garage.  Assumed to be the 2009 model, the Anderson XR-1 sports an effete 810 cc (13.5 cubic inches) Briggs & Stratton twin.  Creature comforts, aside from the Budweiser-tested cup holder, are "restrained." 
Top speed for the XR-1 has not been determined.  The lack of speedometer inhibited this test, and local vehicles in the Proctor, Minnesota area refused to engage the author in a contest of speed while police were following my road test.  "You gotta be freaking kidding," said one worried, local driver. 
Handling is ineffectual yet puzzling.  The ride - with the seat cushion permanently removed - can only be described as Conestoga-like.  Reverse gear has apparently been omitted in the Lumbago Gonzomatic transmission.
The interior should be considered Precambrian.  The lack of a frame, doors, windows, windshield, or roof accounted for the persistent and omnipresent road noise during testing.  On some positive notes, the lack of a dashboard means there aren't really any gauges to worry about, or even look at.  Oil pressure temperature can not be a concern here.  Since the sporty XR-1 lacks a back seat, or bumpers, or any of those other clumsy automotive appurtenances that add weight, and sound proofing and safety, gas mileage is spectacular.  Did I mention the armrests?
POWERING THE XR-1
And what fuel propels Mr. Anderson down the highway and into parked cars?  There's no nuclear power plant beneath his wings, no lumps of coal, no solar panels powering Mr. Anderson.  For that matter, what liquid fuel sends all cars, trucks, planes and trains barreling across our fair land?  (Ok, the barrel pun was a hint.)  The answer, my friends, is blowing in the wind/ smog, and it's called oil.
In the US, our oil price, measured by the West Texas Intermediate Crude ($WTIC) contract on the NYMEX, is now trading near $80a bbl.  On Aug. 14, 2009, the International Energy Agency (NASDAQ:IEA) released a report showing that production declined 6.7% a year at oilfields that make up 75 percent of world supply.  That depletion rate is double what it was in 2007.  The IEA concluded that for the first time in history supply, not demand, is going to drive prices.
In other words, though demand has dropped dramatically due to the global economic collapse, the oil industry is struggling to meet even the reduced demand, which is why prices have risen so rapidly.  And they will continue to rise. 
And how has America responded to information from the IEA and from such groups as the Association for the Study of Peak Oil (ASPO) and Matthew Simmons (www.simmonsco-intl.com)?  Well, let's say the Mad Max future hasn't been totally averted just yet.  Our oil usage remains close to 20 million barrels a day.  In the following chart, notice that 95% of transportation demand is supplied by petroleum.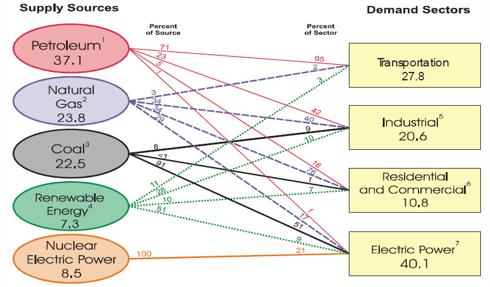 (From www.eia.doe.gov/emeu/aer/pecss_diagram.html) 
If one were to think about this situation intelligently, one would begin researching the oil market for suitable investment opportunities.  And I have...
To start... the increase in oil has far exceeded a proportionate rise in natural gas prices.  Nat Gas guys keep finding more and more gas in the shale fields in the US, and until that slows, I don't see Nat Gas prices recovering any time soon.
 I would also hold back on the individual tanker and oil service companies for the moment until the economy stabilizes.  (That's a nice way of saying I want to see which of those companies survive.)  Also, I learned years ago that Royalty Trusts are just piles of depleting assets on their way to an empty end, so I avoid them. 
Oil is the largest commodity sector, and since we are midgets playing on a field with monster institutions, I'd look to ETFs, closed end funds, and partnerships for protection. 
The safety Snuggie play within the oil sector would be the Oil ETF (NYSEARCA:XLE) which includes most of the majors along with some oil service companies. 
I'm also fond of the Energy and Growth Fund (NYSEMKT:FEN) a closed end mutual fund with 40 or so pipelines in it, with good long term contracts, yielding over 6%. 
Oil prices may have reached an interim high, so I'd emphasize ideas with good dividends at this point, and be prepared to dollar cost average.  You never know.  
MASTER LIMITED PARTNERSHIPS
I want MLPs where the stated annual income clearly exceeds the payout to investors.  A few of these would be:
Plains All American LP (NYSE:PAA), yields 7% at the current price of $49 and change. 
Sunoco Log LP (NYSE:SXL), yields 6% at the current price of $59 plus. 
DCP Midstream LP (DPM), sells for $26, and yields over 8%. 
There's also Alliance Resource Partners, (NASDAQ:ARLP) a coal outfit for old school investors, selling for $38, yielding 7%.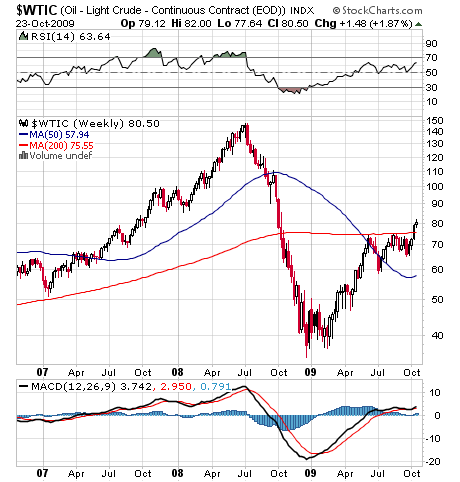 BIG OIL
I'd only look at a couple of the big oil players.  Most of them are selling more oil than they're discovering, thus are "liquidating" assets (pun unavoidable).  
Royal Dutch Shell (RDS-B) sells for $60 and yields 5%. 
British Petroleum (NYSE:BP) sells $55, yielding 6%.
CANROYS
Then there are the Canadian Royalty Companies, known as CanRoys, which are the Canadian equivalent of MLPs, but there are significant tax changes proposed for these by 2011; consult your local Canadian tax authority.  Again, annual income should exceed payout.  The following are priced in US dollars.
Enerplus Resource Fund (NYSE:ERF) sells for $23 and yields 8% at that price. 
Harvest Energy Trust (HTE) sells for $9 a share and yields 6%. 
Penn West Energy Trust (PWE) sells for about $17 and yields 9%. 
Don't buy less than 5 different outfits in the the oil patch. 
And don't build a lounge chair with your profits, if any.
----------------------------------------------------------------------------------------------------
FF does not own a motorized lounge chair, or shares of La-Z-Boy (NYSE:LZB), or Briggs & Stratton (NYSE:BGG).  He does own FEN and PWE of the companies or funds named.