We're thrilled to release our latest quarterly report on the use of Twitter in investor relations. In August 2009 we issued a report which analyzed 80 public companies and their use of Twitter during the Q2 2009 earnings season. Today we're happy to announce some of the key findings from our Q3 2009 report.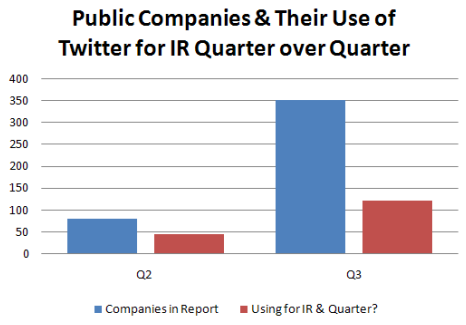 Since issuing our Q2 report in August, the growth in the number of public companies who have a Twitter account has grown by 270 or 338%. Of the 270 public companies the number who is using Twitter for IR increased by 77 or 175%. Although still small in terms of the potential universe, this report indicates a clear trend in that IROs are realizing that social networks are an effective medium to reach out and interact with stakeholders.
Here are some other key stats from the report:
35% of our sample is using Twitter for investor relations.
68% of the companies who use Twitter for IR are located in the U.S.
53% provided a link to their earnings release only.
48% actively engage with their followers through @replies and Retweets.
Visit our blog to download the full report.