And Kroger Did Too - They Just Don't Know it Yet!
Yesterday, Kroger (NYSE: KR) announced that they expect full-year EPS of around $2.00 per share, versus a prior consensus of $2.19 per share. This sent Kroger stock diving from $30 per share at the open to $24.56 per share by the end of the day yesterday, a loss of 19% in one day that wiped out $5 billion of the company's value in one trading session. Today, Amazon (NASDAQ: AMZN) announced that they are buying Whole Foods (NASDAQ: WFM), which will give the online retailer more than 460 bricks and mortar stores and make the behemoth a beachhead in the bricks and mortar retail business.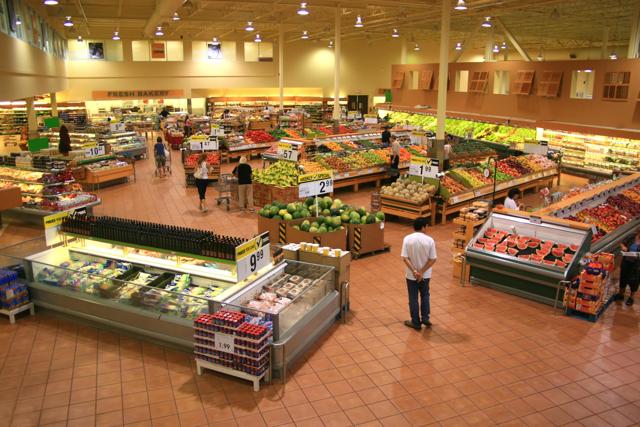 Kroger may actually look back on yesterday and today as the best two days in the history of the company. And the retail real estate sector may do the same. Here's why:
Amazon has admitted that they need bricks and mortar in order to compete in the retail sector. · Prior to this, Kroger, and about every other retailer was fighting an enemy they couldn't see, swinging at ghosts here, a sound there, thrashing about without direction. If there is one deadly result, whether in retailing or life, it is moving blindly forward while the terrain is changing, not knowing how it is changing until the terrain has come up to bite you. In flying, this is called Controlled Flight into Terrain. A pilot is flying happily along, thinking everything is OK; the instruments are all fine, not a bump in the air, while stealthily the ground is rising up to meet you. The result is not pretty. Happens in life, to businesses, and to entire industries (think auto industry in the 1970's).
Now, Amazon has staked out its territory and the message is: "We need to fight this battle on YOUR ground Kroger, because we can't win the war without real estate." This is groundbreaking for every physical retailer, from Dollar Tree to Tractor Supply to Target. The battle lines have been drawn, and they are on the terrain favorable to the retail real estate "bricks and mortar" environment! · You can't fight what you can't see, and if the battle ground is in physical real estate, the battle can be won there. In fact, no matter who wins, the real estate sector should be popping Champagne corks right now. Sales may go to Kroger, or Walmart, or Amazon, but those sales WILL be in favor of the bricks and mortar retail sector. So what now? ·
This is your moment Retail Sector! This is the moment that Kroger and every other retailer has been waiting for (or should have been waiting for)! If they can ditch complacency, cut prices, enthuse employees and get products where they need to be faster and better, they will win. If not… well…
Since I'm giving my opinion here, I'll let you in on a dirty little secret: Please don't tell.
Amazon is really just a logistics company. There you have it. They are not a bookseller, they are not a cloud computing platform provider, and they are not a grocery retailer. What they ARE is a logistics company! Whether they are storing data on racks for distribution, storing books on shelves to get them where they need to be quickly, or if they are storing flash frozen vegetables on cooler pallets in a million square-foot warehouse, they are - simply - a company that is all about storing whatever the customer wants, and distributing it to where they want it quickly; and if the customer decides they don't want it - no problem - they'll move it back to where it came from efficiently and hassle free. One of the great advantages Amazon had for many years is that they knew what they were, but the competition didn't. Everyone else was just slowly flying along while the terrain was coming up to stop them.
So, now the retail real estate sector can sleep well for the first time in months. Retail real estate is fighting on their own ground now, and in this defining moment the enemy has been identified, and their strengths and weaknesses revealed!
Now.. Kroger - Dollar Tree - Family Farm & Fleet - go forth - be better retailers, get the things we want where they need to be faster, anticipate our needs better, communicate better… in other words… COMPETE!
You CAN do this! Everyone in the real estate sector is rooting for you!
Disclosure: I/we have no positions in any stocks mentioned, and no plans to initiate any positions within the next 72 hours.
Additional disclosure: The opinions represented here are my own and not those of my employer, Colliers International valuation & Advisory Services. I am not acting in any capacity as a consultant or appraiser in writing my personal opinions here.