Quantitative:
Leading economic indicators reported as of 8th February 2018 show strong growth potential in the United States economy for the short/medium term. All major leading indicators currently show growth supported by a positive reading of the Conference Board leading index. Implied GDP growth currently sits at a healthy 4.45%. Official Q4 GDP at 2.6%.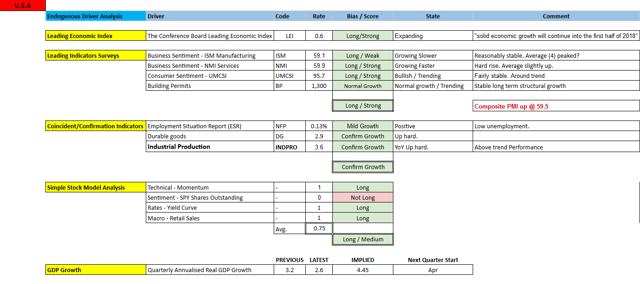 Qualitative:
The beginning of February has started off with an explosive return to volatility with the Dow Jones (DJI) suffering its biggest one day points drop in history. The success of President Donald Trump's corporate tax cuts have begun to raise conversation about the potential acceleration of corporate earnings, the likes of which hold the potential to cause the fed to tighten monetary policy at a faster rate than previously anticipated if this was to cause a strong inflationary effect. A move such as this could cause greater interest rate differentials between U.S and rest-of-world which would be at best and interesting situation considering the enormous debt loads developed nations such as Australia have accumulated.
Implications:
-S&P500/DJI losses have lead to huge amounts of short term panic in the market. Several sentiment and technical indicators show highly oversold conditions, the highest level of fear since the North Korea nuclear scare of Aug/Sep 2017. While there appears to be no sign of any recessionary activity, long term investors may still wish to hold onto their positions as any recovery is likely to happen quickly and violently.

Disclosure: I/we have no positions in any stocks mentioned, and no plans to initiate any positions within the next 72 hours.
Additional disclosure: I/we have stock positions open within the index/s mentioned.