Dear Marketplace Subscribers,
We started Marketplace less than two years ago and it's astonishing to see the powerful investing communities which have been built. When we first launched Marketplace, we included a "chat room" feature but we didn't really know what to expect. What we've seen has been truly amazing. We have over 90 active chat rooms, some with hundreds of participants. In these chat rooms investors discuss the service's core ideas, but also swap related investment ideas, follow the market, and deepen their investing knowledge and their relationships with one another. It's truly a step beyond a traditional newsletter service, and a step beyond what we expected.
We saw how significant chat was in the most successful Marketplace services, so we decided to upgrade the features and robustness of the chat platform. We felt that the old chat wasn't sufficiently stable and lacked many desirable features. And readers have been eager to get even more out of their chat.
So, we're happy to announce a chat upgrade rolling out today. The new chat includes tons of new features including:
1-click access to your Marketplace leader

Edit/delete your own messages once sent (with edit info recorded)

Quote or reply to a specific message

Easily insert images or attachments

Star any message and see a list of all starred messages

Search message history

See a list of all files added to the chat room

@ specific users to ping them directly in the main chat room

1-1 direct chat

Here's a quick guide to help you get started with the new chat.
Chat With Your Leader
At the core of every Marketplace service, is a super-smart investor who leads the service. We have added a "Chat Now" button which gives subscribers one-click access to the leader of their service.

Ask any questions you may have directly to the author. If the community may benefit from the question, feel free to ask it in the main chat room.
Write A Message
To write a new message in the chat room, simply type your message and click the send button, or hit enter:


You can also attach a photo, video and several other file types (e.g. PDF, .DOC) by clicking the paperclip icon to the right of the message box.
To address a specific user @ them (e.g. @john.doe) in the message. Or, you can direct message them (more on that below)
Edit / Delete Message
You can easily edit or delete your own messages. For a message you have just posted, simply hit the up arrow key, edit the message and then hit enter to save the change. To edit any other message, click the 3 dot menu next to any message, and select the "Edit" option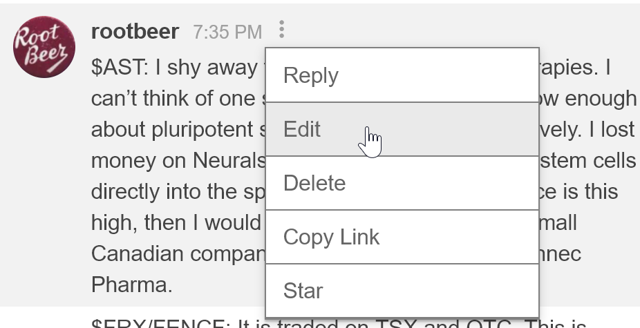 Edit the message, and hit enter to save the change. To delete the message select "Delete" and then confirm the deletion.
Quote / Reply
To reply to a specific user, either start typing @ and then find their username in the auto-complete, or click the "Reply" option which which quote the message in your reply as well as ping the author of that message.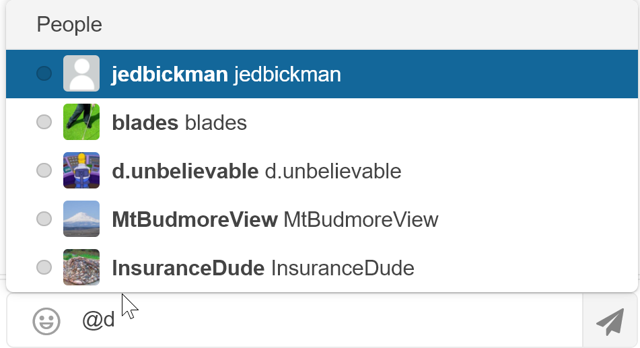 Star A Message
If you want easy access to a message in the future, click "Star" on the message menu: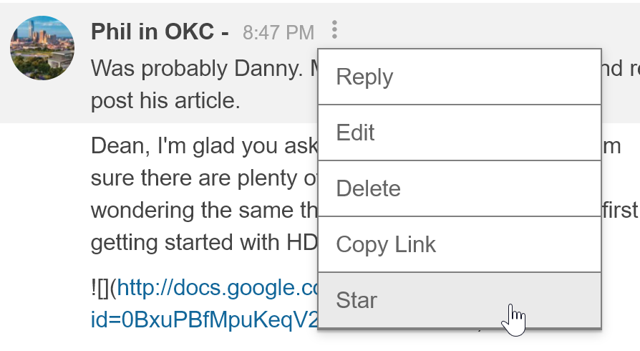 To see all starred messages, click the star icon on the side menu: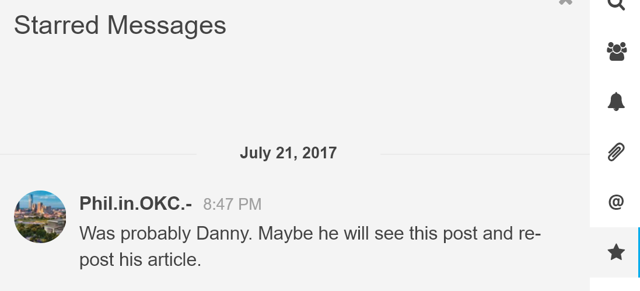 Search Messages
To search past messages, click the search icon on the side menu and enter a search term: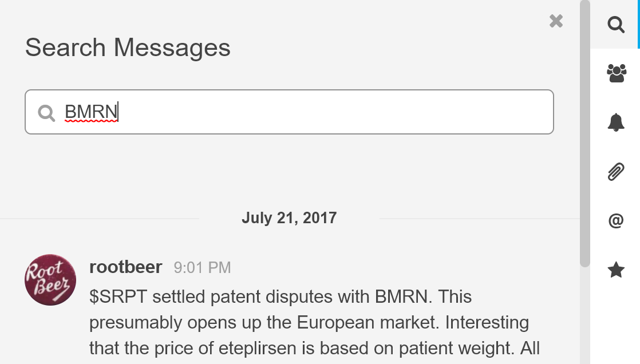 You can then click "Jump to message" and close the search window to find that specific message:

Files
To view any file which was added to the room, click the file icon on the side menu:

Members List
To see a list of members who are part of the community, click the members icon on the side menu: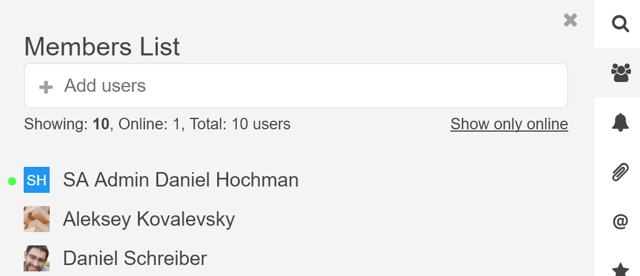 You can select any member's name to start a direct chat with them.
Notification Settings
To configure your notification settings, click the bell icon in the left menu. Here, you can disable notification audio for new messages or change the sound. You can select a different sound for every room you are a member of and for direct messages. Every room or person can have a unique sound which allows you to identify where the new messages are coming from.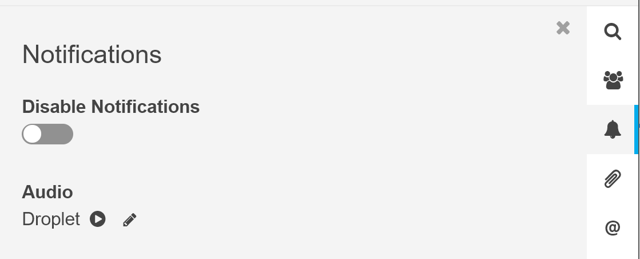 In the near future, we will be adding desktop notifications, email, as well as push notifications on your mobile device.
1-1 Direct Messages
To chat directly with another member of the community, you can click on their name from within the main chat room or from the members list.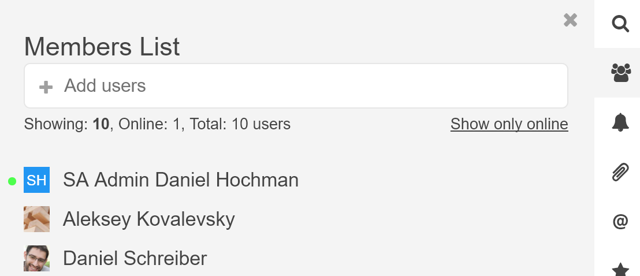 Switch Between Rooms / Direct Messages
To switch between different rooms or direct messages, click on the "hamburger" menu at the top left of the screen:

The resulting menu shows all of the rooms from the services you are subscribed to as well as all of the people you have ever direct messaged with in the past.
Full Page Chat
To access a full screen chat experience, click the "Live Chat" button on the service menu.

Mobile Apps
We are currently developing apps for both iOS and Android which will fully support Marketplace chat on mobile (including push notifications). Stay Tuned!

Marketplace chat has been a core component of our successful Marketplace services, and we're excited to make this upgrade. If you have any questions, please feel free to comment below or to contact us at subscriptions at seekingalpha.com. And if you haven't signed up for Marketplace - either as an author or contributor - this might be a great excuse to consider it!