===
---
Posts up to September 9
---
The "Member Post of the Day" is compiled by HDO Member "Phil in OKC" and will be the one judged to most closely mirror the spirit and intent of HDO Value Investing principles. Below is a compilation of the member posts of last week.
---
Post of the Day

Preferred Shares, Baby Bonds and Volatility
rebelroller - 14:23 – 5 SEP 2017
I have a portfolio of preferred and baby bonds that I keep, to look at on days like today. Accept for RFTA, (which is smallest position.)
They don't move around too much and you can get some pretty good dividends. So when the market is swinging around they seem
to stay calm in the storm!


Post of the Day

Double Check Your Stop Loss Orders
David Schott - 12:27 – 6 SEP 2017
$IRT: On August 28th, I put in a GTC order with Fidelity to sell if the issue went over $10.28 or if it went under $10.04 ($IRT has not
been too volatile in the last 90 days). I misunderstood the GTC order I made and put in a stop limit, which means the stock had to go
down to the stop and then would only sell at $10.28 after the stop had been realized. I still own $IRT due to my ineptitude on
creating the GTC order. Lesson: be very sure on conditional orders on what you are ordering. I probably should have talked to
Fidelity about it first. The frustrating thing is that the stock did exactly what I was hoping it would do, but had the wrong order in to
capture it.


Post of the Day

Sell Alerts
sharks5479 - 16:19 – 6 SEP 2017
One of the things I have learned-when Rida issues a sell the chances of the stock going down usually are much greater than the
chances of it continuing to go up. I would rather forego the possibility of losing some upside as I would really be mad at myself for
disregarding his advice and hanging on. I don't execute every buy alert but I have been pretty religious about executing the sell
alerts.

Post of the Day

The HDO Investing Way
toddkb - 12:29 – 7 SEP 2017
My old trading coach said you need two things to be successful, an Analyst and a Trader... most of us have to be both and that's hard
to do well... I came here to Rida and focused on the Analyst and forgot the Trader side of the equation... new plan is to assume I
have outsourced the Analyst job to Rida's team and take responsibility for the Trade/Execution as my primary role!


Post of the Day

HDO Portfolio Tracker on the Way!
dhdhoora - 09:18 – 8 SEP 2017
Gang, I too want to weigh in on Head Wrench's new (Portfolio) Tracker we're about to receive. WOW!! Holy Cow!! Wonderful...The
only negative is that it makes my own feeble attempts to construct a similar system look very foolish... Thanks again Head Wrench
and thanks also to Todd for the great video! ATVB, Don


Post of the Day

Portfolio Tracker
agrSA - 14:47 – 8 SEP 2017
I realize that I'm just echoing earlier comments by others, but wow, am I excited about the new Portfolio Tracker! It's going save a
lot of calculator time for me, including some that I never quite get around to doing. Thank you Rida, headwrench and all who
contributed in anyway. Just the preview was better than anything I got for Christmas last year!

---
Ash falls like snow in Seattle as wildfires rage in Pacific Northwest
Lots of smoke out here in the Great Northwest. Montana declared a State of Emergency. Friends from Oregon are smoked out and to stay at our home. Decent amount of ash covering cars. So much smoke you can look right at the sun shining "like Red Rubber Ball."

"Strange days, indeed": 
Several fires grew overnight and forced evacuations as a record-hot day is forecast for Tuesday and Seattle-area residents awoke to ash falling from the sky.
http://www.seattletimes.com/seattle-news/ash-falls-like-snow-in-seattle-as-wildfires-rage 
---
Video: Houston Ship Channel up and running, working through backlog

Houston Shipping Channel Coming Back to Life After Harvey

Bloomberg's Laura Blewitt reports on the backlog at the Houston ship channel in the wake of Hurricane Harvey.
---
Goldman: Post-Harvey Reconstruction To Boost U.S. Oil Demand | OilPrice.com
As devastating as Hurricane Harvey was to Texas, reconstruction is now expected to be ultimately positive for U.S. oil demand in a few months as fuel consumption is expected to increase as people rebuild homes, Goldman Sachs said in a report on Tuesday published by Bloomberg.

"The potential for some U.S. onshore production curtailment and the likely demand recovery during the reconstruction suggest that the impact on the balance may become slightly positive after a few months," Goldman analysts said in the report. "Such an outcome would ultimately be supportive of U.S. oil demand," the investment bank noted.
Reconstruction efforts post Hurricane Harvey could temporarily push oil consumption in Texas higher, supporting U.S. overall demand

http://oilprice.com/Latest-Energy-News/World-News/Goldman-Post-Harvey-Reconstruction-To-Boost-US-Oil-Demand.html

---
Oil inventories are set to spike in the wake of Hurricane Harvey
The ongoing outages are substantial, which will have larger and larger ripple effects the longer they remain out of commission. More than 2 mb/d of refining capacity offline means that 2 million fewer barrels of oil are being processed each day, which means that those barrels are piling up somewhere. Gasoline prices are spiking on a shortage of product, but the backup of crude will also have lasting effects.

"We could see a buildup in inventories…of 40 to 50 million barrels on the back of this refining outages, which is what's pressing WTI prices lower," Francisco Blanch, Bank of America Merrill Lynch's head of global commodity and derivatives research, told CNBC. "I think WTI is going to stay weak for a while. We expect at least 40 million barrels of demand loss over the course of the whole Hurricane episode. It could be 50, it could be 60, depending on what the damage is to refineries."

WTI has taken a hit since the Hurricane ravaged the Gulf Coast, but the decline has been only modest. Most analysts believe the effects will be short-lived. But it is still early. Forthcoming data release from the EIA will offer a clearer picture on what the Hurricane has done to U.S. oil storage, refined product supply, and oil production.
The storm has exposed the country's dependence on fossil fuels in the Texas coast area.


http://www.businessinsider.com/oil-price-inventories-set-to-spike-in-wake-of-hurricane-harvey-2017-9 

---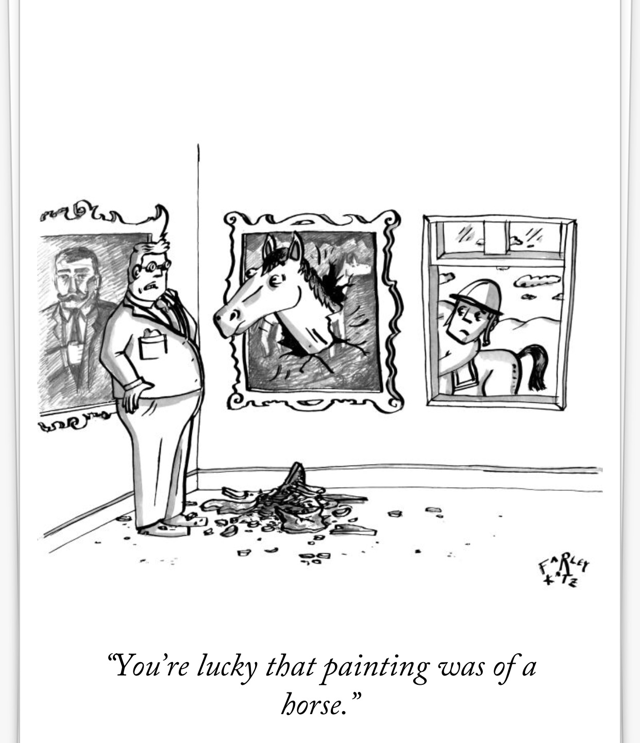 ---
When Ambition Exceeds Means: Incentives And The Limits To MLP Growth
The MLP structure works well for low-risk fee-based steady cash flow businesses where growth is slow and steady. This structure is not suited for high growth, high risk businesses unless backed by a complementary general partner providing financial strength and "drop down" growth opportunities.
https://www.forbes.com/sites/uhenergy/2017/08/22/when-ambition-exceeds-means-incentives-and-the-limits-to-mlp-growth/#4b29437d4889
---
Why High Yielding Midstream MLP Investments Belong In My Income Growth Strategy

Before 2014 all was well in the energy sector until crude oil prices started to fall and cast a pall on the sector.

West Texas crude oil eventually fell 73% peak to trough and energy MLPs correlated with the price of oil.

Investors have since returned to the high yield energy MLP space as crude oil continues its reversion.
https://seekingalpha.com/article/4035519-high-yielding-midstream-mlp-investments-belong-income-growth-strategy
---
Jim Cramer says metrics control markets and can help investors track downturns

Watch: Cramer explains the key to understanding market declines
Jim Cramer says metrics control markets and can help investors track downturns.
---
This is why scared investors are buying gold
This-and not North Korea-is why scared investors are buying gold

The real driver behind the nearly one-year high for gold prices is far more pedestrian than many investors..
---

Watch: Kim Jong Un: Nuke-Wielding Madman or Astute Dictator?
Is North Korea's "Supreme Leader" Kim Jong Un really as crazy as the U.S. and its allies make him out to be? In this..

https://www.bloomberg.com/news/videos/2017-07-31/kim-jong-un-madman-or-astute-dictator-video
---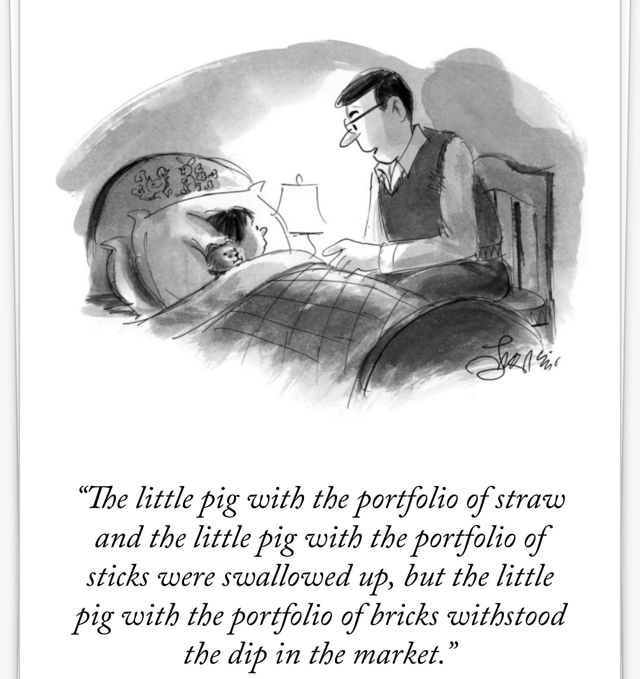 ---
Why Bank Stocks Tanked on Tuesday
Tuesday proved to be a tough start to the week for bank stocks. Following the holiday weekend, stocks across the board were down, with bank stocks in the lead.
There wasn't any industry-specific news that weighed on banks. It was rather the market's reaction to news over the weekend that North Korea had successfully tested a hydrogen bomb.

It was a tough way to begin the period after Labor Day.

http://www.foxbusiness.com/markets/2017/09/05/why-bank-stocks-tanked-on-tuesday.html
---
$EVA

An 8% Yield, 8 Straight Hikes, Industry Tailwinds For This Niche Industry Leading LP
The yield is 7.85%, with 1.13x coverage. Management has raised distributions eight straight quarters. Strong indu...

https://seekingalpha.com/article/4103733-8-percent-yield-8-straight-hikes-industry-tailwinds-niche-industry-leading-lp
---
$KBWY and $LRET
Video: Housing news!
---
$AWP and $RQI
Real Estate CEFs: An Overview Emphasizing Global Funds

Real estate CEFs show a range of approaches to the asset class. I look at three global and seven domestic real estate CEFs. My top pick for a global real estate..
---
Lodging REITs Could Be Slammed by Hurricane Irma

A number of hotel owners with exposure to Florida and the Caribbean islands could be affected by Hurricane Irma, a category five storm expected to hit the islands by Wednesday and possibly make landfall in Florida this weekend.
---
$PFLT


BDC Market Update And Total Returns Since 2014

Volatility continues in the market, driving higher yields for BDCs. Most BDCs have experienced material declines since early May 2017, and we will likely see lo..
<hr>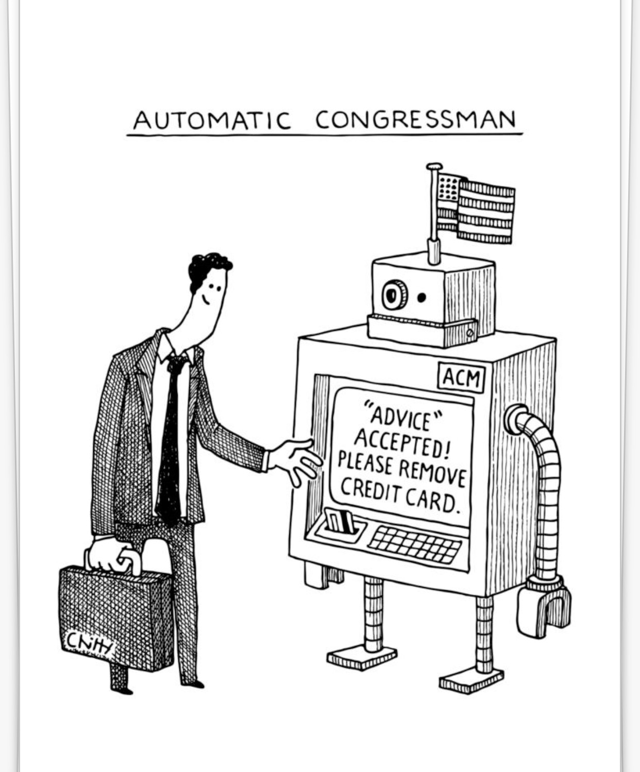 ---
$VNQ and $HCN


VNQ, EQIX, PSA, HCN: ETF Inflow Alert

Looking today at week-over-week shares outstanding changes among the universe of ETFs covered at ETF Channel , one standout is the Vanguard REIT ETF.
---
$CBL


A Better Alternative To J.C. Penney, Macy's, And Sears

J.C. Penney, Macy's, and Sears make very contrarian investments today. The market fears that such traditional retailers may eventually go bankrupt as e-commerce..
---
CEFs

Equity CEFs: Better To Hedge Than Sell At This Point

Equity CEFs: Better To Hedge Than Sell At This Point

This has been one of the most incredible displays of market strength going into the September/October perio..
---
Will stability become the new watchword for the oil market? | FT

Unquestionably, US shale's resilience has enabled it to surpass even the most bullish expectations. But Bob McNally at consultancy Rapidan Group said the industry had yet to prove itself as a "swing producer", able to put a floor as well as a ceiling on prices. Volatility, he said, is the only certainty.

"Perpetual $50-$60 is as wrong now as endless $100 was four years ago."
https://www.ft.com/content/2fc3407e-897c-11e7-bf50-e1c239b45787
---
How Moody's Recent Midstream Energy Methodology Changes Will Affect MLPs | Alerian
The most significant changes from the 2010 to 2017 edition are that interstate gas pipelines were removed (see section below), crude oil pipelines shifted to become lower risk, and intrastate gas pipelines also shifted to become lower risk. In fact, Moody's now views crude oil pipelines and intrastate gas pipelines at the same level of price/volume risk.

While Moody's does not provide specific explanations for what has driven these changes in risk level since 7 years ago, they do present both sides of the story for each asset. The pace of growth in crude oil production is more muted versus natural gas (fewer swings in estimates), however crude oil pipelines bear greater volumetric risk—likely due to commodity prices. Intrastate natural gas pipelines have two bases of customers—"demand pull" (utilities) and supply push" (producers), but reserves are subject to a steeper decline curve.

In short: While Moody's now places crude oil pipelines and intrastate gas pipelines at the same level of price/volume risk on the general midstream energy risk spectrum, this is not a green light for equity investors to assume every MLP that operates such assets carry the same level of risk. Investors must still dig deeper into other areas such as credit quality of customers, area of operation, and contract length.
How Moody's Recent Midstream Energy Methodology Changes Will Affect MLPs

An investment grade rating is a much-coveted asset for MLPs. Last month, Moody's released an updated..
---
Another blast from the past to celebrate 50th anniversary of 'The Summer of Love, 1967'
The Animals - The House of the Rising Sun Mafia III Trailer 3 Casino !!!


---
Crude Oil WTI
One could get slightly encouraged with WTI chart, even the daily, lots of headwinds still it seems, and likely crude build with 55 tankers in the gulf trying to offload.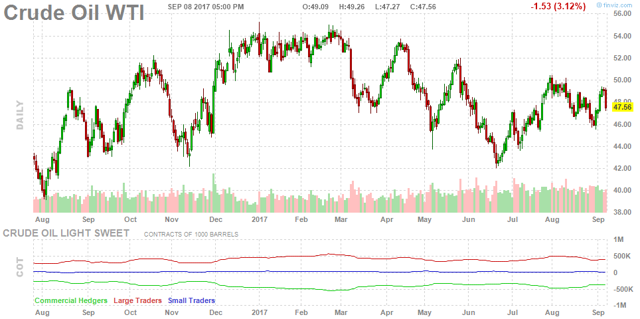 ---
Puerto Rico dealing with hurricane Irma

As expected, crude build and gasoline draw for last week, EIA due out in the morning..
Hurricane Irma slams Puerto Rico

Hurricane Irma was already hammering Puerto Rico on Wednesday afternoon, even as its powerful eye was still 90 miles east over the Virgin Islands. Nearly 300,000 people had already lost power and s…
API #
Crude +2.791MM
Gasoline -2.544MM
Distillate -603K
Cushing +669K           
---
HDO TOP 10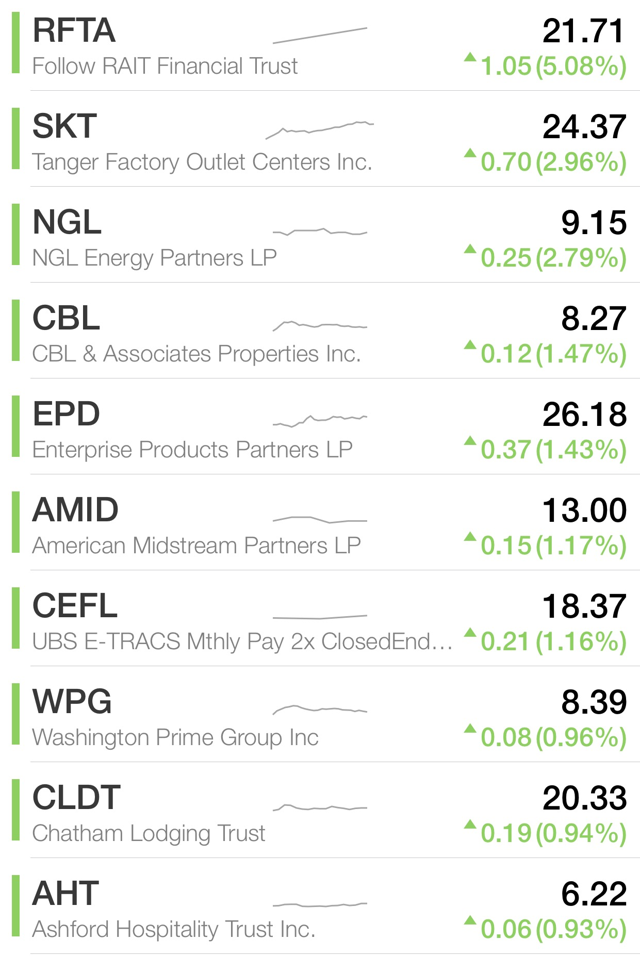 ---
HFI Research: Oil Production Growth Forecast For The Big 3

We give our forecast for where we think Permian, Bakken, and Eagle Ford oil production will be by 2020.

Bakken oil production has already stagnated.
Eagle Ford is where the overestimation is coming from.
Permian will carry U.S. shale growth, but not as much as people expect.

As George Soros said: "Money is made by discounting the obvious and betting on the unexpected."
https://seekingalpha.com/article/4104638-hfi-research-oil-production-growth-forecast-big-3?app=1&uprof=45&isDirectRoadblock=false

We give our forecast for where we think Permian, Bakken, and Eagle Ford oil production will be by 2020. Bakken o..
---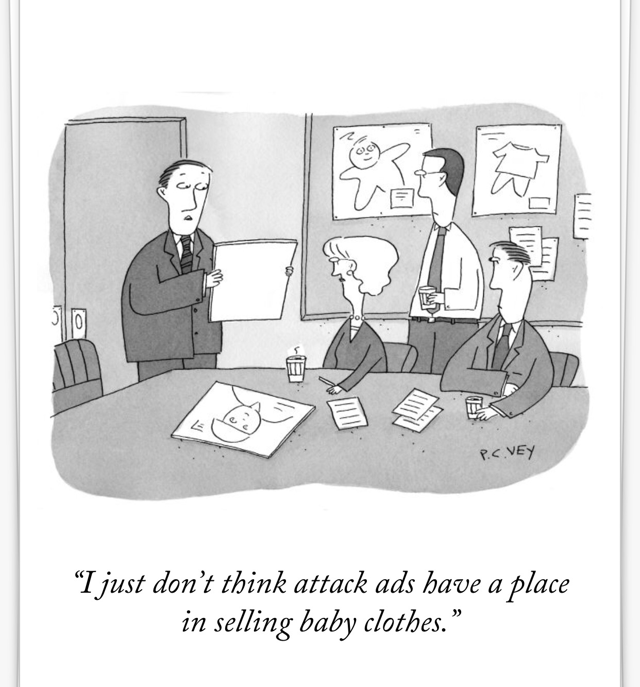 ---
Oil price path ahead hinges on time to recovery for gulf refiners, traders being more cautious.

Turning to prospects for speculative traders who have had their fingers burned a few times this year, the oil analyst explained that they are now being more cautious.

"False starts have been the theme for oil investors this year. Even at this stage we're not seeing a lot of long positions being built. It's more a case of shorts unwinding and that's creating the price movements at least for now," Mahesh observed.

However, the latest moves in the price suggest there could be a brighter outlook ahead for speculators.

"Backwardation (when the spot price is higher than the futures price) is returning to the market – that is a great sign for investors as they get the roll yield (yield gained when the futures price converges to the spot price as time passes) – and if that sustains, that's when they would start putting in, allocating more money into the oil sector," he concluded.
Oil price path ahead hinges on time to recovery for gulf refiners

Extreme weather episodes has taken its toll on the oil market with the spread between WTI and Brent pri..
---

Social Music Net™
THE IMAGE - "Red Rubber Ball" (Live HQ Television Performance On "Beat-Club") | © 1966 Radio Bremen

"Ya, der red rubber ball" !
---
$ETP
Buy Energy Transfer Partners For Its 12% Yield And To Play America's Pipeline Renaissance | Forbes
So, it's time for ETP to execute. They need to stop shooting themselves in the foot. If they do, that 11.6% yield will seem like easy money in a year's time, and the prospect of future distribution increases will again reappear. If ETP continues to have NIMBY problems and executional issues, though, the shares will continue to suffer. At a yield of 11.6% I believe the rewards outweigh the risk, and I have been adding ETP selectively to my clients' portfolios.
https://www.forbes.com/sites/jimcollins/2017/08/31/buy-energy-transfer-partners-for-its-12-yield-and-to-play-americas-pipeline-renaissance/#4bdd88a74426
---
YouTube
Kahkeshan Sard
Seasons In The Sun - Terry Jacks 1974


---
$ETP
Dividend Contender Dogs Make Energy Sector Tops Per 1-Year Gains For August
Contender Dogs are distinguished by 10-24 continuous years of increasing dividend

Broker target-estimated August Dividend Contender top ten net gains ranged 23.4%-61.3%, from WES, TLP, MMP, TCP, EAT, EPD, BPL, GEL, AFSI, and were topped by EPT as of 8/29/17.

30 Top Contender dog stocks yield ranged from 4.16% to MMP, EAT, EPD, WES, BPL, GEL, AFSI, & ETP, averaged 8.63%.

Top ten price upsides as predicted for TLP, QCOM, MMP, BPL, GEL, EPD, ETE, WES, AFSI & ETP, averaged 30.68% per 1yr. broker targets.

$5k invested in the lowest-priced five August top-yield Contender stocks asserted 1.85% more net gain than from $5k invested in all ten, per broker calculations The very lowest priced Contender dividend dog, Energy Transfer Partners (ETP), was projected to deliver the best net gain of 61.25%.
Dividend Contender Dogs Make Energy Sector Tops Per 1-Year Gains For August

Contender Dogs are distinguished by 10-24 continuous years of increasing dividends Broker target-estimated August Dividend Contender top ten net gains ranged 23..
---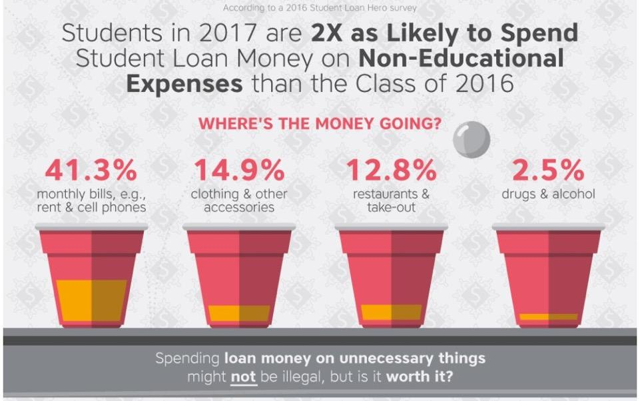 ---
---
JUNK BONDS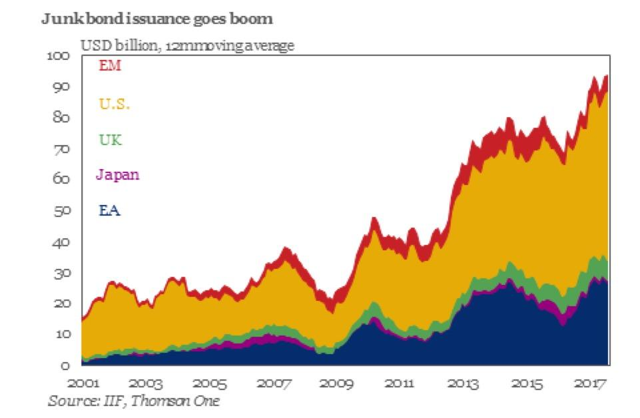 ---
Interest rate by country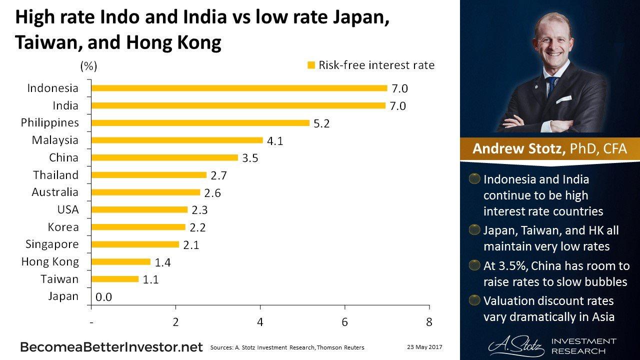 ---
Vanguard's VNQ getting makeover - ETF.com

via Todd Rosenbluth at ETF.comThe popular $35B Vanguard REIT Index Fund (NYSEARCA:VNQ) is lagging the S...
---
$T

Trump's antitrust pick meets with Elizabeth Warren

At the meeting, Warren pressed Delrahim on how he would respond to any effort by the White House to influence an antitrust decision. As a candidate, Trump said he would oppose AT&T's proposed $85 billion acquisition of Time Warner, owner of CNN and one of the country's largest film and television companies.

https://www.reuters.com/article/us-usa-antitrust-congress/trumps-antitrust-pick-meets-with-elizabeth-warren-source-idUSKCN1BH34M

Senator Elizabeth Warren, a Democrat from Massachusetts, met on Wednesday with President Donald Trump's pi..
---
$CBL

CBL & Associates pays off two mortgages

The company used some of the cash from its recent bond issuance and availability on lines of credit to pay off some higher interest and soon-to-mature property-related debt.First was a $144.3M loan se
---
$CN

China August exports up 5.5%, imports up 13.3% in dollar terms

China on Friday reported August exports were up 5.5 percent from a year ago in dollar terms, while imports were up 13.3 percent in dollar terms.
---
$EPD and $SEP

6 MLPs With Sustainable Yields of 6% or More

Research firm CreditSights believes these 6 firms have sustainable distribution yields.
---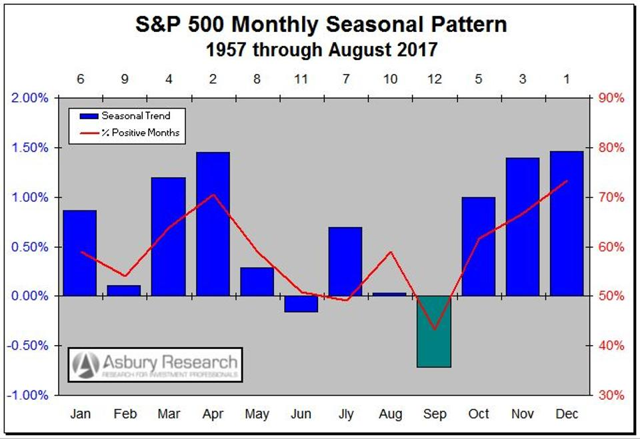 ---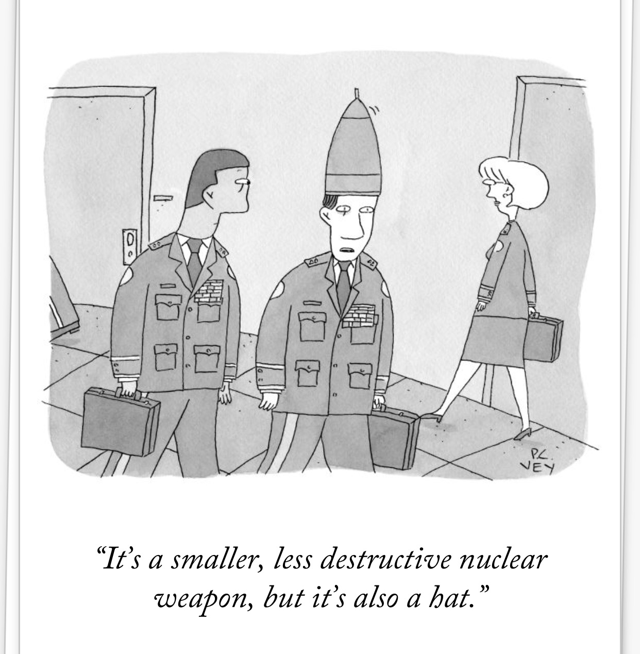 ---
The world is becoming desperate about deflation

Negative interest rates reveal the bleak stake of global economic growth, writes Vitaliy Katsenelson.
In theory, low- and negative interest rates were supposed to reduce savings and stimulate spending. In practice, the opposite has happened: The savings rate has gone up. As interest rates on their deposits declined, consumers felt that now they had to save more to earn the same income.
---
The last 5 mins of the first episode of The Adventures of Superman. With Phyllis Coates as Lois Lane.

YouTube
iconicloislane
Adventures of Superman - Phyllis Coates First Scene

---
President Trump's and Richard Branson's Carribbean homes destroyed

An 11-bedroom mansion owned by President Donald Trump on the Caribbean island of St. Martin is reported to have been torn apart by Hurricane Irma, while the luxury home of billionaire entrepreneur Richard Branson in the British Virgin Islands was also destroyed.

President Trump's and Richard Branson's Caribbean homes destroyed by Hurricane Irma

An 11-bedroom mansion owned by President Donald Trump on the Caribbean island of St. Martin is reporte..
---
===