===
Chatboard Highlights: Latest news on stocks & securities we hold in our Portfolio
Below is a listing of the latest news on stocks and securities we hold in our portfolio, in addition to some key economic news, which were shared on our Chatboard by HDO Members. I wish to thank all HDO members who are contributing, and special thanks to members dannyp52, Couch, Phil in OKC, Head Wrench, Governor19, BzNews, BrainRain1, Sassey, Dean 500, darrylawe, Jozsef Pengel, JFCoffey, Buddha1010, Isaac Z, Risk Reward, JoeRetired, GlennDawsonsodd, annel1, saruehle, Theodore Savas, testrelka, see44h, ZEPPRO, James BF, PapaAlan, Corsair Capital and others who contribute to our Chatboard.

===
---
Posts up to October 29
---
SunCoke Energy Partners, L.P. Announces Strongest Ever Quarterly Operating Performance With Third Quarter 2017 Results
"Our third quarter operating performance was the best in SXCP's history after adjusting for the timing impact related to Convent's deferred revenue in the fourth quarter of each year," said Fritz Henderson, Chairman, President and Chief Executive Officer of SunCoke Energy, Inc. "This record-setting quarter, coupled with our performance in the first half of the year, position us to achieve the top end our full-year 2017 Adjusted EBITDA guidance."
---
MLP ETFs Face Oil & Tax Issues Ahead | ETF.com

Here's how one expert thinks master limited partnerships will be impacted by the coming tax reform.
Held: We think MLPs, regardless of entry point, are ideally designed for investors who have a medium- to long-term time horizon, and that have moderate to above-moderate risk tolerance.
MLPs are a small asset class with a shareholder base that is still comprises primarily individual investors. In addition, the asset class can experience long periods where its prices are divorced from fundamentals.

Investors also need to reset expectations. These are essentially toll road businesses that transport commodities from "point A" to "point B." We believe a realistic medium- to long-term total return expectation for MLPs consists of distributions in the 6-7% range and growth of those distributions of 2-4% per year.

We think 7-9% total return expectations are very reasonable for MLPs over the long term. Short term, it could be higher or lower based on current volatility and valuations.
After the financial crisis, investors became accustomed low to midteen annual returns in this asset class. There was a long stretch, from the end of the crisis through the peak in oil prices, where MLPs were up 15, 16, 18% on an annualized basis.

That type of growth rate wasn't sustainable. But for investors interested in participating in the buildout of energy infrastructure, and who have a long-term time horizon and can handle short-term volatility, we think the sector continues to look attractive. 
---
$AMZA
This 5.8%-Yielding Closed-End Fund Is A Clear Sell

Cushing Energy Income Fund started off as a MLP fund. Bad performance along with high fees decimated the fund asset base. The transformed fund is really a energ..
---
SunCoke Energy Partners 2017 Q3 - Results - Earnings Call Slides

The following slide deck was published by SunCoke Energy Partners in conjunction with their 2017 Q3 earnings call.
---
SunCoke Energy Partners' (SXCP) CEO Frederick Henderson on Q3 2017 Results - Earnings Call Transcript

SunCoke Energy Partners, L.P. (NYSE:SXCP) Q3 2017 Results Earnings Conference Call October 26, 2017 10:00 a.m. ET Executives Jonathan Lock - Investor Relations
We have been operating our plants safely and efficiently while controlling costs to maximize profitability. We continue to execute the Granite City gas sharing project on time and on budget. We have spent about $25 million this year and a similar amount in 2018 to finish the work. The project is expected to enter service in 2019 and will enhance our environmental footprint in coke making industry. We will talk about new business at Convent in more detail prior to Q&A but we are happy to report early wins on the organic growth front.

We continue to expand and diversify our logistics offering and remain committed to increasing transloading volumes across our fleet. Finally, as a result of our operating and financial performance year-to-date, we believe we are well positioned to deliver full year results at the top end of our adjusted EBITDA guidance range.
---
Labor Dept: Solar and wind jobs to boom over next decade | MarketBeat.com
According to projections released this week by the Bureau of Labor Statistics, the top growing job classification over the next nine years will be solar photovoltaic installers. Those positions are expected to double by 2026.

Wind turbine service technicians came in No. 2, with those jobs projected to grow by more than 96 percent.
---
3 Reasons Why J C Penney Company Inc Stock Will Rebound

Here are three reasons why the worst may be over for JCP stock, setting the stage for a big rebound. In the case of J C Penney, the company has quite a few years left to fight because of its strong debt position.
---
Sunoco Logistics Partners LP (ETP) Given Consensus Recommendation of "Buy" by Analysts

Shares of Sunoco Logistics Partners LP (NYSE:ETP) have received an average recommendation of "Buy" from the nineteen analysts that are currently covering the stock, Marketbeat Ratings reports. Three equities research analysts have rated the stock with a sell recommendation, three have given a hold recommendation, twelve have assigned a buy recommendation and one has given a strong buy recommendation to the company. The average 12-month price target among brokers that have updated their coverage on the stock in the last year is $27.60.           
---
12% Dividend Yield, Strong Coverage, And A Big Discount On This REIT

Guidance calls for lower AFFO and we could see 2018 guidance come in a little lower. If they can spend well over $100 million per year on redeveloping the portf..
---
Bloomberg: Trump's upcoming China trip to seal billions in U.S. energy deals

Representatives from ~40 companies are expected to accompany Pres. Trump on his Nov. 8-10 trade mission to China and sign deals totaling billions of dollars, mostly in energy, Bloomberg reports.One of..
---
VIDEO: MARKET DUE FOR 6.8% GAINS IN THE DOW FROM NOV 1 TO MAY 1

YouTube
Alessio Rastani
The Halloween Indicator and Stock Market's Behaviour

---
S&P 500 Weekly Update: Large-Cap Technology Stocks Send A Message, Growth Continues In This Earnings-Driven Bull Market

The recent strength shown by the S&P 500 won't dissipate overnight; this remains a very strong bull market. Solid economic reports both here and abroad continue..
If the current economic expansion lasts another year and a half, it'll be the longest on record, even surpassing the expansion of the 1990s that ended in early 2001. The longest streak without a 3% drawdown was broken this past week at 242 days. These data points bring out our human nature instincts, and that response leave one to believe it won't last and we are very close or have already seen the market top.

I disagree and remain bullish. Will there be another recession? Of course there will. It's just that the probability of one occurring in the next nine to 12 months is low. Going one step further, I am in the camp that says this has a very good chance to be the longest recovery ever.
---
An MLP That Promises Both Growth and Income

The stock market isn't showing Enterprise Products Partners much respect. Investors who want both growth and income should.
One appealing feature of MLPs is that only a portion of the distribution typically is subject to taxes, with the bulk deferred, though investors must contend with cumbersome K-1 tax forms.

Compared with other MLPs, Enterprise has better corporate governance and a stronger balance sheet. "Enterprise has been an excellent allocator of capital," says Matthew Sallee, a portfolio manager at Tortoise Capital Advisors, an Enterprise holder. "It has built a network that can't be duplicated." He says MLPs look appealing, with lower taxes and friendlier regulation than electric utilities.

The company offers an enticing yield of nearly 7% and a good growth outlook as it helps provide the infrastructure for the U.S. energy boom. For investors, that looks like a winning combination.

---
VIDEO: CiovaccoCapital on Algos & ETFs
YouTube
CiovaccoCapital
Charts Skewed By Algos & ETFs?

---
Uptrends Intact
S&P 500 Weekly Market Outlook: Bulls Turn Up The Heat - See It Market

The stock market continues to make new all-time highs and a current snapshot of market indicators underscores the uptrend across the equity indexes.

 While leadership has shifted (from small-caps in September to the Dow Jones Industrials in October), up-trends in the popular averages remain intact. Supporting these trends is a continued expansion in the percentage of industry in up-trends and seasonal tailwinds heading into year-end.
---
"Very Long-Term View": Massive Bull Market Breakout - See It Market

Chris Ciovacco looks at the big picture for stocks... and the long-term implications of the bull market breakout on the NYSE Composite Stock Index.
---
Exchange Traded Notes: An Alternative To ETFs

Exchange traded notes are structured a bit differently than exchange traded funds. Here are the key differences.
While the biggest benefit of an ETN is that the entire gain is treated as a capital gain, this gain is also deferred until the security is either sold or matures. That is something that should not be taken lightly by tax-conscious, long-term investors. With an ETF, capital gains and losses are realized as each futures contract is rolled into another one.

The Bottom Line
The big difference between ETNs and ETFs is between credit risk and tax treatment.

While the benefit of active management is arguable, there is no disputing the value that financial engineering has brought to the financial markets since deregulation took hold in the early 1970s. Financial engineering has made our markets more liquid and more efficient. The creation of the ETN is a development all investors should learn about and consider adding to their portfolios.
---
Stocks beat bond strategy, long-term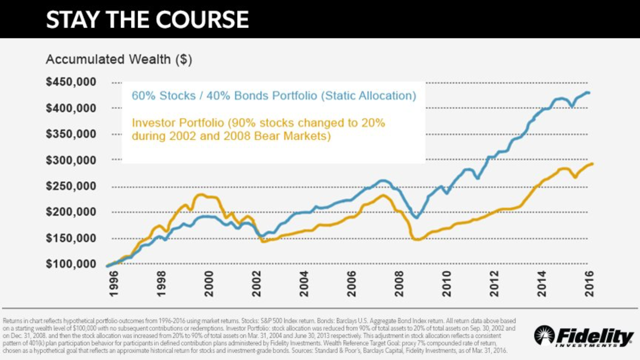 ---
TAXES UNDER TRUMP CALCULATOR

The new Trump tax calculator What do you owe - MarketWatch

Will the tax reform making its way through Congress be, as President Donald Trump bills it, "the biggest tax cut in history" for you? Based on available guidelines released by the Trump administration and top Republican lawmakers, and various published reports, here's our best guess.
---
Global Housing Affordability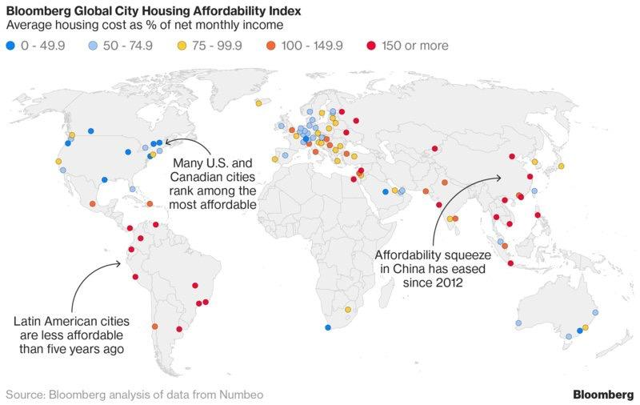 ---
China's Digital Marketshare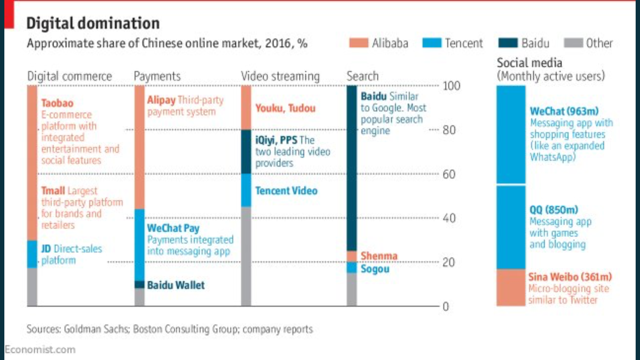 ---
ETF Explosion / Mutual fund Implosion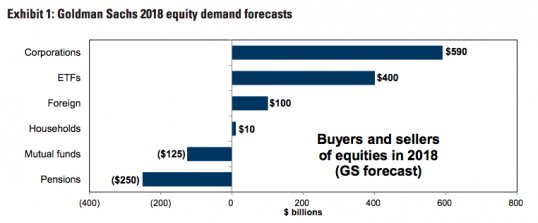 ---
GOLDMAN SACHS: The fastest-growing investment product will see record demand next year — and that's good news for stocks

Getty Images Equity demand from ETFs will surge to a record in 2018, Goldman Sachs predicts. Nonetheless, corporate demand for activities like buybacks will remain the biggest driver of stock demand next year. Exchange-traded funds - which make up the most rapidly growing segment of the stock market - are showing no signs of slowing. They'll attract $400 billion of investor demand in 2018, up 33% from this year, according to a Goldman Sachs forecast. To further boost the case for the so-called passive vehicles, Goldman estimates that actively managed mutual funds will be net sellers of equities next year, shedding $125 billion of exposure.
Increased authorizations and high cash balances should more than offset headwinds to buybacks from high valuations," a group of strategists led by Arjun Menon wrote in a client note.

Foreign investors will also drive equity demand next year, to the tune of $100 billion, according to Goldman, which thinks it'll be driven by stable US GDP growth and a flat US dollar.

But that's not to say every possible source of stock demand will be as strong. In addition to mutual funds being net sellers, Goldman forecasts that pension funds will sell $250 billion of equities in 2018 due to a continued rise in US 10-year Treasury yields.
---
Market Lopsideness

TECHS AND FINANCIALS DOING MORE THAN THEIR FAIR SHARE

Passive Investors: Beware of Sector Lopsidedness - See It Market

S&P 500 sector inequality, or the gap between the largest and smallest group of sectors, has nearly tripled since the mid 1990's.
The above chart and article illustrate that while techs and financials are having a hay-day (which has more room to roam) the out of favor sectors like MLPs and REITs can be had at bargain basement prices. The bottom may already be in for MLPs.

Eventually techs and financials will peak being extremely overbought and then the money to be made will be in the cellar-dwellers.


---
$BCX $PCI

A Proven Way To Find Safe 7%+ Income And 40%+ Gains | Forbes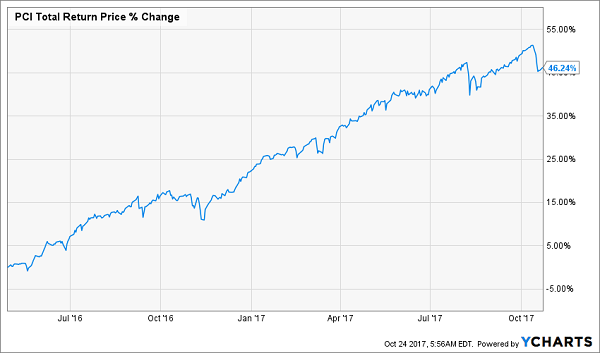 The first is the BlackRock Resources & Commodity Fund, a commodity specialist that has done well in a tough environment for commodities. It's an example of a well-managed portfolio with a great management team—but while the bottom-up is good for BCX, we're not quite there from a macro standpoint yet. But we're getting closer.

So PCI's change in strategy, driven by top-notch management, and its portfolio quality indicated that its deep discount was a buy signal. It also showed that the fund's 11.9% dividend yield was sustainable.

What's happened since? A 46% total return:

A Quick Ride Up

---
===