===
Chatboard Highlights: Latest news on stocks & securities we hold in our Portfolio
Below is a listing of the latest news on stocks and securities we hold in our portfolio, in addition to some key economic news, which were shared on our Chatboard by HDO Members. I wish to thank all HDO members who are contributing, and special thanks to members dannyp52, Couch, Phil in OKC, Head Wrench, Governor19, BzNews, BrainRain1, Sassey, Dean 500, darrylawe, Jozsef Pengel, JFCoffey, Buddha1010, Isaac Z, Risk Reward, JoeRetired, GlennDawsonsodd, annel1, saruehle, Theodore Savas, testrelka, see44h, ZEPPRO, James BF, PapaAlan, Corsair Capital and others who contribute to our Chatboard.

===
---
Posts up to November 2
---
Week Thoughts: Lower Low, Higher Hope

After a brief bout of panic early in the week, and a fresh 52-week low on Wednesday, MLPs bounced a combined 3.2% Thursday and Friday to finish the week down just 1.2%, a third straight weekly decline.  Oil had a very strong week, and is positive on the year for the first time in months.  Propane ha...
---
MLP DATA - MLP Weekly Gut Check

As General Partners and LP units were in a downward spiral through Thursday, MLP investors were searching for information they must have missed as the b..
---
A Wall Street Journal analysis of Morningstar mutual-fund ratings over 14 years found that top-rated funds drew the vast majority of investor dollars, but most didn't continue performing at that level. Morningstar said it has never billed its ratings as predictive and they should be a starting point for investors selecting funds.
Wall Street Journal's devastating article about the Morningstar rating system.
---
SunCoke Energy Partners, L.P. (SXCP) Major Shareholder Sun Coal & Coke Llc Buys 23,127 Shares

SunCoke Energy Partners, L.P. (NYSE:SXCP) major shareholder Sun Coal & Coke Llc bought 23,127 shares of the company's stock in a transaction on Monday, October 30th. The stock was bought at an average cost of $17.97 per share, with a total value of $415,592.19. The acquisition was disclosed in a filing with the Securities & […]
---
Energy Transfer Increases Distributions: Is This A Trick Or A Treat?

Energy Transfer announces distribution increases of 3.5% at ETE and 2.7% at ETP. ETP expects near term annual distribution growth in the low double digits; higher at ETE.

Management expects distribution coverage to remain over 1.1, and for the balance sheet to strengthen in 2018/19.

Mr. Market sees a trick and seems to be pricing in a 50% distribution cut at ETP.           
---
$SOHO
Sotherly Hotels (SOHO) Analysts See $0.24 EPS; Dennys (DENN)'s Sentiment Is 0.63 - Herald KS

Analysts expect Sotherly Hotels Inc (NASDAQ:SOHO) to report $0.24 EPS on November, 14.They anticipate $0.08 EPS change or 50.00% from last quarter's $0.16 EPS. SOHO's profit would be $3.32M giving it 6.14 P/E if the $0.24 EPS is correct. After having $0.32 EPS previously, Sotherly Hotels Inc's analysts see -25.00% EPS growth. About 3,730 shares …
---
Interest Rates And Their Effect On Preferred Equities

Some claim that sustained Fed interest rate hikes will tank the preferred market. Logic dictates that both commons and preferreds will be negatively impacted, b..
---
$CEQP
This Dirt Cheap High-Yield Stock Just Got Even Stronger

A noncore-asset sale put this 10%-plus yielder on an even more solid financial footing.
Crestwood Equity Partners (NYSE:CEQP) is quickly becoming the Rodney Dangerfield of MLPs. Despite a rapidly improving financial situation, the pipeline and processing company doesn't get the respect from investors that it deserves. Because of that, units sell for a crazy cheap valuation of less than eight times cash flow, which is one reason why it yields a jaw-dropping 10.2%.
---
Apollo Global Management beats by $0.46, beats on revenue

Apollo Global Management (NYSE:APO): Q3 EPS of $1.07 beats by $0.46.Revenue of $664.23M (+31.9% Y/Y) beats by $161.07M.Shares +1.96% PM.Press Release..
---
$AMID
American Midstream Partners to buy Southcross Energy Partners

American Midstream Partners (NYSE:AMID) agrees to acquire certain assets of Southcross Holdings LP and proposes to merge with Southcross Energy Partners (NYSE:SXE) in two separate transactions valued..
---
$AMID
American Midstream Partners to Acquire Southcross Energy Partners and Certain Assets of Southcross Holdings Forming $3 Billion Partnership

Creates a fully integrated growth platform linking natural gas and NGL supplies to premium demand markets along the U.S. Gulf Coast AMID to host an investor conference today at 10:00 am Eastern Time Accelerates the transformation of AMID, furthering asset density and full value-chain participation within core operating areas Expands AMID's onshore gathering, processing and transmission services in the highly economic Eagle Ford Shale play and in the Southeast U.S. gas transmission market Expands AMID's commercial and operational capabilities across a high-quality asset platform Immediately accretive to 2018 distributable cash flow per unit (DCF/unit) American Midstream Partners, LP (NYSE: AMID) ("AMID" or "American Midstream") announced today that it has signed an agreement to acquire certain assets of Southcross Holdings, LP ("Southcross Holdings"), and has proposed to merge Southcross Energy Partners, L.P. (NYSE: SXE) ("SXE" or "Southcross Energy") (collectively, with Southcross...
AMID has scheduled a conference call for 10am (Eastern time).

"AMID expects the transaction to be single-digit accretive to DCF/unit in 2018 and 2019, approaching double-digit accretion in 2020. AMID expects to maintain a pro forma distribution coverage of 1.1 to 1.3 times."
---
The Irrational Investor: MLPs Trading On UNfundamentals

MLPs are on track to have their third worst year in history and unlike all the other bad years, there's not a broader macro crisis going on at th..
If you believe that (1) US energy demand will remain relatively constant in the next few years, and (2) renewable energy will not overtake natural gas and petroleum usage in the US, and (3) that the long-term contracts MLPs have signed will remain in place and continue to generate cash flow for transportation, storage, and processing of hydrocarbons, well, it logically follows that the value proposition of being invested in MLPs is relatively unchanged from one or three or five years ago. If you're invested in MLPs now, you're here because you have faith in the thesis, you recognize the risks and volatility, and you like that 4%-8% yield you're paid while you wait for the midstream world to make sense again.
---
'Sir Lag-A-Lot' - EIA Monthly Production Lags Weeklies

US August monthly oil production was 9.203 million b/d, or a decrease of 31k b/d from July. The difference in August versus the weekly was 150k b/d. Analysts are still using EIA weekly production estimates. Please stop.
Without a material increase in well completions, US shale growth will be limited -- it's that simple.
Monthly continues to lag the weeklies.           
---
Summary of Weekly Petroleum Data for the Week Ending October 27, 2017

U.S. crude oil refinery inputs averaged over 16.0 million barrels per day during the week ending October 27, 2017, 10,000 barrels per day less than the previous week's average. Refineries operated at 88.1% of their operable capacity last week. Gasoline production increased last week, averaging 10.2 million barrels per day. Distillate fuel production increased last week, averaging over 5.0 million barrels per day.

U.S. crude oil imports averaged about 7.6 million barrels per day last week, down by 552,000 barrels per day from the previous week. Over the last four weeks, crude oil imports averaged 7.7 million barrels per day, remaining unchanged from the same four-week period last year. Total motor gasoline imports (including both finished gasoline and gasoline blending components) last week averaged 540,000 barrels per day. Distillate fuel imports averaged 137,000 barrels per day last week.

U.S. commercial crude oil inventories (excluding those in the Strategic Petroleum Reserve) decreased by 2.4 million barrels from the previous week. At 454.9 million barrels, U.S. crude oil inventories are in the upper half of the average range for this time of year. Total motor gasoline inventories decreased 4.0 million barrels last week, but are in the middle of the average range. Both finished gasoline inventories and blending components inventories decreased last week. Distillate fuel inventories decreased by 0.3 million barrels last week and are in the lower half of the average range for this time of year. Propane/propylene inventories increased by 0.7 million barrels last week but are in the lower half of the average range. Total commercial petroleum inventories decreased by 5.8 million barrels last week.

Total products supplied over the last four-week period averaged over 19.5 million barrels per day, down by 3.4% from the same period last year. Over the last four weeks, motor gasoline product supplied averaged over 9.3 million barrels per day, up by 2.8% from the same period last year. Distillate fuel product supplied averaged 3.7 million barrels per day over the last four weeks, down by 9.3% from the same period last year. Jet fuel product supplied is up 4.0% compared to the same four-week period last year.           
---
China's Sinopec mulls U.S. oil projects ahead of Trump's visit: sources

China's state oil major Sinopec is evaluating two projects in the United States that could boost Gulf Coast crude oil exports and also expand storage facilities in the Caribbean, two people familiar with the matter said on Tuesday, with U.S. President Donald Trump set to visit Beijing next week.
SINGAPORE (Reuters) - Chinese refineries like certain U.S. crude grades because they are easy to process and have a low-sulphur content, enabling them to meet more stringent fuel standards as Beijing fights pollution, said multiple trade sources.

The Americas are expected to overtake Africa as the world's second-biggest crude supplier to Asia by 2025, Unipec said in September. 
---
Trump says he'll announce new Fed head Thursday | MarketBeat.com
---
Short Interest in Ashford Hospitality Prime, Inc. (AHP) Declines By 37.2%

Ashford Hospitality Prime, Inc. (NYSE:AHP) was the recipient of a significant drop in short interest during the month of October. As of October 13th, there was short interest totalling 487,616 shares, a drop of 37.2% from the September 29th total of 776,108 shares. Based on an average daily trading volume, of 204,108 shares, the short-interest […]
---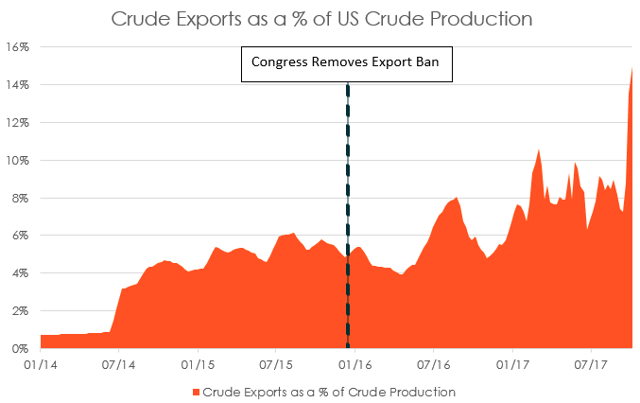 ---
$NEWT
Newtek Business Services Corp. Reports Third Quarter 2017 Financial Results

Reports Record Third Quarter 2017 SBA 7(A) Loan Fundings of Approximately $103.6 Million; a 20.6% Increase Over the Third Quarter of 2016..
---
$ARI
Apollo Commercial with fast pace of originations during Q3

Q3 operating earnings of $49.8M or $0.47 per share vs. $32.7M and $0.45 a year ago. Dividend is $0.46.Book value per share of $16.36 up $0.20 for the quarter.Committed $423.1M to new investments durin..
---
36 Dividend Increases: October 23-27, 2017 (Part 2: Energy And REITs)

Companies that regularly raise their dividend payments show confidence in future earnings growth potential.
Monitoring dividend increases for stocks on my watch list helps me identify candidates for further analysis.
Last week, 36 companies on my watch list announced dividend increases.
Part 1 covered financial-sector stocks, while Part 2 covers energy and REITs.
---
Tim's Corner: 3 High Yield Plays For Coming Interest Rate Hikes - Bret Jensen
---
$AHP
Ashford Prime Announces Sale Of Marriott Plano Legacy

DALLAS, Nov. 1, 2017 /PRNewswire/ -- Ashford Hospitality Prime, Inc. (NYSE: AHP) ("Ashford Prime" or the "Company")...
As the Marriott Plano is the lowest RevPAR asset in the Company's portfolio, the Company's pro forma RevPAR after this transaction should increase and be significantly higher than any of its peers, making the Company the publicly-traded lodging REIT with the highest RevPAR and highest asset quality. Additionally, the sale of the Hotel will reduce the Company's leverage and reduce its interest expense by approximately $3.2 million annually.
"The Marriott Plano transaction is another significant step in the rationalization of our non-core hotel portfolio," said Richard J. Stockton, Ashford Prime's President and Chief Executive Officer. "As the Plano market is experiencing a significant amount of new supply that will likely negatively impact the Marriott Plano, our 'rebuy' analysis resulted in a lower unlevered and levered IRR than what we believe we can achieve by redeploying the proceeds based on the acquisition opportunities we are currently seeing in the market. Given these dynamics, we believe the sale of this asset will be accretive to shareholder returns."           
---
---
===