===
Chatboard Highlights: Latest news on stocks & securities we hold in our Portfolio
Below is a listing of the latest news on stocks and securities we hold in our portfolio, in addition to some key economic news, which were shared on our Chatboard by HDO Members. I wish to thank all HDO members who are contributing, and special thanks to members dannyp52, Couch, Phil in OKC, Head Wrench, Governor19, BzNews, BrainRain1, Sassey, Dean 500, darrylawe, Jozsef Pengel, JFCoffey, Buddha1010, Isaac Z, Risk Reward, JoeRetired, GlennDawsonsodd, annel1, saruehle, Theodore Savas, testrelka, see44h, ZEPPRO, James BF, PapaAlan, Corsair Capital, HopeAlpha and others who contribute to our Chatboard.

===
---
Posts up to November 9
---
Downside Risks for MLPs - SL-Advisors

The Shale Revolution is a powerful recent example of why America's system of capitalism is so enduring. We're not just leaders in shale oil and gas, the U.S. is pretty much the only game in town (see America Is Great!). One day it will probably be the basis for college courses across the country to …
---
Weekly Oil Markets Recap - WTI Closes At 2-Year High

WTI finished the week up 3.23% and closed at a 2-year high. Last week, we noted that it was just a matter of time. US crude storage is about to accelerate to the downside, are you ready?

Sentiment follows price, watch more and more people get bullish AFTER prices have gone up.
---
Higher interest rates (over 3%) and Fed tightening are the makings for Recession

The Age of Easy Money Is Nearly Over

Central banks are finally ready to ease off the stimulus.
---
Saudi Arabia
Why we're resuming 'operation no mercy' on oil facilities - Niger Delta militants - Daily Post Nigeria

The Coalition of Niger Delta Militants has vowed to resume its "operation show no mercy" on oil installations in the region.
---
Saudi Helicopter Carrying 8 High-Ranking Officials & Prince Bin-Muqrin Crashed Near Yemen Border - All Dead

The shocking latest twists in what has been a chaotic weekend in Saudi Arabia is news that a helicopter transporting 8 high-ranking Saudi officials has crashed in the south of the Kingdom.
---
"We'll See Some Initial Panic": World Reacts To Billionaire Alwaleed's Stunning Purge

A shocked world is gradually responding to the stunning news of the Saudi "countercoup" purge that took place overnight - the second in six months -  which led to the arrest of 11 princes, 38 current and former senior officials on corruption charges and which most notably resulted in the detention of Prince Alwaleed bin Talal, the billionaire Clinton Foundation donor with significant stakes in Citigroup and Twitter.
---
Saudi stocks rebound after initial drop on corruption probe

The Saudi stock market reboundedinto positive territory on Sunday after initially droppingsharply in response to a corruption inquiry that led to a stringof detentions of prominent political and business figures.
---
Oil Jumps To $56, Highest Since July 2015 Following Saudi Turmoil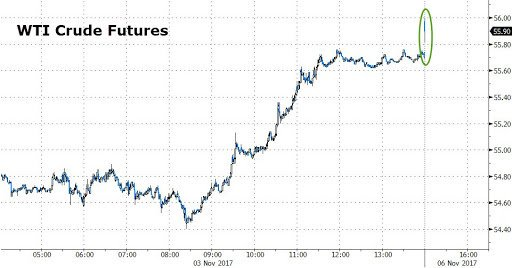 ---
Richest person on every continent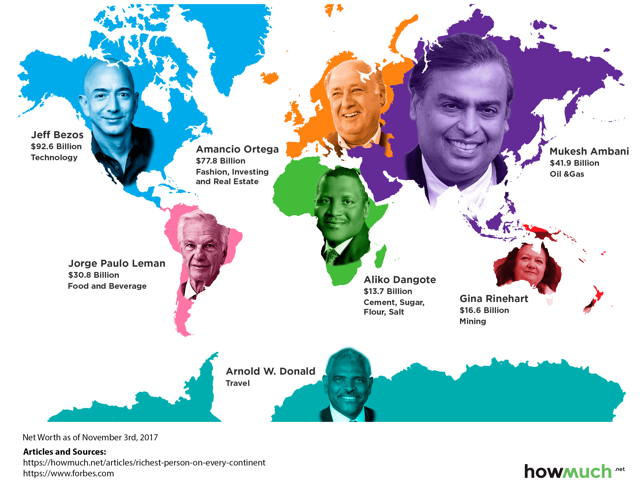 ---
$FUN
Buy These 7 Dividend Hikes Before They're Announced
Buy These 7 Dividend Hikes Before They're Announced - Forbes

Cedar Fair is among the beneficiaries of the growing "experience economy," in which Americans have become more interested in going out and experiencing the world than simply accumulating stuff. Between continued growth and a considerable distribution, FUN shares have actually outpaced the S&P 500's total return over the past five years.
---
$BX (and Saudi Arabia)

BlackRock, Blackstone to open offices in Saudi Arabia: Crown Prince

Fund manager BlackRock Inc (BLK.N) and private equity firm Blackstone Group (BX.N) are planning to open offices in Saudi Arabia, encouraged by the investment opportunities offered by the kingdom, Crown Prince Mohammed bin Salman told Reuters.
---
Germany's factory orders unexpectedly rise for a second month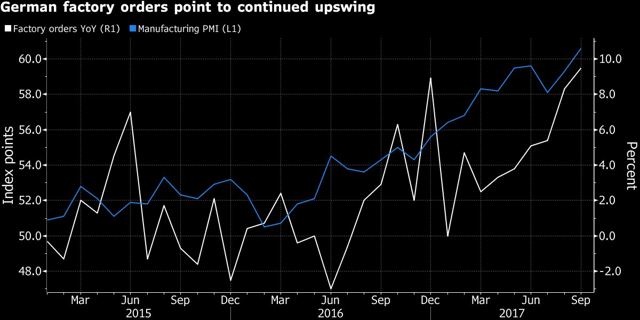 ---
NICKEL ($NINI)

One Metal Will Be Transformed by the Electric Car Boom

Glencore Plc and Trafigura Group Pte are often at loggerheads, but one thing they agree on: the nickel market will be transformed by the rise of electric cars.
---
SAUDI PURGE
Oil Trades Near 2-Year High After Saudi Prince Purges Officials

Oil traded near the highest level in two years after Saudi Arabia's Crown Prince, Mohammed bin Salman, ousted officials during an anti-graft probe in the world's biggest crude exporter.
---
The Geopolitical Implications Of Renewable Energy | OilPrice.com

While governments worldwide race to adopt renewable energy solutions, the geopolitical implications may be more far reaching than expected..
---
Oil is making fresh multi year highs on tensions in Saudi Arabia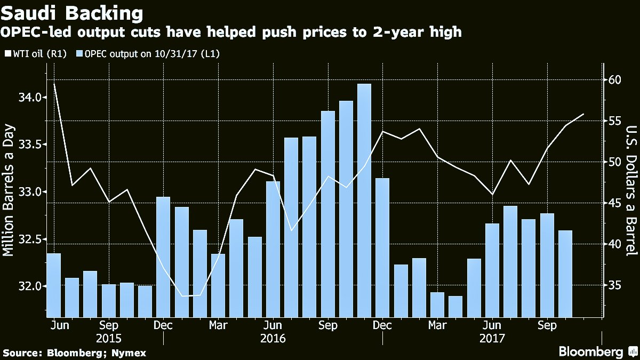 Saudi purge bolsters pro-OPEC cut Crown Prince.
---
TOP ETFS (excludes inversed and geared)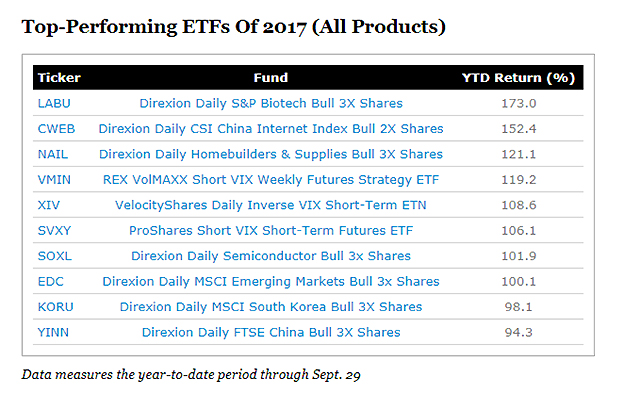 ---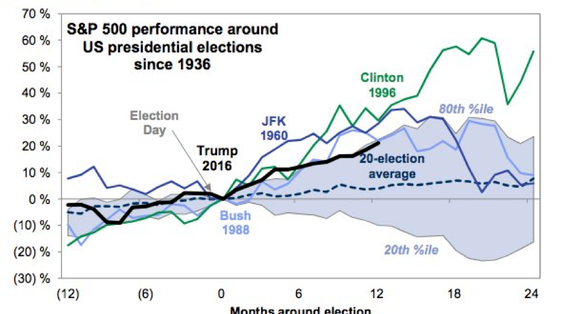 ---
MLPs
The Tumult in MLPs - SL-Advisors

If the recent violent sell-off in energy infrastructure stocks has you puzzled, you have plenty of company. That's why Sunday's blog is going out early, because we've been discussing it with so many people. We enjoy a regular dialogue with many of our investors and last week was the busiest we can recall in responding …
---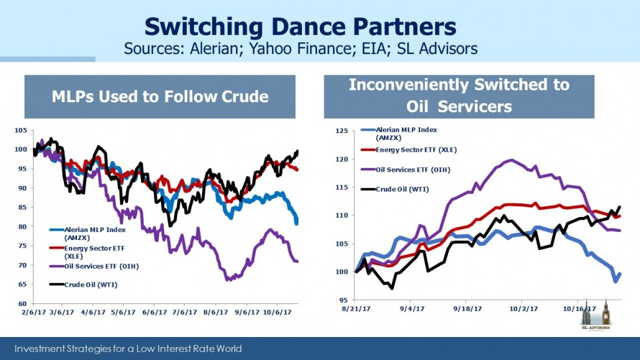 ---
Will Energy Transfer Partners LP Continue Its Turnaround in the 3rd Quarter?

The pipeline and processing company finally turned around its declining cash flow last quarter.
---
NGL Energy Partners LP Announces Agreement to Sell Certain Retail Propane Businesses to DCC LPG

NGL Energy Partners LP Announces Agreement to Sell Certain Retail Propane Businesses to DCC LPG.
"I believe this is a very positive transaction for both NGL and DCC. Shawn Coady and his team have built a tremendous business, providing DCC with a highly respected, experienced management team and a turnkey platform through which to build their U.S. retail propane operations," stated NGL's CEO Mike Krimbill. "The sale reflects a big step towards achieving our target compliance leverage of 3.25x or better. The terms of the transaction provide for a $20 million cash deposit on announcement that we can immediately deploy towards debt repayment. The remaining $180 million in cash proceeds, combined with the retained cash flows from the business generated through this heating season, provide significant cash for leverage reduction and allows us to maintain our earnings targets for this fiscal year."     
---
$HCN Welltower

Welltower tops estimates, ups guidance

Q3 normalized FFO per share of $1.08 vs. $1.06 earned in Q2.Seniors housing operating same-store NOI up 4.1%; same-store RevPOR up 3.9%.Full-year SSNOI guidance upped to 2.5%-3% from 2.25%-3%, with no..
---
5 Reasons Oil Is Climbing (Hint: It's Not The Saudi Crackdown)

Commodities Analysis by Ellen R. Wald, Ph.D. covering: Natural Gas Futures, Crude Oil WTI Futures, Brent Oil Futures. Read Ellen R. Wald, Ph.D.'s latest article..

---
$SKT
---
US oil futures trading soars as shale drillers seem not to trust the recent price rally and hedge their future output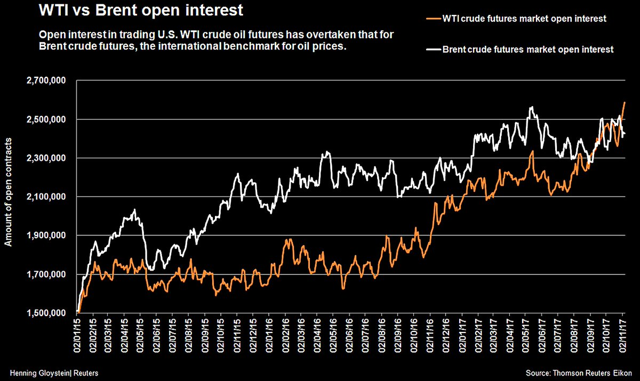 ---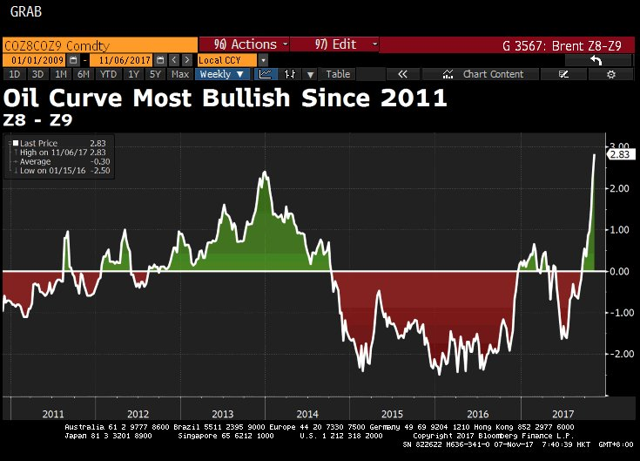 @DavidInglesTV Nov 6 - Well, that was escalated quickly. Oil curve (Dec 18 - Dec 19 contracts) most bullish in 6 years. #OOTT
---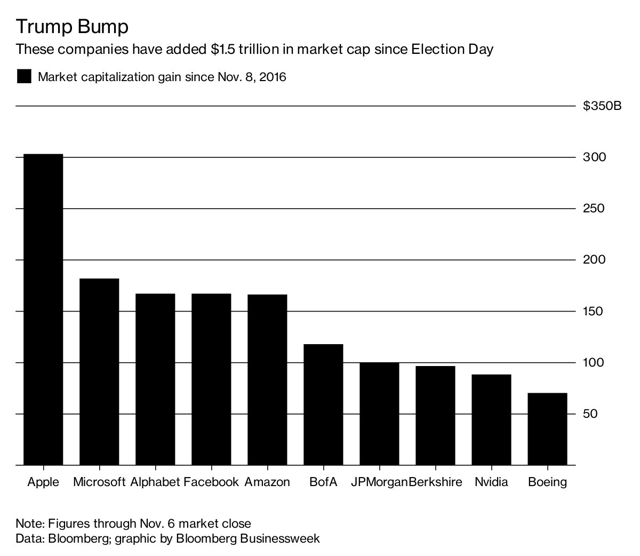 ---
Are Buybacks Becoming Mainstream For Midstream?

By Stacey Morris When you hear MLPs and buybacks, chances are that you don't think of dynamic combinations like peanut butter and jelly or Hall and Oates. For s..
---
$EPR
Increases Earnings Guidance for 2017 and Introduces Guidance for 2018

EPR Properties Reports Third Quarter 2017 Results

EPR Properties (NYSE:EPR) today announced operating results for the third quarter and nine months ended September 30, 2017. Three Months Ended Septemb..
---
Energy Transfer sees Permian Express volumes coming online near year-end

Energy Transfer Partners (ETP -3.1%) says in its earnings conference call that additional volumes for its Permian Express 3 crude pipeline will come online near the end of this year. ETP also said construction on the Bayou Bridge crude oil pipeline project will start this quarter, with operations to begin in H2 2018; it previously expected to start the segment in Q1 of next year.

The company said the FERC has approved the resumption of the remaining horizontal directional drilling on the Rover natural gas pipeline, and it expects the entire line to be in service by the end of Q1 2018.
---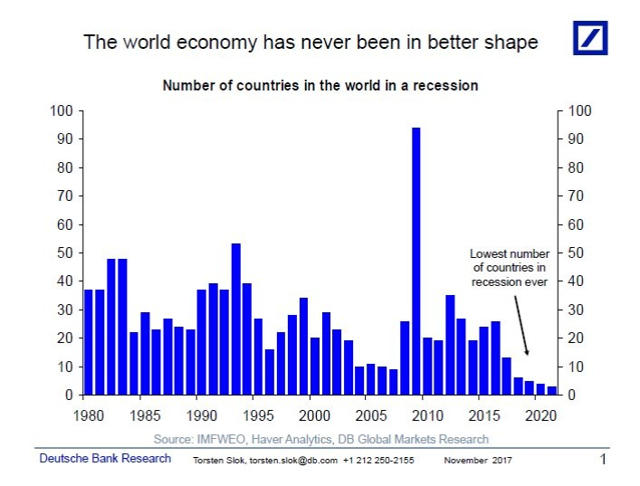 ---
China Oil

As Oil Booms, World's Top Importer Signals Demand Will Boom Too

Oil investors discouraged by Wednesday's data showing a retreat in Chinese crude imports can find cheer in another figure released in the world's top buyer on the same day.
---
Recent Equity Offering Could Be A Buying Opportunity For This 8.2%-Yielding BDC

Shares of PFLT have been trading lower since announcing its recent equity offering and could be a buying opportunity. Included in the SEC filings for the offering, the company disclosed preliminary estimates for the Sep.30 quarter. PFLT is expected to grow its spillover income in calendar Q3 2017. Subsequent to quarter-end, PFLT was awarded approximately $0.14 per share in a litigation settlement..
---
$KBWY $VNQ $RQI

Mall names move higher on GGP going-private talks; shopping centers up too

There was loose chatter earlier this morning, and now Bloomberg is reporting GGP and Brookfield Asset Management as being in talks to take the mall operator private. GGP is up 17.5%.Mall and shop..
---
OIL
Oil prices steady near 2-year high as geopolitics stir supply concerns

Oil prices steadied near two-year highs Thursday, with investors eyeing geopolitical tensions in major oil producing countries which have sent prices soaring in recent weeks.
---
A chronicle of the markets since Trump's election win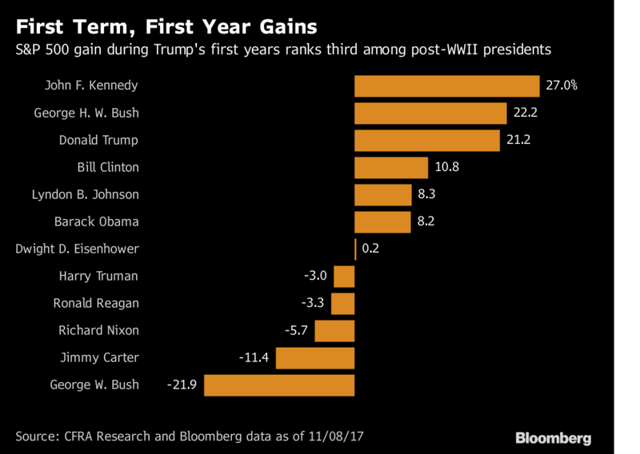 ---
Mobile phones have become commonplace even in sub-Saharan Africa's poorest countries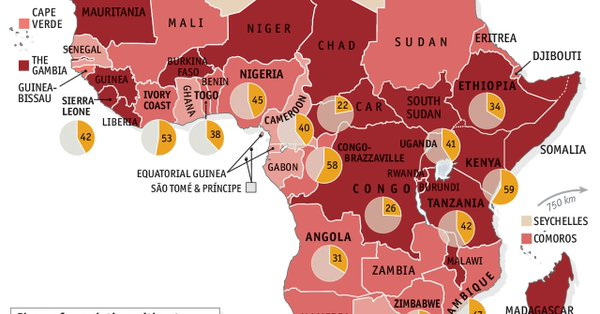 ---
$IDE
Sky-high stock market has investors looking to commodities

A growing number of investors are plowing money into commodities, seeking to diversify their holdings on gnawing concerns about a stock market correction as equities scale new highs almost daily. By contrast the bellwether S&P Goldman Sachs Commodity Index (GSCI) (.SPGSCI) gained 7 percent in that same...
---
===