===
Chatboard Highlights: Latest news on stocks & securities we hold in our Portfolio
Below is a listing of the latest news on stocks and securities we hold in our portfolio, in addition to some key economic news, which were shared on our Chatboard by HDO Members. I wish to thank all HDO members who are contributing, and special thanks to members dannyp52, Couch, Phil in OKC, Head Wrench, Governor19, BzNews, BrainRain1, Sassey, Dean 500, darrylawe, Jozsef Pengel, Isaac Z, Risk Reward, JoeRetired, GlennDawsonsodd, annel1, saruehle, Theodore Savas, testrelka, see44h, ZEPPRO, James BF, PapaAlan, Corsair Capital, HopeAlpha, dougn, thebellsareringing, and others who contribute to our Chatboard.

===
---
Posts up to December 21
---
Week Thoughts: Straighten Up, Fly Right

MLPs picked up where they left off last week, trading up each day until Friday ended the streak of positive days at 6 days. MLPs are drifting higher, gaining steam into year end. After two bear markets in three years, it's nice to know all hope hasn't been snuffed out, and there is some light rising up to meet the darkness.      
---
Mnuchin says 'no doubt' Congress will pass tax reform bill this week

Treasury Secretary Steve Mnuchin predicted Sunday that the GOP-led Congress will this week pass its sweeping tax-reform bill, calling the plan "terrific" and its passage a "historic moment" for the country.
---
BULL MARKET - JAPAN
Japan Flash Manufacturing PMI Signals Best Quarter Since Early 2014

Japanese goods producers are enjoying their best quarter since the start of 2014 having seen business conditions improve to the greatest extent in nearly four y..
---
CRACKING DOWN ON CRYPTOS - First domino to fall?
The SEC just issued a warning to cryptocurrency investors

The SEC warning comes hours after the regulator stopped an "initial coin offering" (NYSE:ICO) from restaurant review app Munchee.
---
$ETP
Energy Transfer gets FERC approval to place Rover phase 1B into service

Energy Transfer Partners (NYSE:ETP) +1.6% premarket after announcing late Friday that its Rover Pipeline project received FERC approval to place phase 1B of the project into service, bringing the 713-mile pipeline closer to its 3.25B cf/day design total.
With the addition of the Phase 1B facilities, ETP says Rover is now capable of transporting up to 1.7B cf/day of natural gas and shippers now have access to six additional receipt points with an incremental receipt capacity of 2.45B cf/day.

The final phase of the pipeline is expected to be in service by the end of Q1 2018.
---
Why the Shale Revolution Hasn't Yet Helped MLPs - SL-Advisors

MLP investors must wish they'd never heard of the Shale Revolution. The consequent growth in volumes of crude oil and natural gas seemed a fairly simple thesis for owners of volume-driven infrastructure assets. Increased demand for pipeline and storage capacity, for gathering and processing networks, ought to be good for the sector. But so far, …
---
The Recent Drop In MLPs Not Justified By Fundamentals

MLPs hit YTD lows today.
We think the latest sell-off in MLPs make very little sense when the bears contend that US shale growth production is what will keep oil prices "lower for longer."
We give two reasons below why the sell-off is not justified by fundamentals.   
---
Dow futures rise 150 points as tax plan optimism boosts sentiment

U.S. stock index futures are set for a strong positive open on Monday, on the back of optimism surrounding an overhaul of the U.S. tax system.
---
$EVA
9% Yield In Renewable Energy, 9 Straight Quarterly Hikes, Pullback Presents A Great Buying Opportunity

EVA is in the business of making wood pellets for use as fuel in electric generating plants. Its business is growing steadily, and there is an enormous potentia..
---
BULL MARKET RAGES ON
Dow rises 5,000 points in a year for the first time ever

The Dow Jones industrial average just did something it has never done in its 121-year history.
---
STRATEGY

The decision to buy a stock is relatively easy, and by setting an immediate stop, I have a good chance of being sold out of a position with a small loss if the stock I buy thinking it will rise, goes down quickly. A major problem, however, is knowing when to sell a stock that has advanced and shows a profit. Too many times I get shaken out of a stock because of a technical signal or more often because the entire market shows short term weakness, only to see my stock advance without me. When I later analyze my decisions, I see that I had panicked unnecessarily (I am a chicken!). I end up having small losses but I miss some large gains. In a long up-trending market like the present, this scenario has occurred often. (The maxim, cut your losses and let your profits run, is easier said than done.) -- Dr. Eric Wish
---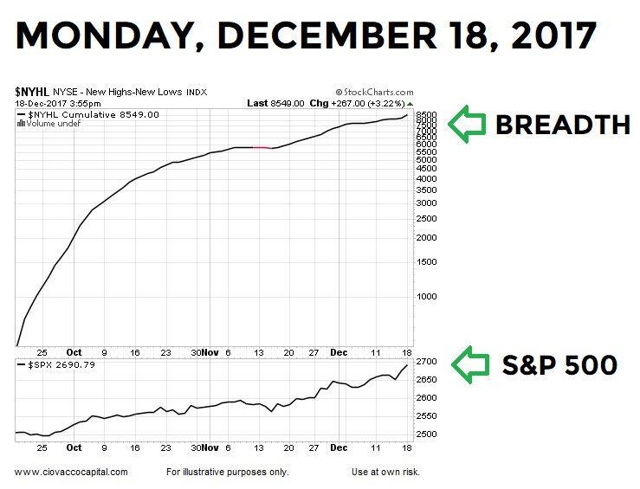 ---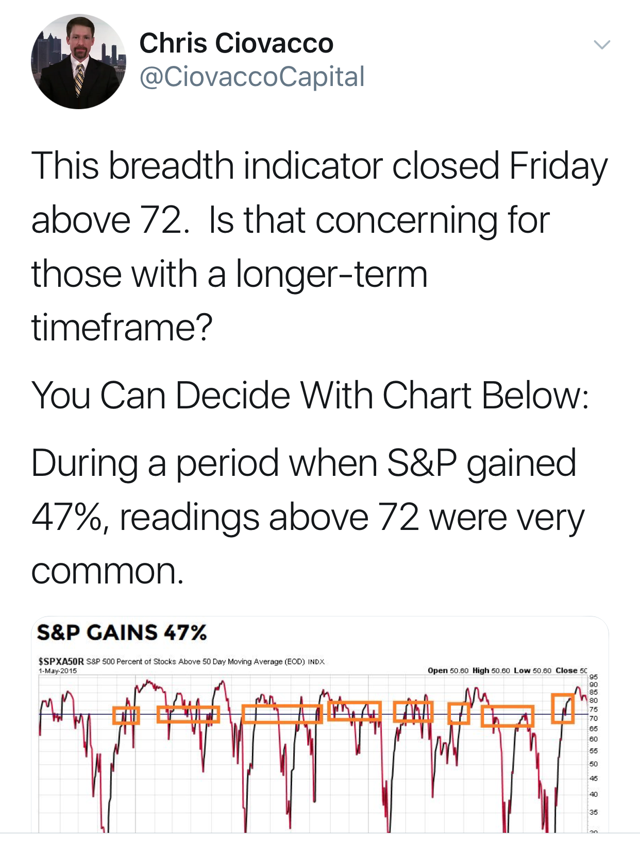 ---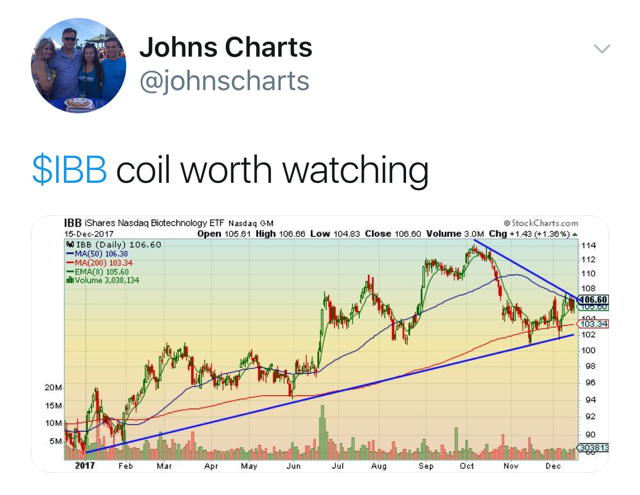 ---
CHIPS and the raging bull market

These Top Stocks Signal This Key Tech Sector Is Back On Track: S&P 500 Index

Futures for the S&P 500 index rose slightly above fair value early Tuesday morning as the major averages all set record highs on Monday, fueled.
---
$ETP
Energy Transfer Partners on Track to Finish Rover Pipeline in Coming Months, an Industrial Info News Alert

SUGAR LAND, Texas, Dec. 19, 2017 /PRNewswire/ -- Researched by Industrial Info Resources (Sugar Land, Texas)--The Federal Energy Regulatory Commission (FERC) has granted approval to Energy Transfer Partners (ETP) (Dallas, Texas) to put Phase 1B of the Rover Pipeline into service. The move puts ETP closer to its goal of completing the full, $4.2 billion Rover project by the end of first-quarter 2018. The company says Rover is now 95% complete. Industrial Info is tracking $15.27 billion in active projects involving ETP, including $1.43 billion worth related to the Rover Pipeline.
---
MIDSTREAM 2018
East Daley: Significant Increases in U.S. Oil and Gas Production to Boost U.S. Midstream Sector in 2018

East Daley Capital Advisors, Inc., an energy assets research and data firm redefining how markets view risk in midstream and exploration and production companies, released a new report identifying key factors that are poised to give a much-needed boost to the U.S.
"The Marcellus will continue to be the best location for midstream companies exposed to natural gas," said Carlson. "Production in the Northeast is poised to ramp up significantly in 2018 as new pipeline projects debottleneck the region. Given our optimistic forecast for Northeast gas production, midstream companies levered to the area such as Energy Transfer (ETP), MPLX (MPLX), EQT Midstream (EQM), Williams (WPZ), Antero Midstream (AM), and Rice Midstream (RMP) should continue to benefit."

---
The Tax Bill's Winners and Losers

President Trump has called the tax cuts a Christmas present for the entire nation, but the fine print reveals some will get nicer gifts than others.
---
NASDAQ - $AAPL The Nasdaq and tech stocks are under pressure because of the Apple downgrade
The Nasdaq and tech stocks are under pressure because of the Apple downgrade

Yahoo Finance's Jared Blikre joins Seana Smith from the floor of the New York Stock Exchange to discuss tech stocks selling off today after Nomura downgraded Apple to neutral on concerns the supercycle surrounding the iPhone X is overhyped and coming to an end.
---
$EPD, $ETP, $SHLX, $NGLS
Most days are like other days. The sun shows up, on we go, and the day turns into night. Repeat. However, there are some, quite special days, that mark a transi..
---
TAX REFORM
How the Tax Plan Affects Business: Everything You Need to Know

Industries from retail to manufacturing stand to benefit from the new legislation, while a few, like Realtors, will take a hit.
---
TAX REFORM: SECTORS 

The industries that are likely to be the largest beneficiaries, relative to the total size of their tax payments, include mining, accommodation and food services, which are able to make use of the allowance for shortlived equipment. Without the bill, the average effective tax rate for the mining industry was expected to be about 16 per cent next year. If the bill passes, that will drop to just 7 per cent, according to the Penn Wharton model.
---
Cornyn tweaked tax bill to give big breaks to oil, gas companies

Sen. John Cornyn tweaked the final tax bill to benefit fossil fuel companies, Republican donors and his own congressional colleagues.
---
CRYPTO SHANANIGANS
Litecoin Founder Cashes Out, Sells Entire Stake After 9,300% Rally

Charlie Lee, the creator of the world's fifth-biggest cryptocurrency, Litecoin, announced overnight he was cashing in his profits after a torrid, 9,300% rally in the past 12 months.
---
$EPR $STOR
10 REITs That Should Benefit Under The Tax Plan

Shifting from a worldwide system to a territorial system ends the penalty on companies headquartered in the United States. They'll no longer pay additional pena..
---
REIT Investors to Gain From Tax Legislation

Investors of real estate investment trusts will have a smaller tax bill on dividends with the new Republican tax plan poised for passage.
---
Are Expensive Permian Midstream Deals Too Costly To Pass Up?

Capacity concerns for oil and gas takeaway have spurred pipeline construction but Delaware Basin infrastructure deals with private-equity firms have already proven pricey.
The Permian remains fertile terrain for midstream deals, but it also raises a serious question for E&Ps: should they just build out infrastructure themselves?

Due to the multiple zones available in the Delaware, E&Ps could essentially build one pipeline but use it multiple times—depending on the number of horizons a company produces from.

"There's a compelling argument to be made, that 'well wait a second, if I just own it all, I don't have to pay someone five times as much rent,'" Kayande said.

Midstream companies, on the other hand, will try to be competitive by offering lower rates "to the point where you're equalized between deploying the capital yourself versus paying a third party for it."

For Wichterich, the Delaware Basin is "tremendously inefficient" at this point. Truck drivers earn up to $2,000 a day. Drilling crews that were efficient have been split and split again. And rights-of-way still must be purchased to lay pipelines.

"Execution is terrible," he said. "It will get more efficient. Today it's not. Until we get the full development, it is going to take a while."
---
IndustryVoice®: How Does Midstream Infrastructure Stack Up To Projected Permian Basin Production?

Crude oil takeaway will require the additional flex capacity and the proposed pipelines to come online in a timely manner to avoid any pricing implications due to lack of takeaway capacity.
Enterprise, Energy Transfer and Plains All American all collectively control 80% of the takeaway capacity being built in the Permian.
The Permian Basin is the hottest play in the United States right now for good reason: it boasts the best economics, has tremendous stacked pay potential, and producers are still realizing efficiencies from further delineation of the plays and longer laterals. All of these factors contribute to its recent and continued growth.

The Permian Basin is home to some of the most economic plays in the country and the world. Even within a field within the Permian, there are multiple economic formations. These economics underpinned the growing production profile in the Permian despite the price crash in mid-2014. The great economics have driven the increased rig activity in the Permian Basin as well.
---
$T
AT&T is giving $1,000 bonuses to 200,000 employees after tax bill

The telecom giant said it would give more than 200,000 U.S. union members a special bonus of $1,000.
---
Fund Managers Continue To Ride The Bull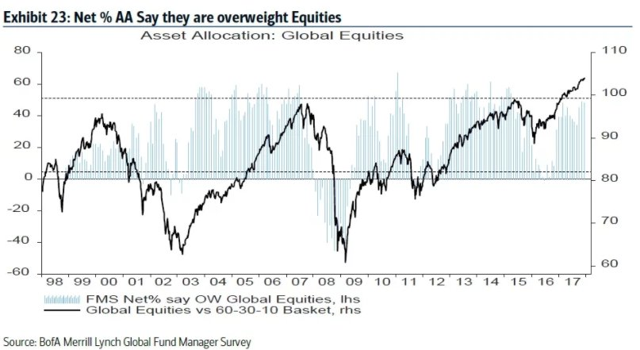 ---
EIA: US Shale Output Set To Rise In January As Permian Hits New Record

Oil production in the Permian is forecast to rise by 68,000 barrels per day to 2.79 million barrels per day, a new record, according to the EIA.
---
TAX REFORM PASSAGE & WAGES

Wells Fargo, Fifth Third Bancorp unveil minimum wage hikes after tax bill passage

Employees except for senior management will get $1,000 each by the end of the year, assuming the bill is signed into law by Christmas.
---
TAX REFORM & OIL

Tax reform will stimulate crude markets, encourage drilling, Morgan Stanley analyst says

Bullish on tax reform, Deshpande predicts oil will ride the global tide of economic growth to increased demand and production.
---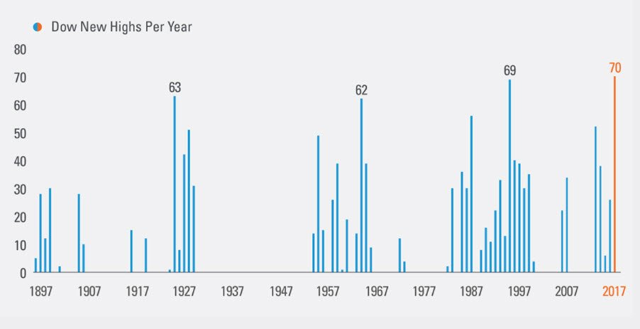 The Dow has never had more new highs in history than the 70 it has so far this year. That is 122 years. via @ ryandetrick
---
HEDGE FUNDS LOADING UP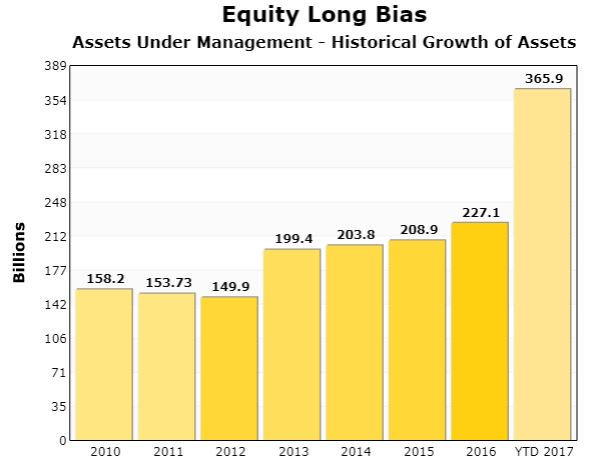 chart via @AndrewThrasher: "Equity Long-Bias hedge funds have seen a fairly large uptick in assets in 2017 (thru Q3) compared to growth over last 6 years."
---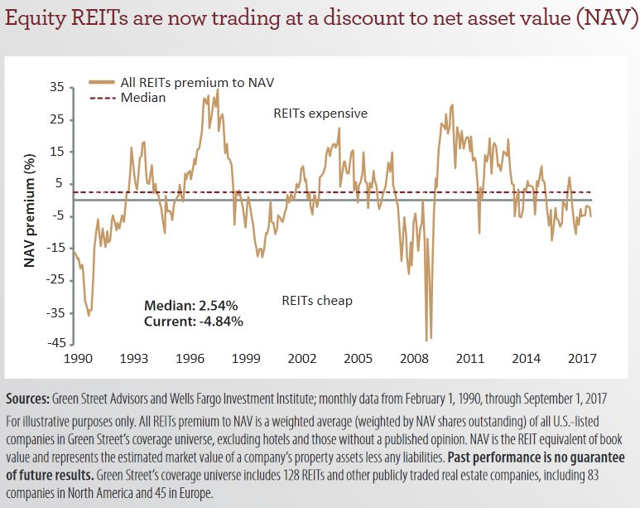 REITs have a lot against them: rising rates, shift to online shopping, and they are defn not as sexy as #ICOs but they are relatively cheap and stable long term performers. - via Babak
---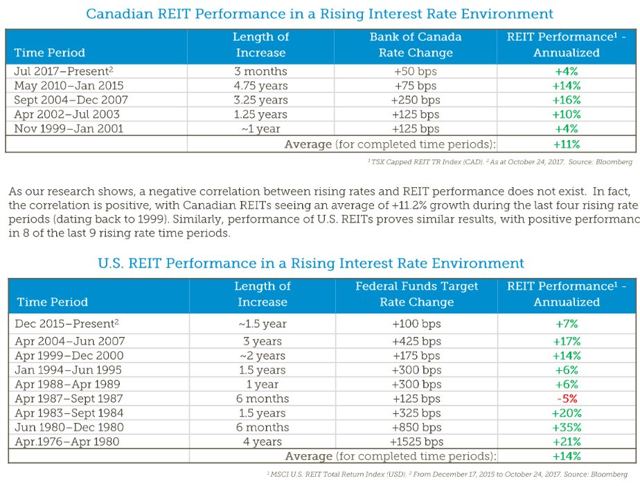 historically REITs have performed surprisingly well in rising interest rate environments, the idea that there is an inverse reln is a myth not backed by data. - via Babak
---
MERRY CHRISTMAS!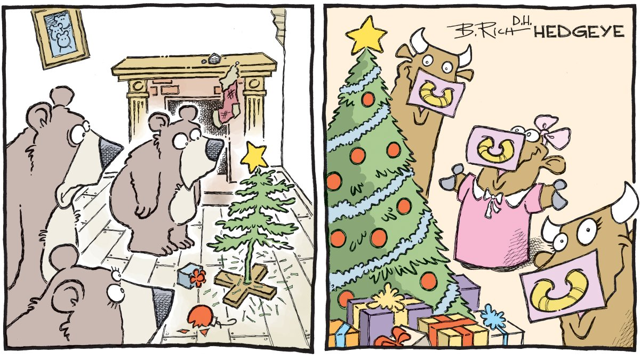 ---
Low Oil Prices Dim GOP Bid for Budget Bonanza in Arctic

Congressional Republicans counting on a $1 billion windfall from selling oil-drilling rights in the Arctic National Wildlife Refuge to help pay for tax cuts may be in for a disappointment.
---
===