===
Chatboard Highlights: Latest news on stocks & securities we hold in our Portfolio
Below is a listing of the latest news on stocks and securities we hold in our portfolio, in addition to some key economic news, which were shared on our Chatboard by HDO Members. I wish to thank all HDO members who are contributing, and special thanks to members dannyp52, Couch, Phil in OKC, Head Wrench, Governor19, BzNews, BrainRain1, Sassey, Dean 500, darrylawe, Jozsef Pengel, Isaac Z, Risk Reward, JoeRetired, GlennDawsonsodd, annel1, saruehle, Theodore Savas, testrelka, see44h, ZEPPRO, James BF, PapaAlan, Corsair Capital, HopeAlpha, dougn, thebellsareringing, CDNEH, Original Braila and others who contribute to our Chatboard.
===
---
January 7
---
Bull Market
David Tepper says market is as 'cheap' as a year ago, bullish on Trump's tax cuts

"I don't see overvaluation," hedge fund billionaire David Tepper tells CNBC's Scott Wapner.
---
EIA Petroleum Status Report
Summary of Weekly Petroleum Data for the Week Ending December 29, 2017

U.S. crude oil refinery inputs averaged 17.6 million barrels per day during the week ending December 29, 2017, 210,000 barrels per day more than the previous week's average. Refineries operated at 96.7% of their operable capacity last week. Gasoline production decreased last week, averaging 9.7 million barrels per day. Distillate fuel production increased last week, averaging 5.6 million barrels per day.

U.S. crude oil imports averaged about 8.0 million barrels per day last week, down by 27,000 barrels per day from the previous week. Over the last four weeks, crude oil imports averaged 7.8 million barrels per day, 0.1% less than the same four-week period last year. Total motor gasoline imports (including both finished gasoline and gasoline blending components) last week averaged 349,000 barrels per day. Distillate fuel imports averaged 129,000 barrels per day last week.

U.S. commercial crude oil inventories (excluding those in the Strategic Petroleum Reserve) decreased by 7.4 million barrels from the previous week. At 424.5 million barrels, U.S. crude oil inventories are in the middle of the average range for this time of year. Total motor gasoline inventories increased by 4.8 million barrels last week, and are above the upper half of the average range. Both finished gasoline inventories and blending components inventories increased last week. Distillate fuel inventories increased by 8.9 million barrels last week and are in the middle of the average range for this time of year. Propane/propylene inventories decreased by 0.7 million barrels last week, but are in the middle of the average range. Total commercial petroleum inventories increased by 1.2 million barrels last week.

Total products supplied over the last four-week period averaged 20.6 million barrels per day, up by 5.0% from the same period last year. Over the last four weeks, motor gasoline product supplied averaged about 9.2 million barrels per day, up by 2.1% from the same period last year. Distillate fuel product supplied averaged about 4.1 million barrels per day over the last four weeks, up by 5.8% from the same period last year. Jet fuel product supplied is up 14.7% compared to the same four-week period last year.         
Crude draw was bigger than API but imports were still 'high' at 8mm bpd, and gasoline/distillate inventories had BIG builds.
---
Warren Buffett Says Years of U.S. Growth 'Certainly Lie Ahead'

Omaha, Neb. (AP) -- Billionaire Warren Buffett remains optimistic about the U.S. economy and the nation's prospects for the future.
---
HFIR pounding the table on Crude Draws
Weekly Oil Storage Report - Our Q1 2018 Crude Storage Estimate Is Unbelievably Bullish

The EIA oil storage report shows crude storage decline of 7.419 million bbls vs. our forecast of 7.84 million bbls. We explain why we are seeing very bullish cr..
---
$CBL-D
8.65% Yield, Significant Upside Potential, Riskier Preferred Share

CBL Properties carries material price risk with their recent dividend cut and performance. CBL-D also saw a material price drop and is a great opportunity for i..
---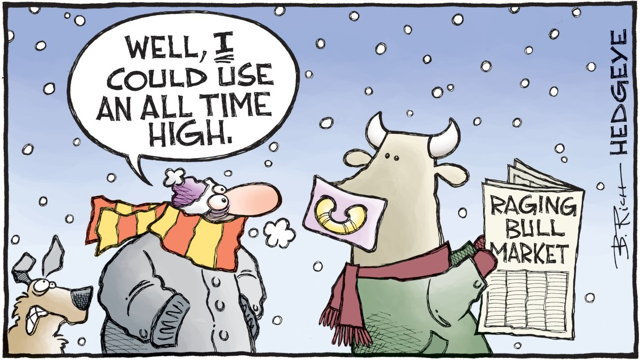 ---
Can Crude Oil Sustain The $60 Per Barrel Level?

Closing 2017 on the highs and it keeps on going in early 2018. OPEC extension provides support and inventories continue to fall. Global economic conditions mean..
---
Bedlam in East Coast NatGas Cash! Transco Zone 6 NY's $175/MMBtu Sets North American Record

Heavy snow, blustery winds and the highest natural gas spot price ever recorded by NGI marked a day of extremes...
---
ONEOK Inc. to build $1.4 billion natural gas pipeline system

TULSA — ONEOK Inc. on Thursday announced plans to build a $1.4 billion pipeline system to move natural gas liquids from eastern Montana to the Tulsa company's existing facilities near Bushton, Kansas.

The 900-mile Elk Creek Pipeline is expected operational by the end of 2019 and is designed to transport up to 240,000 barrels per day of unfractionated natural gas liquids. The pipeline is projected to cost about $1.2 billion, with related infrastructure costs expected to total about $200 million.

The pipeline will be designed with the ability to expanded to 400,000 barrels per day with additional pump facilities.

"The existing Bakken NGL and Overland Pass pipelines are operating at full capacity. Additional NGL takeaway capacity is critical to meeting the needs of producers who are increasing production and are required to meet natural gas capture targets in the Williston Basin," ONEOK CEO Terry K. Spencer said in a statement.

"The Elk Creek Pipeline will strengthen ONEOK's position in the high-production areas of the Bakken, Powder River and Denver-Julesburg regions and also provide additional reliability and redundancy on our NGL system."

The project is part of ONEOK's previously announced, broader effort to invest $3 billion to $3.5 billion in capital-growth projects.

To help pay for the project, ONEOK executives also said Thursday the company will offer up to 19 million shares of common stock in a public offering. At Thursday's closing price of $56.20 a share, the offering would be worth up to $1.07 billion.

The company said it would use about $450 million of the net proceeds from common stock issued in 2017.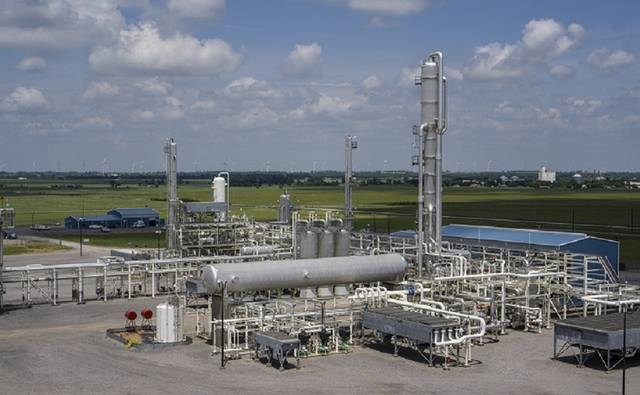 ONEOK Inc.'s Canadian Valley natural gas processing plant in Calumet.        
---
$CBL
CBL Properties CEO: We have a stable retail backdrop for 2018

Stephen Lebovitz, CBL Properties CEO, and Dana Telsey, Telsey Advisory Group CEO, discuss a report that suggests retail store closings will surge in 2018 and what it means for malls and the overall retail sector.
---
BULL MARKET
Outlook For 2018: Strength Begets Strength, The Secular Bull Market Rolls On

2018 will be a more challenging year for investors to navigate successfully. Don't ponder what can't be predicted. Using P/E ratios and offering "valuation" as..
---
Video
What can investors learn from top chess players, fighter pilots, and football coaches?

YouTube
CiovaccoCapital
Investing 2018: Leveraging World Class Strategies

---
$AHP
Should Value Investors Pick Ashford Hospitality Prime Stock?

Ashford Hospitality Prime (AHP) appears to be a good choice for value investors right now, given its favorable P/E and P/S metrics.
---
BDCs
Rising Rates Driving Higher Earnings In The High-Yield BDC Sector

3-month LIBOR is now almost 1.7% compared to 1.3% at the end of Q3 2017 providing upside potential for many BDCs. Over the last few quarters, BDC management has
---
$BST
The 10 Funds Everyone Will Be Buying In 2018 | Forbes

"Only one of the top 10 CEFs by total return wasn't a foreign equity fund: the unstoppable Blackrock Science and Technology Fund, an extremely well managed tech-focused CEF I first showed you back in June."

These CEFs Soared Up to 58.8% in 2017 – and They're Just Getting Started – Contrarian Outlook
---
$CBL

CBL Properties: I Can't Believe I'm Buying (Sort Of)

I do not believe that Amazon will be the end of all malls. CBL sports a very high dividend yield, but is it worth the risk? The seemingly unstoppable drop has l..
"This is an admittedly an insanely high cap rate (meaning very cheap) as it is implying that if you were to use cash to buy out all the common stock as well as pay off all the debt, then you would get an 11.88% return on your money."
---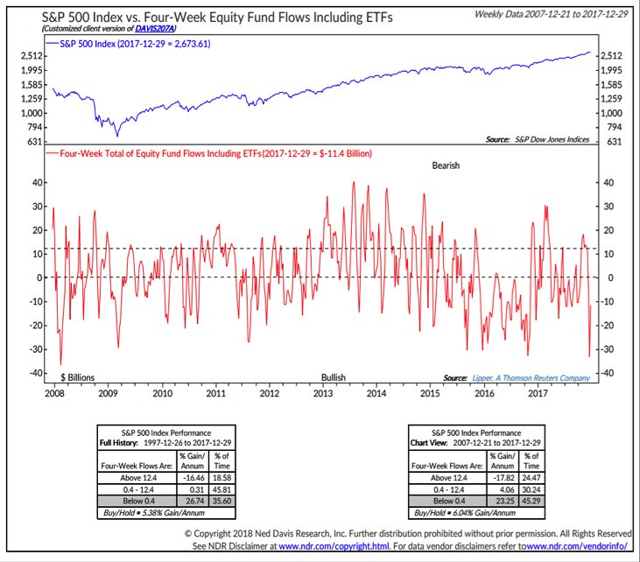 Fund flows show that investors remain reluctant to pile into this rip-roaring stock market rally (that would be #contrarian negative) as of Jan 5th, most recent 4 wk avg combined equity fund flows -$22.8B chart NDR h/t @WillieDelwiche
---
$BPL $EPD $ETE $ETP $NGL $SEP


Credit Suisse reinstates ratings on energy firms

Credit Suisse is out with reinstated ratings on the energy sector, where it sees heavy upside for Energy Transfer Equity, Kinder Morgan and Western Gas EP, and gets bearish on firms including Buckeye..
---
INDICATORS

Following is a selection of the key charts and indicators we will be watching in the new year. The themes span inflation, monetary policy, commodities, China, emerging markets, corporate bonds, global equities, volatility, and bond yields. In other words, all the issues and topics that most active asset allocators should be thinking about.

Global Multi Asset Investing: the 10 must-watch Charts for 2018
---
BULL MARKET: EMERGING ECONOMIES

Equities: Finally, on equity markets (where the rubber hits the road for investors, so to say), there is a curious tendency for emerging market vs developed market equities relative performance to undergo very long cycles. The distance from the 88 bottom to the early 2000's bottom was about 12-14 years. which is about the same distance in time as the 2016 low is from the early 2000's bottom. As global equities break higher, emerging markets could well be key. But at least on an EM equity relative performance basis there is certainly room to argue that a long-cycle bottom is in and the macro (cycle/policy) backdrop supports this view on a tactical basis.

Topdown Charts | Chart driven macro insights
---
ETF INVESTING

Who Are Authorized Participants?

Knowing about authorized participants will help you understand the workings of the ETF market, which can help you converge on portfolio-building strategies
ETFGI Reports Record-Breaking 2017 For US-Listed ETFs And ETPs With Assets Increasing 34.3% To Reach A Record US$3.42 Trillion

ETFGI, a leading independent research and consultancy firm on trends in the global ETF/ETP ecosystem, reported today that assets invested in ETFs and ETPs listed in the United States increased by 34.3% during 2017 to reach a new high of US$3.42 Tn at the end of December. 
---
China OIL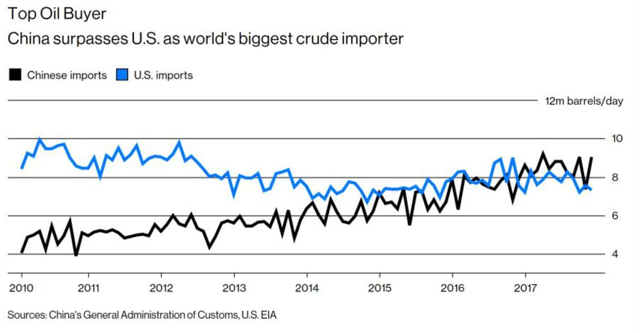 ---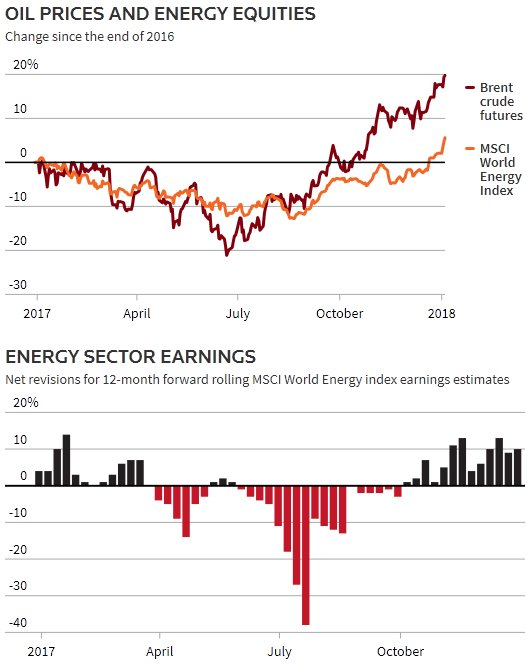 While Brent #crude oil rose almost 20%, MSCI World Energy Index has yet to reflect that (+5.6%) or sector's improved earnings $XLE
---
BULL MARKET
Here's what 12 Wall Street pros are predicting for the stock market in 2018

BI Prime: Almost no one is bearish.
---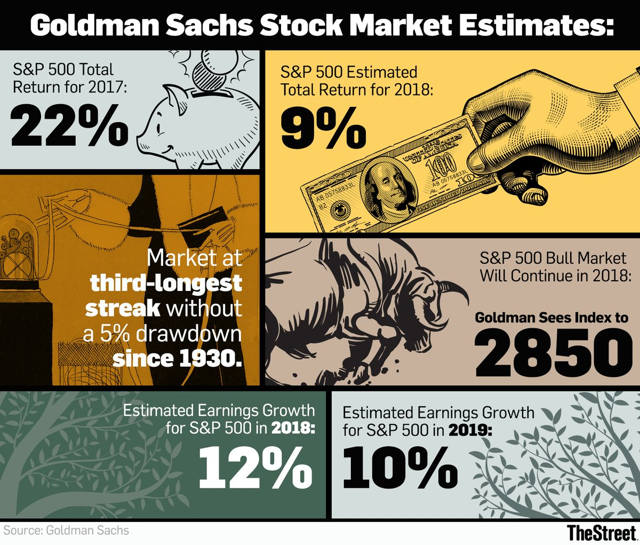 ---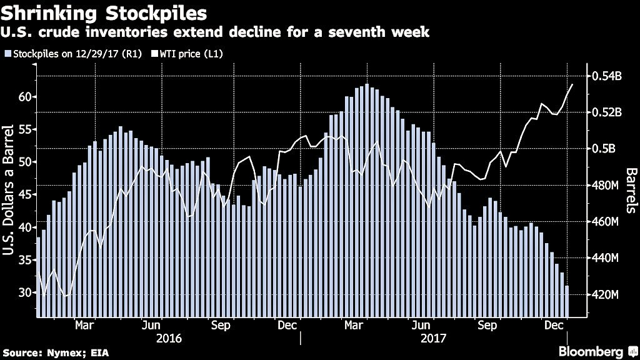 ---
RAGING BULL MARKET (VIDEO)

YouTube
Hedgeye
The Macro Show Highlights: January 5, 2018

---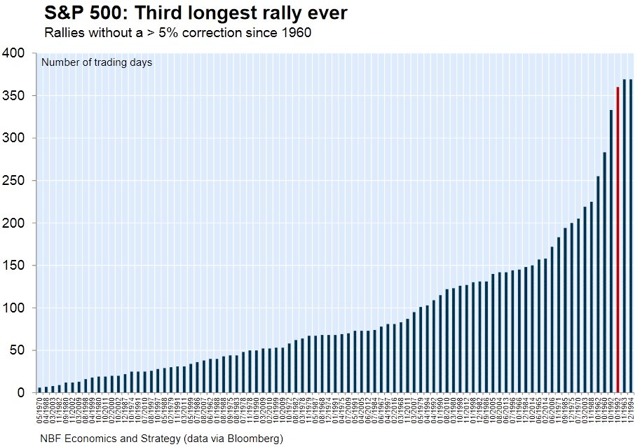 ---
===