===
Chatboard Highlights: Latest news on stocks & securities we hold in our Portfolio
Below is a listing of the latest news on stocks and securities we hold in our portfolio, in addition to some key economic news, which were shared on our Chatboard by HDO Members. I wish to thank all HDO members who are contributing, and special thanks to members dannyp52, Couch, Phil in OKC, Head Wrench, Governor19, BzNews, BrainRain1, Sassey, Dean 500, darrylawe, Jozsef Pengel, Isaac Z, Risk Reward, JoeRetired, GlennDawsonsodd, annel1, saruehle, Theodore Savas, testrelka, see44h, ZEPPRO, James BF, PapaAlan, Corsair Capital, HopeAlpha, dougn, thebellsareringing, CDNEH, Original Braila and others who contribute to our Chatboard.
===
---
Posts up to January 21
---
OIL
The Impending Oil Shortage: Updating Our Oil Thesis For 2018

Updating and sharing our thoughts for oil in 2018. Global supply shortage to turn into a global inventory shortage. Recent oil price rise is merely the first in..
---
Shale Restraint Could Lift Oil To $80 | OilPrice.com

With oil reaching $70 per barrel, the big question is whether U.S. shale will ramp up drilling and spoil the party..
---
API Reports Seventh Large Crude Draw In Seven Weeks | OilPrice.com

The API reported yet another large draw to crude oil inventories, making it the 7th large crude draw in seven weeks time..
---
EIA's U.S. Production Growth Forecast Revised Higher, But Still Too Conservative

The EIA's new STEO model is predicting U.S. crude oil production growth to slow down in 2018 and then again in 2019. We believe that the forecast is overly cons..
---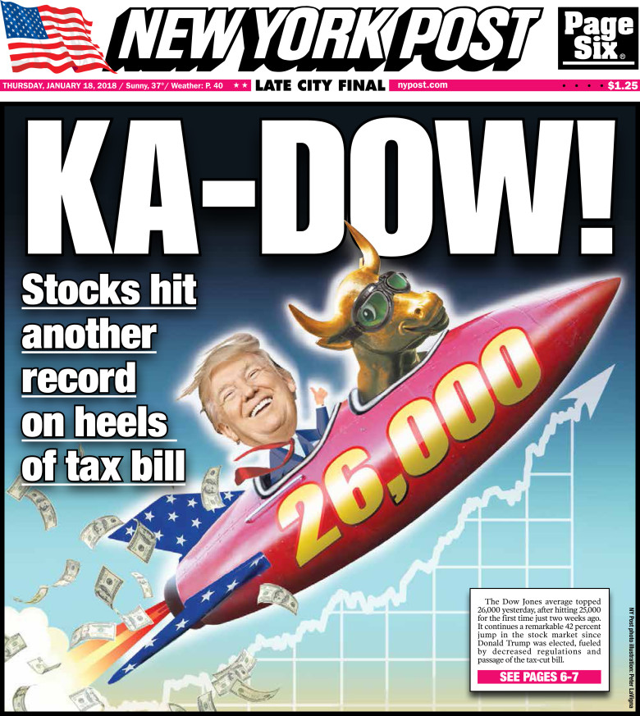 ---
EMPLOYMENT

U.S. Jobless Claims Plunge to Lowest Weekly Tally Since 1973

U.S. filings for unemployment benefits plummeted to the lowest level in almost 45 years in a sign the job market will tighten further in 2018, Labor Department figures showed Thursday.
---
BANK TAXATION & TAX REFORM

This just in: Banks expect to pay a lot less in taxes

Bank stocks have been among the major beneficiaries of the reduced corporate tax rate as a relatively high proportion of bank business takes place in the U.S.While Q4 reports included some sizable tax..
---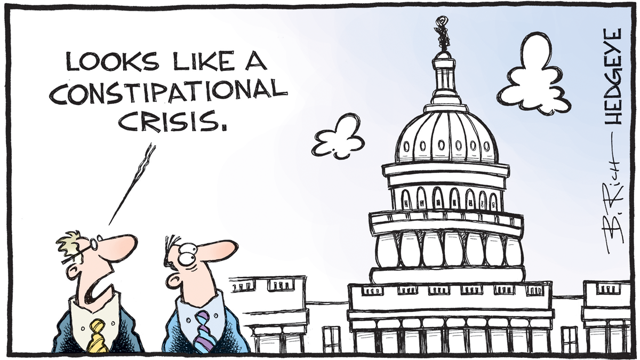 Senate in disarray with shutdown hours away. With the clock ticking on a possible shutdown, President Trump huddled at the White House with Senate Minority Leader Chuck Schumer (D-N.Y.) to discuss striking a deal to keep the government open.
---
OIL: BUY THE DIP

It's a buy-the-dip story in the oil markets, says RBC's Helima Croft

RBC's top commodity strategist says she'd buy oil on any weakness.
Even though the oil markets are entering a period of seasonal softness, she sees geopolitical trends supporting pricier oil.

Croft, RBC's head of commodity strategy, says the floor has risen to the mid-to-high $50 a barrel price range.
---
US oil output is booming and seen outpacing Saudis, Russia | MarketBeat.com
PARIS (AP) — U.S. oil production is booming and is forecast to top that of heavyweight Saudi Arabia and rival Russia this year, a global energy agency said Friday.

The International Energy Agency said in its monthly market report that U.S. oil production, which has already risen to its highest level in nearly 50 years, will push past 10 million barrels a day in 2018 as higher prices entice more producers to start pumping.

"This year promises to be a record-setting one for the U.S.," it said. 
---
$AMZA
AMZA: Distribution Cut - Is The New One Covered?

We have explored the distribution coverage at AMZA from multiple angles and each one led us to conclude that it was not covered. This morning the ETF manager cu..
---
REITs Stabilize After Rough Start To 2018

2018 hasn't been kind to income-oriented investments so far. Amid expectations of faster economic growth and rising interest rates, REITs have sold off to level..
---
BULL MARKET
The Dow's 31% gain during Trump's first year is the best since FDR

Donald Trump lifted the Dow Jones industrial average in his first year in office more than any other president since Franklin Roosevelt.
---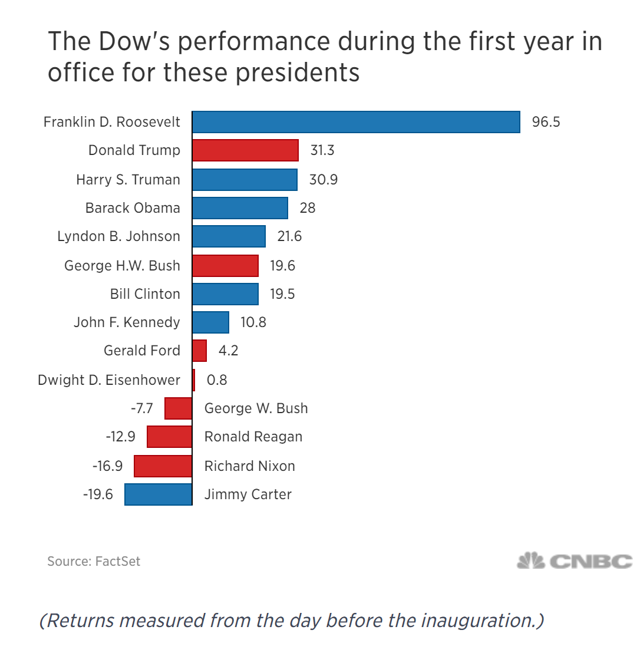 ---
YouTube
CiovaccoCapital
Stocks in Final Melt-Up Stage?

---
BULL MARKET: "IT'S THE TAX CUTS, STUPID!" -- INVESTORS BUSINESS DAILY


Making Apple — And Lots Of Other Companies — Great Again | Stock News & Stock Market Analysis - IBD

Apple's announcement that it will bring back some $245 billion it holds overseas should surprise no one. It's the tax cuts, stupid.
---
BULL MARKET: POPULAR CITIZEN SENTIMENT
Majority of Americans say they are satisfied with the economy at levels not seen since dotcom boom, NBC/WSJ poll finds

One in five respondents cited the low unemployment rate and recent stock market records as Trump administration accomplishments.
---
GOVERNMENT SHUTDOWN
Congress returns with no sign of a breakthrough on shutdown

'Democrats are holding our military hostage over their desire to have unchecked illegal immigration,' President Donald Trump tweeted.
---
BULL MARKET: UP 122%?!

Why the S&P 500 Could Rocket 122% by Year-End

Ever experienced FOMO?
---
An Investor's Guide to the Shutdown

With bullish sentiment the highest since 1986, it's hard to see D.C. dysfunction doing much to deflate investors' expectations.
Apart from any possible short-term perturbations that might result from a shutdown, the historical records show that investors have fared well during years including shutdowns. According to James Brilliant, co-chief investment officer of Century Management Investment Advisors in Austin, Texas, the Standard & Poor's 500 index returned an average of 14.24% in the 18 years that saw government shutdowns. In the seven years in which shutdowns led to federal furloughs, the average return was 15.56%. "So while media coverage of a potential government shutdown is sure to stir anxiety for many and may increase near-term price volatility, we believe the history of government shutdowns suggests investors can sleep soundly in the weeks ahead," Brilliant concludes.

Indeed, it's hard to see a government shutdown doing much to deflate investors' expectations. According to Investors Intelligence's latest poll of advisory services, bulls rose to 66.7%, the highest since April 1986, from 64.4% the previous week, while bears fell to just 12.7%, from 13.5%. The spread between bulls and bears was the widest since April 1986, which Peter Boockvar, the chief investment officer of Bleakley Financial Group, observes preceded a 5% correction in the Dow Jones Industrial Average over the following five weeks. Another fun fact: At week's end the S&P 500 was one day away from setting a record for its longest run without a 5% dip.
---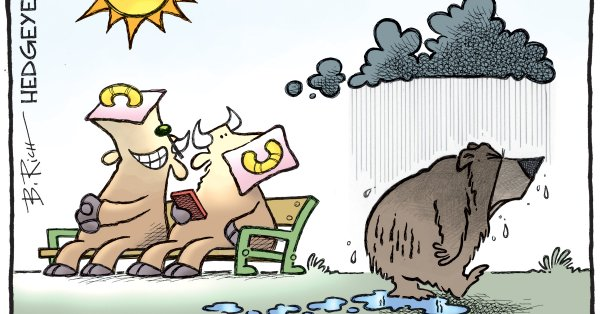 ---
BULL MARKET MASTER
Meet the unconventional portfolio manager who crushed Wall Street last year while barely watching the market

BI PRIME: Alex Umansky, a portfolio manager at Baron Funds, shares his investment methods and discusses his fund that crushed stock benchmarks in 2017.
---
BULL MARKET: UNDERVALUED & HIGHLY PRODUCTIVE

The CEO of $445 billion fund giant Principal Global Investors says everyone has the economy all wrong

Jim McCaughan, CEO of Principal Global Investors, talks about the accuracy of economic indicators, equities in 2018, and the next economic downturn..
---
US DOLLAR & ELLIOTT WAVE

US Dollar ETF (UUP): Elliott Wave Favors Resumption Of Bull Trend - See It Market

US Dollar declines have altered the Elliott wave count for the major currency somewhat, according to analysts at Trading on the Mark. However, the broader pattern still favors a resumption of the larger bullish trend for the Dollar.
---
CLASS WARFARE
Here's Why the Middle Class is Disappearing All Around the World

According to new research from McKinsey
---
===