===
Chatboard Highlights: Latest news on stocks & securities we hold in our Portfolio
Below is a listing of the latest news on stocks and securities we hold in our portfolio, in addition to some key economic news, which were shared on our Chatboard by HDO members. I wish to thank all HDO members who are contributing, and special thanks to members dannyp52, Couch, Phil in OKC, Head Wrench, joshgi1, Governor19, BzNews, BrainRain1, Sassey, Dean 500, darrylawe, Jozsef Pengel, Isaac Z, Risk Reward, JoeRetired, GlennDawsonsodd, annel1, saruehle, Theodore Savas, testrelka, see44h, ZEPPRO, James BF, PapaAlan, Corsair Capital, HopeAlpha, dougn, thebellsareringing, CDNEH, Original Braila, Qu243, Gregg McKnight and others who contribute to our Chatboard.
===
---
Posts up to February 26
---
BULL MARKET

Weighing The Week Ahead: Is The Coast Clear?

Inflation ran a bit hot, but the attention did not derail the market rebound. The calendar is light and the week is short - an open season for the punditry. Exp..
So we have a paradox. The stronger economy is lifting profits, which helps stocks, but it's also causing bond yields to rise, which hurts valuations. So what's an investor to do? The key is to remain calm and not let short-term events scare you. I suspect we're going to see more volatility spikes over the next few weeks. If we're lucky, that will give us some very good buying opportunities.

Remain focused the economy and corporate earnings. In the absence of recession risk, earnings growth supports higher stock prices. (Tim Duy's Fed Watch).
---
RETEST THE LOWS

Effective Technical Analysis Is an Art Not a Rule Book

Following chart patterns can offer important investing discipline.
Anyone that thinks they can predict how much further the S&P500 will bounce off the recent lows is delusion. We have already seen violations of all the standard rules about support and resistance.

TA is still highly useful to navigating the market, but you cannot approach it as a simplistic set of rules. You must think beyond that if you want to use it. Quite often it is still a self-fulfilling prophecy.

Breakouts work because so many people are willing to believe that they do work. The same goes for V-shaped moves in the current market.
---
WALL OF WORRY
The wall of worry is a term used to describe the stock market's tendency to overcome potentially negative factors as it climbs. It's a contrarian concept in that investors fear stocks can stall once the concerns making up the wall of worry have been dispatched.

Stock market's new 'wall of worry' is built on inflation and rate fears

The U.S. stock market on Friday posted one of its best weekly performances in years, recapturing half of the losses from the startling market correction earlier this month and discovering a new wall of worry to climb.
"Importantly, we do not believe that the very strong global growth and earnings backdrop has suddenly evaporated," she said.

Indeed, the fourth-quarter earnings season has been quite remarkable. According to John Butters, senior earnings analyst at FactSet, out of around 400 S&P 500 companies who have reported results, 75% beat on profits and 78% beat sales estimates.

So far, a V-shaped recovery is taking hold, matching the speed of the decline, though investors aren't quite out of the woods yet, according to Quincy Krosby, chief market strategist at Prudential Financial.
---
$KBWY
High-Yield REIT Funds Offering Substantial Value Right Now (KBWY)

From Contrarian Outlook: The market just dropped the big, ugly "C" word on us. "Correction," that is. The old stalwart Dow Jones Industrial Average recently bro..
---
Before you blame market volatility on inflation, check out this 'stunning' chart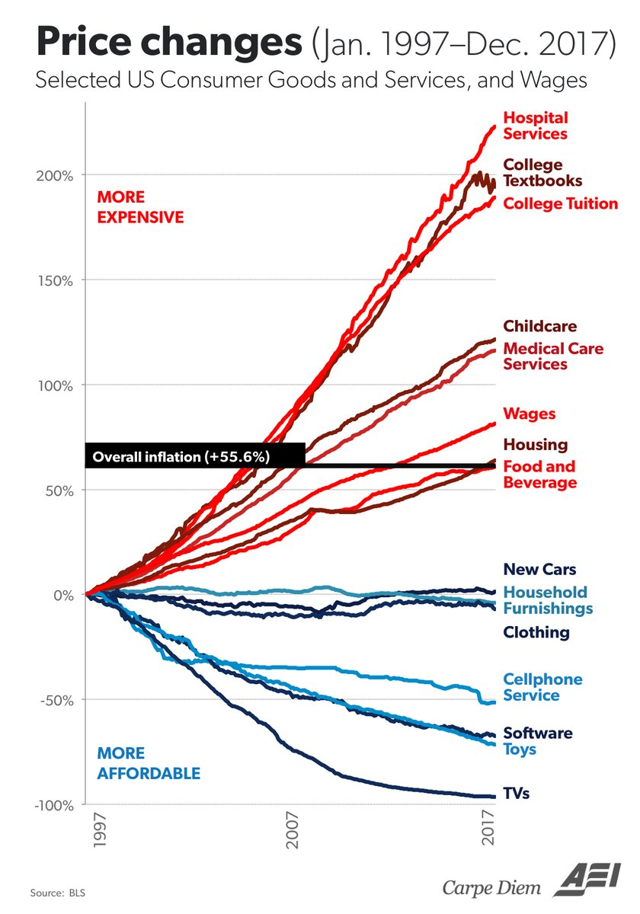 "One of the most important charts about the economy this century" - MarketWatch
"Wages have barely ticked over the median inflation measure," he said, "but that did not stop some people from blaming the correction on rising wages."

Ritholtz says "we are a long ways" from the wage push inflation of the 1990s, although he does expect wages to tick higher, just not enough for the Federal Reserve to take any drastic action.
---
RETAIL | Stocks To Watch: Retail Heavyweights To Center Stage $WMT


Stocks To Watch: Retail Heavyweights To Center Stage

Welcome to Seeking Alpha's Stocks to Watch - a preview of key events scheduled for the next week. Follow this account and turn the e-mail alert on to receive th..
---
INFLATION vs REBOUND

MY TAKE (by dannyp52):

1) Oil prices jumped recently driving prices for consumer and industry up. Since the bull market for oil is being propped up by OPEC and Russia cutting output, I therefore consider the spike in inflation as manufactured and temporary. Hence, the market overreacted to inflation jumping off a cliff like a herd of lemmings. Let 'em. You can't stop them and they'll just do it again, anyway.

2) The only major consideration an investor has to ponder is whether we are going to have a "V" shaped recovery or a "W" shaped recovery retesting the lows, or worse yet a bear market induced by technicals and not the economy via recession.

So, I'm leary of making cash outlays, right now, but I'm wagering on a V shaped recovery. -- dp
---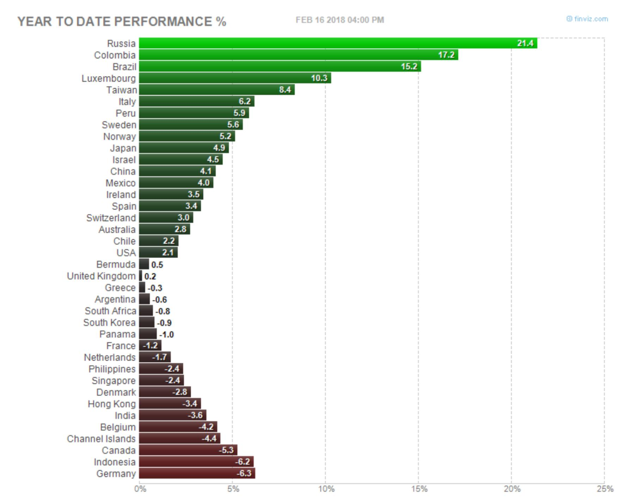 YTD % countries. Russia, Colombia, Brazil
---
$SEP $EEP | Spectra Energy Partners Secured a Better Future in Q4
Spectra Energy Partners Secured a Better Future in Q4

By eliminating Enbridge's general partnership stake, the company should be able to achieve higher growth rates in the future.
---
BULL MARKET & VOLATILITY | Analysts expect S&P 500 earnings to keep rising for the next few profit periods, peaking at 21.3 percent growth in the third quarter and moving to 17.8 percent growth in the fourth quarter, according to Thomson Reuters data.
Stock volatility: back with a bang and here to stay

U.S. stock markets are unlikely to return to the unusually calm conditions seen last year, even though equities have already recovered more than half the ground lost in the recent selloff and traders have rapidly dialed down fear.
---
OPEC CUTS

As Oil Stocks Drain, OPEC Searches for Its Next Fig Leaf

Inventories give only a partial picture of balance in the market.
---
BULL MARKET MANUFACTURING: TAX REFORM & REGULATORY RELIEF | 5 min video
YouTube
Fox Business
Manufacturers are confident thanks to tax reform, regulatory relief: Jay Timmons

CONFIDENCE IS HIGH
---
BULL MARKET
- Best week for US stocks in 5 years
- Gains propelled by weaker dollar, and despite rising yields

Week Ahead: Record-Breaking Equity Rally Ahead? Has Gold Bottomed?

Since the start of the selloff, we have maintained that fundamentally nothing has changed. After the knee-jerk reaction to Fed tightening, which investors had convinced themselves wouldn't happen just yet, economic data continued to signal additional traction in synchronized economic growth. As well, 80 percent of the S&P 500 companies that have already reported earnings met or beat expectations, showing an overall average of a 15.2 percent growth YoY. Revenue growth averaged 7.9 percent, the fastest pace since the fourth quarter of 2011.

This clearly demonstrates that economic expansion is supporting profits, just like it always has. Therefore, the panicked selling on economic growth make little sense.
---
VOLATILITY CRASH: TECHNICAL, NOT SYSTEMIC

How to keep your common sense when the stock market takes a wild ride

One thing to remember is that periodic market setbacks are part of a normal pattern, like steam that occasionally needs to vent from a simmering pot.
The 1,175-point drop on Feb. 5 was the largest ever in point terms but ranked just 108th in percentage terms, noted Jeremy Kisner of Surevest Wealth Management in Phoenix.

The third type — technical pullbacks — are sharp, periodic slumps that bring stock prices back into line with earnings valuations and other measures. They're often sparked by seemingly unrelated or seemingly insignificant factors.

Selling pressure, while intense for days or weeks, usually is confined to the stock market and dissipates reasonably quickly.

Ablin considers the latest slump to be a technical pullback.
"While it's impossible to predict where the markets will meander on a day-to-day basis, we are confident that any pullback that plays out over the next few weeks represents a better opportunity to buy for the long run rather than a reason to sell," he wrote.
---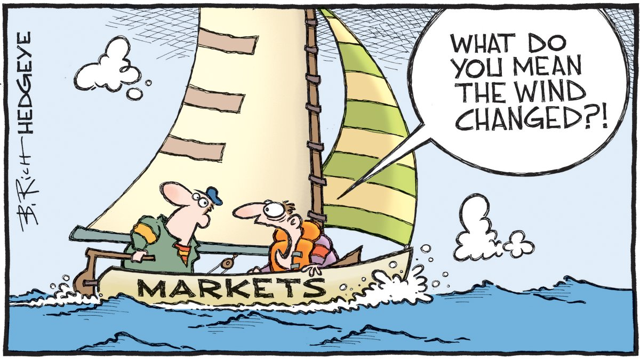 ---
VOLATILITY CRASH RECAP

The stock market correction two weeks later: How it happened, and if it can happen again

The days of low-volatility are over and a new day has come in which bizarre moves and a less predictable environment will become the norm.
Saluzzi, the Themis Trading official, said the action is probably just a preview of what investors can expect as trading gets more and more driven by algorithms and their accompanying programmed trades. Selling has always begat selling, but in the current environment things can get out of hand in seconds.

"That was a structural event. It was right around 3:08 in the afternoon on Monday," Saluzzi said. "It burned a hole through the market."

But while the market may have been burned, it wasn't broken. The sell-off, aggressive as it was, didn't even trip the 7 percent circuit breakers the market has built in to prevent major crashes. (There also are accelerated stopping points at 13 percent and 20 percent.)
---
BULL MARKET: CAPEX

Feb 17, 2018 - Dan Loeb's Outlook for 2018 - GuruFocus.com

Dan Loeb's Outlook for 2018, Stocks: TPNTF, release date:Feb 17, 2018
Capex has room to surprise to the upside in 2018 for a variety of reasons. The economy is entering the later part of the cycle, during which rising wages tend to accelerate capex.

Free cash flow is high while CEO confidence and capex intention surveys are at their most bullish levels since 2004. The recent tax deal further incentivizes capex through a) its stimulation of aggregate demand, which leads to higher investment via a feedback loop, b) the cut in the corporate tax rate, which increases the after-tax return on capital, and c) accelerated depreciation allowances.

With low- to mid-single digits nominal capex growth embedded in bottom-up estimates, the bar for positive surprises is low. Higher capex could galvanize a cyclical rise in productivity, which has recently started to rebound from generationally-low levels."

The odds of a recession over the next one to two years are low due to: the current strong level of growth supported by easy financial conditions, the growth support from tax cuts and fiscal spending, the low level of the real Funds rate, and the lack of major macroeconomic imbalances such as excess credit growth or overinvestment. Sometimes, however, recessions are caused by unanticipated events.
---
$ARNC
Steel Yourself! Tariffs Get Investors Excited About Metal Again

Steel and aluminum tariffs could help U.S. producers, but drive up prices for consumers.
---
VOLATILTY CRASH AND REBOUND

I think the complexity of available financial products is contributing to this unusual speed. The financial services industry innovates by creating new and complex products that track everything from market volatility to collector stamps. These funds give "investors" entirely new ways to gamble on the market.

One such product made headlines last week after its spectacular failure and drop of 96 percent in one day. The product was a complex bet against volatility. You can see how this was doomed from the start. But when investors and hedge funds use this as a way to hedge other risky bets, one domino falling can knock out several others in the broader markets.

In our progress meetings, we refer to times like these as a fire drill. When the alarm goes off, what are we going to do? We are going to be calm, relax and follow your plan. We are not going to react with emotion. That is the smart way to deal with a fire drill. That's the same behavior to have in times like today.

Stock market correction is normal, and could be an opportunity for those investing for long term

In the last two weeks, the stock market has experienced higher levels of volatility than we've seen in some time. It's left many people wondering if this is normal and healthy, or a sign of worse …
---
BULL MARKET

Prepare for a good year on Wall Street—just not 2017 good, says JP Morgan Private Bank

Temper expectations. Wall Street probably won't see the kind of charging bull market gains seen in 2017, says strategist.
"Think 11 to 13 percent from here, which of course in the context of history is very strong," she said. "When you look at fundamentals, which is how we think about the market, it's hard to get to a number of 20 to 25 percent just based on earnings growth."

An increase of at least 11 percent on the S&P 500 still puts it above the historical average. The S&P 500 increased an average 8 percent in the past decade: 2008 was its worst year in the past 10 with a 39 percent decline, while 2013 was the best with a 30 percent rise.
---
ALGORITHMS

Market Bounce Was a Self-Fulfilling Proph-V-ecy

Overall, we went from grossly oversold to grossly overbought.
The intense computer-driven buy programs finally relented this afternoon and the indices closed mixed. Interestingly, the turn came at the same time as a headline about the federal indictment of Russian individuals and entities for meddling in the U.S. presidential election. The story didn't have any real implications for the market but it demonstrates how computer algorithms can be triggered by any number of things.

After the buy programs shut down around 12.30 p.m. ET, there was a quick dip and then dancing around before a close on a downtick. Despite the mixed action, breadth remained quite strong at about 4,300 gainers to 2,500 losers but the number of big movers declined from earlier this week.
HRR
BULL MARKET
Yes, a short-term panic really is consistent with a bull market in Hong Kong stocks | South China Morning Post

While it might seem contradictory, fears over inflation can trigger a correction as the market continues to run
---
OIL PRICES
Saudi Arabia Wants $70 Oil | OilPrice.com

The OPEC production cut has been successful in drawing global oil inventories toward the five-year average, but Saudi Arabia is now setting itself a new goal..
---
BULL MARKET

BlackRock Says Buy U.S. Stocks as Tax Plan Supercharges Earnings

BlackRock Inc. turned bullish on U.S. stocks as the world's largest money manager says impending fiscal stimulus will boost already strong momentum for earnings growth.
"Economic strength was already changing the tone of earnings momentum but U.S. tax cuts and government spending plans lit a fire under the trend," he wrote in a note. "Upward revisions are solid globally, but the U.S. strength is unmatched."
---
GREECE THREATENED BY TURKEY

World War 3: Turkish politician promises to INVADE GREECE if victorious in the election

TURKEY'S leader of the Republican People's Party (CHP) has threatened to invade "18 Greek islands in the Aegean Sea" if he comes to power that could trigger World War 3 as president Recep Tayyip Erdoğan continued his aggressive rhetoric after imposing his forces in Syria, it has emerged.
In a recent speech, he (Erdogan) continued his aggressive rhetoric and hinted he too could confront Greece after issuing a warning to "those who have crossed the line in the Aegean and Cyprus."

He continued: "Their courage persists only until they see our army, our ships and our planes...Whatever Afrin is to us, our rights in the Aegean and Cyprus are the same."
---
BULL MARKET: EARNINGS

BlackRock upgrades outlook for U.S. stocks on earnings momentum

The world's biggest asset manager BlackRock Inc upgraded its view on U.S. stocks, citing very strong earnings momentum, while cutting European stocks to neutral.
"We believe the coming positive effects of new U.S. tax and spending plans are still underappreciated by markets," BlackRock's Turnill said in the note.

"We find earnings growth matters more than valuations over shorter time horizons at this stage of the bull market," Turnill said, adding:

"Economic strength was already changing the tone of earnings momentum, but U.S. tax cuts and government spending plans lit a fire under the trend."
---
DOW THEORY | shows market turmoil isn't signaling a coming crash

Dow Theory shows market turmoil isn't signaling a coming crash

Currently, followers of the Dow Theory are giving the stock market the benefit of the doubt.
Panic is a bad investment strategy.

Yet that is exactly how many investors reacted this month when the stock market dropped precipitously. They indiscriminately dumped their stocks at whatever prices they could get.

Odds are good that they will end up regretting their behavior.
---
BULL MARKET | What Correction?

There Are Many Signs Investors Have Totally Forgotten About S&P 500 Correction

Investors have piled back into equities in the wake of a bone-crushing correction. What risk?
The S&P 500 fell by 10% for the first time in 500 days this month, but has quickly rallied and is now is just 6% below its all-time high. "A recession is unlikely as deregulation and tax reform have lifted consumer confidence and business optimism to highest levels in years," points out Goldman Sachs strategists.
---
BULL MARKET: JUMPING THE GUN ON INTEREST RATES
Investors might be freaking out about higher interest rates, but Credit Suisse says the stock market is not

Rising interest rates may not be the culprit many investors think they are, according to a Credit Suisse study.
"Year-to-date, if you invested only on dates when interest rates went up, your annualized return would be 16 percent," said Jonathan Golub, chief U.S. equity strategist at Credit Suisse. Golub studied the correlation between the S&P 500 and the 10-year yield and found that for 2017, stocks gained 31.2 percent based just on the way they moved on days when bond yields rose.
"The argument that the market is selling off because of rising rates is mathematically wrong," he said.
---
$CBL
Retail REITS: Would You Rather Buy Overpriced Good News Or Discounted Bad News?

There has developed a substantial divergence in market pricing and valuations of retail REITs, creating a separation between higher-quality and lower-tier property owners.

While some difference in valuations ought to be expected, the divergence in valuations has grown to a point forcing investors to chose between over-priced good news and heavily-discounted bad news.

This extreme divergence has created an attractive opportunity for value investors to pick up shares in "unloved" CBL, offering a very attractive total return opportunity for long-term holders.
---
REITs
Several of the comment threads in my articles have focused on property values. Going up, going down, how do property values impact a REITs profitability? At the..
---
TAX REFORM

Small-business confidence hits record high in 2018 after Trump tax-reform win

Small-business confidence hits a record in 2018 as optimism rises over tax reform, according to the CNBC/SurveyMonkey Small Business Survey.
Twice as many now expect changes in tax policy to have a positive rather than negative effect on their businesses. Forty-six percent of those surveyed say tax policy changes will have a positive effect, up from 38 percent in the fourth quarter. The number of those saying tax policy changes will have a negative impact fell sharply, from 36 percent in the fourth quarter to 23 percent in the most recent survey.
---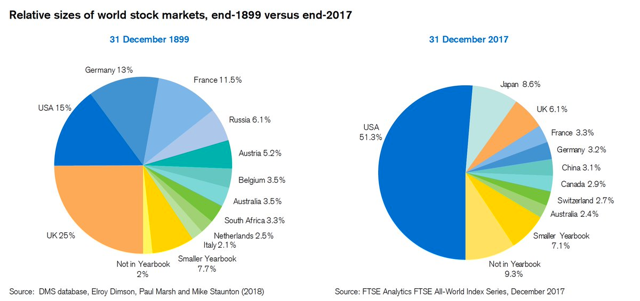 ---
SPEED BUMP

Stocks Fade As Dow, S&P 500 Face Questions At This Key Level | Stock News & Stock Market Analysis - IBD

The market's rebound has cooled off and now the market is searching for direction.
How the indexes behave around the 50-day line will give some clues on the market direction; that is, whether the rebound continues or it fizzles. On Tuesday, the S&P 500 dipped back below the 50-day moving average, a ledge it gripped just last Thursday. But right now it's only a minor drop below it.
---
$CEQP
This 8.7%-Yielder Sees a Return to Growth Coming in 2018

If everything goes according to plan, investors in Crestwood Equity Partners could see more cash coming their way by the second half of the year.
---
$BPL

BPL Added as Top 10 Energy Dividend Stock With 10.44% Yield
---
$ARI $BXMT

What's Happening With These REIT Stocks? -- Anworth Mortgage Asset, Apollo Commercial Real Estate Finance, Blackstone Mortgage Trust, and Chimera Investment

NEW YORK, Feb. 20, 2018 /PRNewswire/ --

WallStEquities.com strives to bring the best free research to the investment...
---
$LXP

Lexington Realty: Bargain Shopping

LXP had a disappointing 2017. With the recent pullback, share price has hit bargain basement prices. A look at LXP's fourth-quarter activity and 2018's prospect..
---
$HCN $O $SKT

3 Embarrasingly Cheap Dividend Stocks

Thanks to rising interest rates, these stocks have become ridiculously cheap. Take advantage.
---
$SXCP

Coal, Chips, And Chemicals Charge Up, Per Broker February Targets

Coal, Wood Chips & Chemicals topped February's Basic Materials sector for gains, calculated by broker 1yr targets 2/16/18. Ten top broker-guesstimated gains ran..
---
$DVY $DVYL $VNQ $SDYL
Understand how ETFs that hold dividend-paying securities collect and pass along those dividends proportionally to the shareholders of the ETF.
---
$T
Judge Denies AT&T Request for Trump Admin Documents

Public Knowledge is celebrating a Judge's decision not to force the Trump White House and Justice Department to produce records of communications between the two as part of a DOJ suit to block AT&T's proposed merger with Time Warner. Judge Richard Leon is presiding over the suit.According to Public Knowledge, the judge ruled that AT&T "had not met the high legal burden" required to get access to the government documents.
---
Is The U.S. Over-Piped? Part 2 - MLP Pipeline Growth Opportunities

By Stacey Morris Last week, we discussed re-contracting risk in the context of the broader question of whether the U.S. is over-piped. In today's post, we look..
BOTTOM LINE:
The U.S. is not over-piped.
Multiple producing regions still face pipeline constraints, and we continue to see announcements for new pipelines with sufficient long-term capacity commitments to justify construction. There is admittedly intense competition in the space, which has resulted in more joint ventures across projects. If oil prices stay at these levels, U.S. oil production is likely to continue growing. Natural gas and NGL production should also grow as northeast pipeline bottlenecks are alleviated and as associated gas production increases. Continued production growth could lead to future capacity constraints that require newbuild pipelines, but nowadays, pipelines are just one of many ways that MLPs can grow.
---
OVERREACTING MARKETS

UBS's Brown Says Markets Reaction to FOMC 'Very Puzzling'

Evan Brown, UBS Asset Management Director, gives his take on the FOMC minutes. He speaks with Betty Liu on "Bloomberg Daybreak Asia." (Source: Bloomberg)
---
Fed's Kashkari Says Wall Street Overreacts to Data

Federal Reserve Bank of Minneapolis President Neel Kashkari discusses the Fed's rate path, market behavior, and demand for Treasuries. He speaks with Bloomberg's Michael McKee on "Bloomberg Markets." (Source: Bloomberg)
---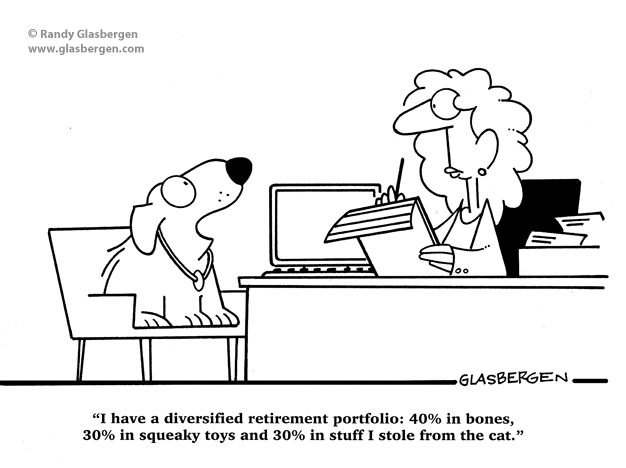 ---
Rabobank's Every Says Markets Should Not Overreact to Fed Minutes

Michael Every, Rabobank Head of Asia Financial Markets Research gives his take on the market reaction to the Fed minutes. He speaks with Yvonne Man and Betty Liu on "Bloomberg Daybreak Asia." (Source: Bloomberg)
---
YouTube
Fox Business
Stocks fall after release of Fed minutes

---
Art Cashin: 35% CHANCE RETEST THE LOWS

Art Cashin warns there's a chance the market could retest February's correction lows

"There's probably a 35 percent chance that we still have to retest earlier lows," Wall Street Veteran Art Cashin says.
"You wind up with a little bit of a W," Cashin told CNBC's "Squawk on the Street". "The market has kind of shrugged its shoulders at seasonal patterns," periodic fluctuations that occur regularly based on a particular season.
---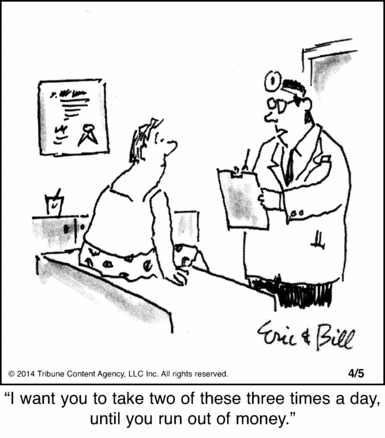 ---
BOND ATTACK

Bond yields moving from 'sweet spot' to riskier area where they could threaten stock market gains

The 10-year Treasury yield is getting dangerously close to 3 percent, a level some say will set off alarm bells for some stock investors.
The 10-year yield is getting close to 3 percent, and that is a level that could set off alarm bells for investors.

Bank of America Merrill Lynch studied the relationship between higher yields and stocks and found the correlation is inconsistent and stocks have not been really hurt in periods of higher rates.

Markets flip-flopped and stocks sold off sharply Wednesday after bond yields rose in response to the Fed's meeting minutes.

Now markets are hyper-focused on all Fed speak and will be paying close attention to New York Fed President William Dudley on Thursday morning.
---
RETRACEMENTS

Neither the market's overall technical underpinnings nor fundamental economic data are sending anything worse than a somewhat mixed message at present, i.e., they are not providing unequivocal warning signs. But we are in a unique situation after the "QE" era, and the importance of data points such as the DART index or the DSI (the daily sentiment index of futures traders, which at the peak became an exact mirror image of the situation in March 2009, with the percentage of bulls and bears switching places to 97% bulls and 3% bears) is enhanced due to the weakness in money supply growth.


U.S. Equities - Retracement Levels And Market Psychology

By Pater Tenebrarum Fibonacci Retracements Following the recent market swoon, we were interested to see how far the rebound would go. Fibonacci retracement leve..
---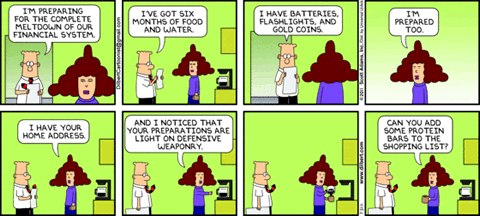 ---
BOND ATTACK TO KILL THE BULL @ 3.5%

Credit Suisse has identified what could be the next big breaking point for stocks

BI PRIME: Credit Suisse has crunched the numbers and approximated the point at which the bond market will start to weigh on equity returns.
---
$ETP
Energy Transfer Partners: Blowout Quarter

Energy Transfer Partners delivered a sensational quarter.
The swing in distribution coverage was far in excess of our estimates.

2018 may be a year when long suffering bulls may finally get some good news.
---
$MIC

Why Macquarie Infrastructure Stock Collapsed Today

Dividend cuts rarely go over well with income investors.
[...] That's the pro forma story, anyway. When calculated according to GAAP accounting standards, the numbers looked a bit prettier. Counting one-time, pre-tax items, GAAP profits for the quarter were $4.13, and $5.13 for the year -- roughly three times what Macquarie had earned in 2016.
Reviewing its results, Macquarie especially emphasized its cash production and distribution in 2017, noting that the company's "total distribution" to shareholders was $5.56 per share, "consistent with our guidance for a year over year increase of 10%," and a bigger number than the company actually earned in the year. CEO Christopher Frost called this result "solid."
---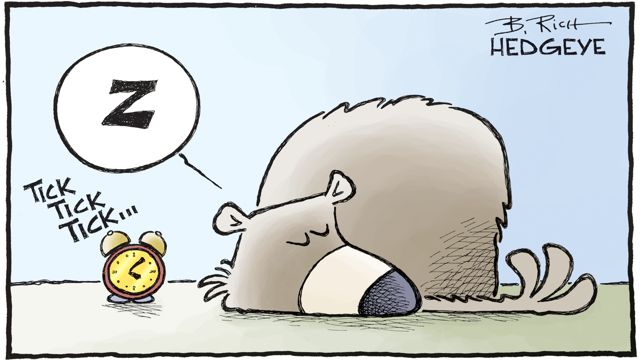 ---
Energy shares in Asia climb after US crude inventories decline

Oil-related stocks in Asia traded higher on Friday after oil prices advanced to a two-week high in the previous session.
Oil prices touched a two-week high in the last session after data from the U.S. Energy Information Administration showed U.S. crude stocks unexpectedly declined.
---
Oil and Gas MLPs: Poised for a Rebound in 2018

We see the tide turning for the MLP sector after a frustrating 2017.
The commodity environment is stabilizing, U.S. production growth trends are strong (see chart), MLP dividend cuts are likely nearing an end and balance sheets have improved. With the sector trading at a significant discount to historical valuations, we think MLPs could offer total return potential in the mid-teens, with support from a roughly 8% dividend yield and upside potential from multiple expansion. While this investment opportunity isn't without risks, we believe MLPs may offer one of the most attractive risk-adjusted returns in the market today.
---
$MIC

Macquarie Infrastructure Corp.: Was The 40% Selloff Called For Mate?

A brutal sea of red was seen for Macquarie Infrastructure Corporation investors. Q4-2017 numbers were fine, but the guidance was light as a feather. We analyze..
---
LEARN TO LOVE THE BOND
Why stock-market investors should stop worrying and learn to love rising bond yields

Interest rates are rising for the right reasons as far as the stock market is concerned, says BMO's Brian Belski.
But Belski found overall economic measures, including gross domestic product, the unemployment rate and corporate profits, fare better in periods following cyclically higher rates. And that seems to translate into better stock-market performance, he said, with the S&P 500 SPX, gaining an average of 10.7% during cyclical periods versus just 4.9% for structural periods.
---
$MIC

Macquarie Infrastructure shares oversold, says Oppenheimer MIC - The Fly
Oppenheimer analyst Ian Zaffino noted that Macquarie Infrastructure shares are trading down 38% since the company announced its dividend cut. Zaffino said, after the company's conference call, that he believes shares are now oversold, and maintained his Buy rating, although he cut his price target on Macquarie intra-day to $60 from $75, after cutting it earlier in the day to $75 from $100.
---
QE vs RATE CUTS

Fed should lean on rate cuts, not QE, in next recession: paper

The Federal Reserve should focus on lowering interest rates in the face of the next recession, and avoid relying on asset purchases that are a less effective policy tool than previously thought, four top U.S. economists told a roomful of Fed officials on Friday.
"We find that the Fed's balance sheet is a less reliable and effective tool than as perceived by many," concluded the paper presented at the annual monetary policy forum hosted in New York by the University of Chicago Booth School of Business.

"The central question going forward should be the path for short-term interest rates rather than the path of the balance sheet," it said.

"That leaves lowering the short rate as the primary tool available to fight the next recession."
---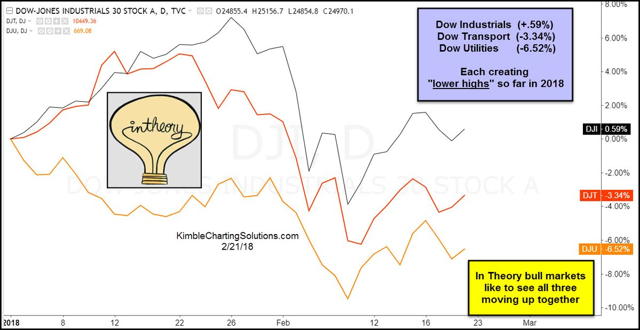 Dow Theory likes to see Industrials, Transports and Utilities all moving up together. 2018, each is making lower highs. $DJI $DJT $DJU $XLU
-- Chris Kimble
---
VTR -- SENIOR HOUSING: REITs BOTTOMING
Turning to a different metaphor, these REITs are currently facing a "perfect storm" of headwinds, spurred by U.S. tax reform, unknowns with respect to the skilled nursing and hospital sectors, rising interest rates, and company-specific risks related to pending asset sales, the firm specified.

Headwinds Batter Senior Housing REITs as 2018 Begins - Senior Housing News

It's still early in what analysts had predicted would be an "eventful" earnings season for health care real estate investment trusts (REITs), but several telling themes have emerged in the reports released thus far, and they show a industry under duress. Beyond a harsher-than-normal flu season...
---
$SNR POPS 14% BEATS BY 0.03%

New Senior Investment beats by $0.03, reports revs in-line; exploring strategic alternatives..
---
$SNR -- FOR SALE?
Here's Why New Senior Investment Group Is Soaring Today 
So what
The big news that moved the stock was the announcement that the company has decided to "explore and evaluate a full range of strategic alternatives to maximize shareholder value."

While New Senior's press release also said that the company didn't intend to comment further until the review of these alternatives, the term "strategic alternatives" often means that the company is considering putting itself up for sale.

---
$XLU $GUT

Equity CEFs: Buys/Sells In An Upside Down CEF Universe

Some equity CEFs seem to be doing just the opposite of what you might expect if you were counting on NAV performance to dictate market price performance. Maybe
How else do you explain the continued rise in a fund like the Gabelli Utility Trust (GUT), $7.04 market price, $4.77 NAV, 47.6% premium, 8.5% current market yield, even while the utility sector crumbles in the face of higher rates? It begs the question. Are investors/shareholders of GUT short ETFs like the SPDR Select Utilities Trust (XLU), which is down -6.8% YTD even as GUT is still positive at market price so far this year? If you owned GUT at an 8.5% yield paid monthly, maybe it makes sense to keep buying it and hedge with XLU which pays only a 3.6% yield paid quarterly.
---
S&P 500 Weekly Update: The Tug Of War Continues As The Indices Settle Into A Trading Range

The obsession over rising interest rates continues, bringing volatility with it. This too shall pass.
We now have the strongest "Earnings Beat Rate" since the third quarter of 2006. The strongest "Revenue Beat Rate" since 2004.
This is the highest overall "Earnings Growth Rate" at 14.8% since 2011. Stay with sectors posting strong results: Technology, Healthcare, and Industrials.

The short-term mindset is now "sell the rallies;" don't run away from stocks, use that to your advantage.
---
DOW CUP AND HANDLE

Is Dow Forming Cup-And-Handle Pattern?

Stocks Analysis by Stephen Loke covering: Nasdaq 100, S&P 500, Dow Jones Industrial Average, S&P 500 Futures. Read Stephen Loke's latest article.
The cup with handle pattern is a popular pattern that was popularized by William O' Neil in his book How To Make Money In Stocks.

In his book, O'Neil stated that many of the biggest winners in the stock market happen right after the appearance of the cup with handle pattern in the stock chart.
If Dow is in the process of forming a cup with handle pattern, then this is good news for investors.
The breakout above the handle might help to send Dow climbing up to make fresh record highs.

---
$T
AT&T-Time Warner: We (Still) Think This Deal Gets Done

Several forces seem to be working against a potential merger between AT&T and Time Warner. Telecommunications & Media Policy sector head Paul Glenchur still thi..
---
REAL ESTATE WEEKLY SECTOR & BROAD MARKET SECTOR PERFORMANCE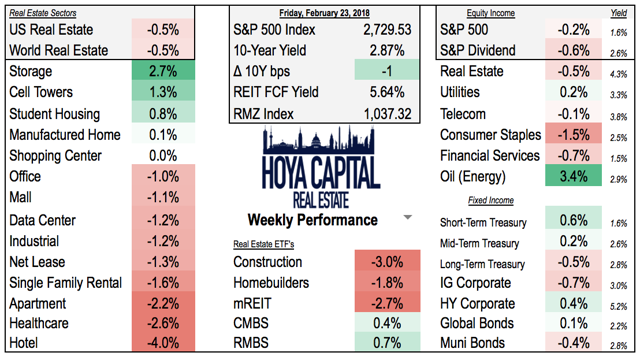 ---
CHARTING

The Three Most Common Chart Patterns - Page 1

3 Most Common & ProfitableChart Patterns The 3 Most Common and Profitable Chart Patterns At the beginning of best-selling book How to Make Money in Stocks, IBD Founder and Chairman William J. O'Neil shows 100 charts of the top-performing stocks over the last 100+ years. Whether it was General Motors in 1915, Coca-Cola in 1934 or Priceline.com in 2006, they all built the same types of patterns. You'll find those same shapes today and decades from now. And by learning to spot these bases, you'll be able to get in early on the best stocks — year after year. Start with the three most common patterns: Cups: Cup-with-Handle and Cup-without-Handle Double Bottom Flat Base Cups: Cup-with-Handle What to Look For in the Cup-with-Handle pattern. Prior uptrend of at least 30% To form a proper chart pattern, you have to have a prior uptrend. The idea behind bases is that after making a decent run, the stock begins forming stepping stones as it takes a breather and prepares for an..
---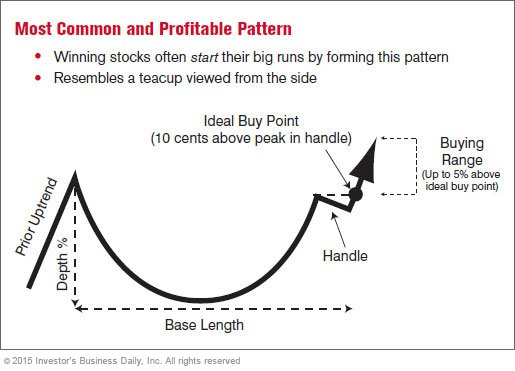 ---
===