We recently updated our "Equity Indexes Monthly" Publication.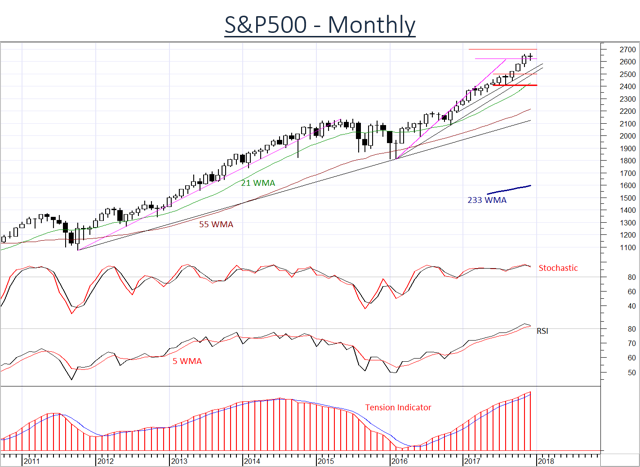 The full report covers, for example, selected US markets, the UK FTSE100 Index, Europe's Eurostoxx50 Index, as well as the equity indexes of other major countries, for example, Germany, Japan, Hong Kong and China.
Whilst each chart gives its own individual country 'snap shot', there was also a broader thematic narrative developing.
US Markets versus Non-US Markets.
As the US S&P500 Index continues to make new highs, countries such as Germany, the UK, Japan, Hong Kong and China are showing a weakening in investor sentiment. In fact, we have seen sufficient deterioration in our technical indicators to prompt broad Downgrades.
This has now created a very obvious split in global equities, which is putting further focus on the US markets.
Following the inauguration of President Trump in January 2017, broad US equities have extended the post-Financial Crisis rally which started in March 2009.
However, whilst we maintain a Positive stance to US equities into the coming months, we also remain cautious.
Below, we highlight 3 reports which explain our reservations in more detail.
A report, titled "US Equities S&P500 Encountering Increased Technical Headwinds" was published on 15 November. In this short piece, we highlight several factors which could begin to weigh on the current bullish sentiment as prices trade above the 2600 threshold. These include a stabilising VIX – traditionally stocks fall as the VIX rallies – and a potentially terminating Elliott 5th wave, as counted from the base of the 2007-2009 Financial Crisis.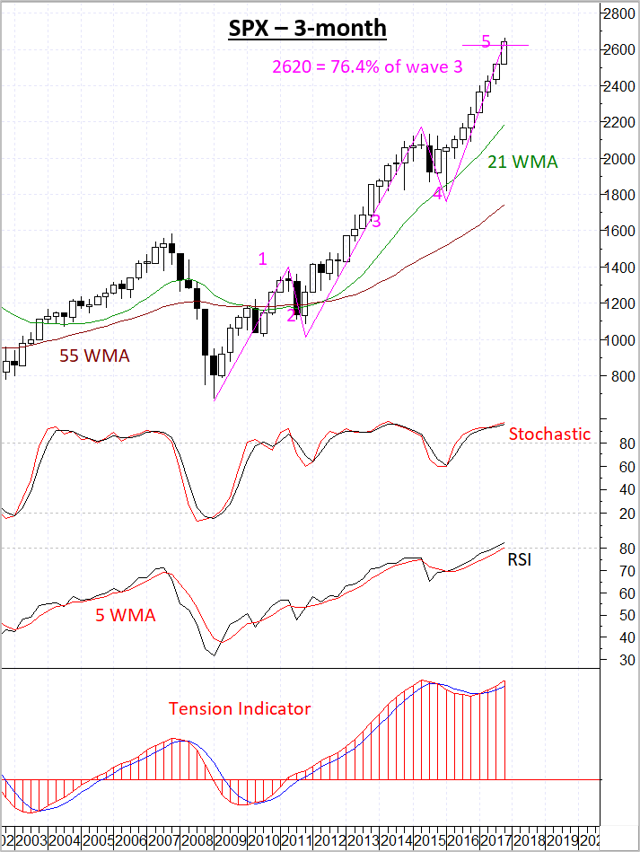 We also published a report on 29 November, "Could Cross Asset Rotation Weigh On US Equities S&P500 Into The Coming Months?" In this short piece, we look at how US Sector Rotation and Cross Asset Rotation could also begin to weigh on investor sentiment.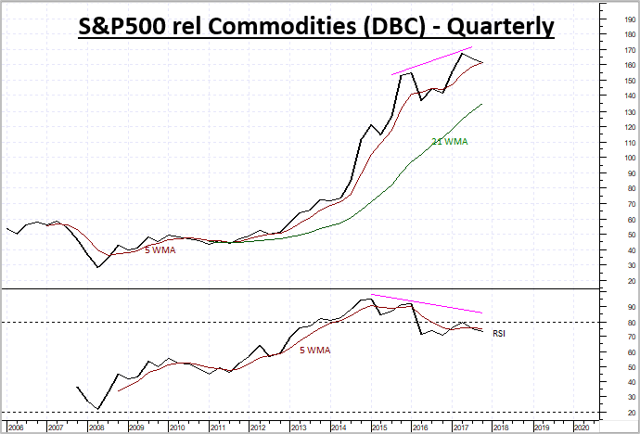 On 1 December, we published a report, titled "General Flynn Pleads Guilty. Increased Political Risk To Weigh On US Stocks S&P500" In this short piece, we briefly looked at the heightened US political risks following developments in the Russia-Trump probe. Under the direction of Special Counsel Robert Mueller III, this broadening investigation remains centre-stage in global politics. The findings could prove significant into the next generation of politics and investment.
With these 3 reports in mind, we remain cautious of further gains in the S&P500 Index. We are not discounting fresh highs into the beginning of 2018. However, we believe risk-reward is turning to the downside, and anticipate investors will be using strength as opportunities to take profits and reduce equity risk.
Disclosure: I/we have no positions in any stocks mentioned, and no plans to initiate any positions within the next 72 hours.