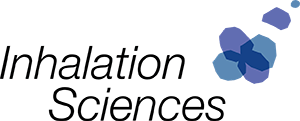 Inhalation Sciences is a Swedish labtech company that develops and sells patented, highly innovative labtech equipment for inhalation research. Scientists using it can now know, with unprecedented accuracy, how particles behave in our lungs when we inhale them: whether new pollutants or life-saving drugs that power human development.
The company has been succesful in developing their products and has gone from being an "early stage developer" to now finalising and polishing the last few steps before they enter full commercialisation in 2018. 
Despite the company being young and in Its early stages It has successfully managed to already prove the efficiency and use of Its products. In just a few years they have turned a simple idea into a clear vision and a final product that now holds more than 6 patents, the CE-marking, sold for more than 25 Mkr during their development phase, being partnered with well known medicinal institutions including Copenhagen University, Karolinska Institut and King's College, not only were the product noticed and recognised by these key opinion leaders but they also successfully managed to catch the attention of industrial leaders in a very wide span of sectors including pharmaceuticals, tobacco, chemicals, environmental research and many more. Their current customer portfolio consist of industrial leaders with market caps exceeding billions of dollars among these, you see names such as: AstraZeneca (one of the worlds largest pharmaceutical companies), Dow Chemicals (one of the world's largest chemical groups), Fraunhofer Item (one of the world's leading institutes in environmental research), Chiesi (one of Italy's leading pharmaceutical companies, and a major developer of inhalation products) and many more will soon follow along.

Now back to what really matters and what this article is all about. 
When looking for an attractive investment one of the single most important criteria's are to look for any "hidden assets" within the company that can be seen as added value.
The phenomenon stated above is exactly to be found in ISAB. The company has two separate and unique products, one which is their so-called "main product" and is being commercialised and sold through the mother company "Inhalation Sciences", their second product however is being commercialised and sold through their daughter company "Ziccum".
ISAB holds 73% of the shares in Ziccum, the remaining shares are held by the founder Per Gerde who holds a stake of 7% and Göran Conradson who owns the remaining portion of 20%.
Göran Conradson are a chemical engineer of profession and a senior business developer, he has more than 20 years of experience doing both start-ups, marketing and finalising business transactions. He has a proven track-record and done numerous of succesful business transactions, just to name a few: Pharmacia biotech GmbH, Biacore AB och Bioinvent AB.
Göran Conradson are responsible for the marketing and sale of Ziccum. 
As a shareholder of Inhalation Sciences, you're also automatically obligated to shares in "Ziccum" those shares will soon be listed on the stock exchange or sold off-market in a 'private deal'. The money from the listing or the sale will be allocated to all investors in Inhalation Sciences as dividends. So, in reality when buying Inhalation Sciences stocks, you're actually getting two companies for the price of one, since the value of Ziccum is not already priced in.
The management team has both confirmed and announced that all the money from the listing or the sale of Ziccum will be returned as dividends to all shareholders of Inhalation Sciences. Furthermore they have communicated that more news about the on-going process and the valuation should be out by latest at the end of Q1 2018, so we could possibly have a PM at any given time.
Market potential:
| | | | |
| --- | --- | --- | --- |
| Inhalation Pharma | Inhalation Academias | Chemical Industries | Total Market Potential |
| >1600 | >702 | >702 | 7 billions SEK |
Who is behind LaminarPace?
LaminarPace was invented by world aerosol authority Dr Per Gerde, Associate Professor of Inhalation Toxicology, Institute of Environmental Medicine, Karolinska Institutet. As CSO of Inhalation Sciences AB (ISAB), Dr Gerde originally developed LaminarPace for drying pharmaceutical Candidate Drugs to be used in ISAB's core technology, PreciseInhale. Realizing that LaminarPace had an extensive number of uses beyond ISAB's core market, in 2017 LaminarPace was spun-out from ISAB into Ziccum AB—its goal to commercialize the technology towards a wider audience.
Brief info about Ziccum & LaminarPace:

LaminarPace is a complementary product to PreciseInhale but its area of application extends far beyond inhalation. LaminarPace is an innovative and patented, CE-marked tool for drying small amounts of drug substance with very low levels of wastage. The vast majority of drug products are required in a dry form as this makes them more stable, durable, reliable to work with, and easier to store and transport. Uniquely, LaminarPace can handle temperature-sensitive materials such as proteins and peptides. The process delivers low material losses and significant cost savings in a research area, early-stage drug testing, where costs can amount to tens of thousands of Euros per gram of test substance.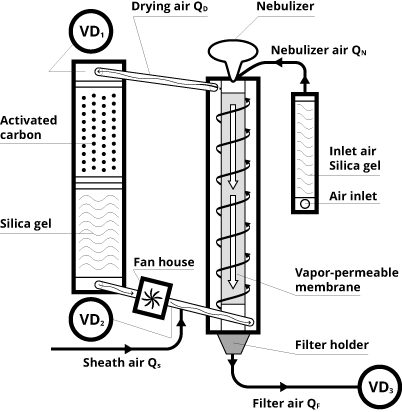 Comments from the management team:
"The objective with Ziccum are to either sale or list the company and thereby create and add more value to all shareholders in Inhalation Sciences - We're currently working to seal a deal with an industrial and recognised brand"
"Ziccum wins big pharma at World Vaccine Congress, Barcelona"


"Upgraded LaminarPace system: The same exceptional quality, even easier to use"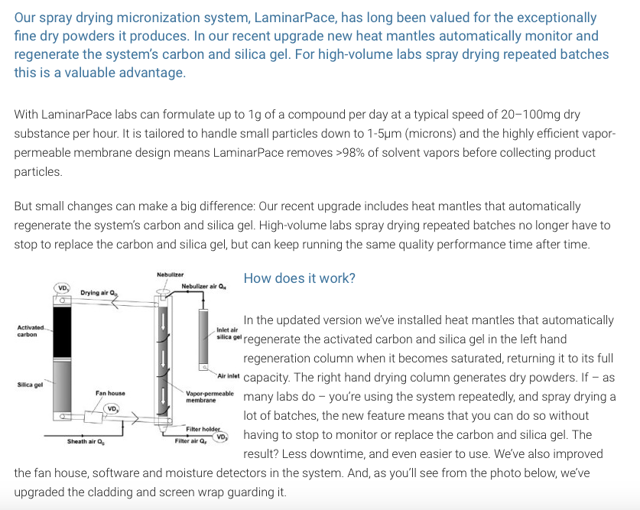 Applications
Disclosure: I am/we are long Inhalation Sciences.