My complete blog post today is open to the public to read. If you like the post, you can sign up for a FREE subscription to view this analysis daily at the bottom my blog post!
To recap for those who haven't been staring at the market all week. After the 6/19 SPX All Time High, 3 SPX Hindenburg Omens were triggered. This resulted in a down move, followed by a recovery then-some on 6/28, bigger losses on 6/29 that closed well off their lows and at the bottom Bollinger Band. Friday we predictively got a choppy recovery that still leaves us well below the 20 dma and at the lower Bollinger Band after slipping at the end of the trading session.
The Bollinger Band width is as narrow now as I have seen since my data goes back around 1970. Narrow Bollinger Bands, while they can persist for a bit, lead to huge moves. As I have been saying, sometimes the big move starts in the opposite direction of the new trend, and that is why I am still on the lookout for the potential for a SPX new All Time High.
My Proprietary Technicals Model had 7 negative divergence vs. SPX since mid April. This foreshadows a large change in trend. However today it made a 1 day positive divergence which is a weak signal that the choppy advance may not yet be done, as SPX hourly did not make many negative divergences at Friday's highs either. I cannot be certain if we are at the tail end of the uptrend, or have already topped, but what I can say with confidence that a major trend change is happening. Adjust accordingly!
Looking elsewhere, TLT:TIP which has been exploding in deflationary mode much of the year had a recovery toward inflation this week. The 10Y-2Y proxy for yield curve and economic health bottomed late last August, topped in December 2016, and had a long fall back to pre-election levels. In recent days there has been a spike on positive divergence so there is hope for another leg up in the economy to begin (we'll see...).
Despite Thursday's shot higher in VIX, other measures of investors confidence did not waver. Money went into HYG vs. IEF meaning investors still in search of yield vs. protection. Also the oil market rose which would not happen if investors were very concerned about the economy.
My signal based on my Proprietary Technicals Model has Been Neutral since 6/9/2017 and my trusty trading indicator went BEARISH on 6/20/2017.
Disclosure: Bought SPY SEP 29 2017 245.00 P on 6/23/2017.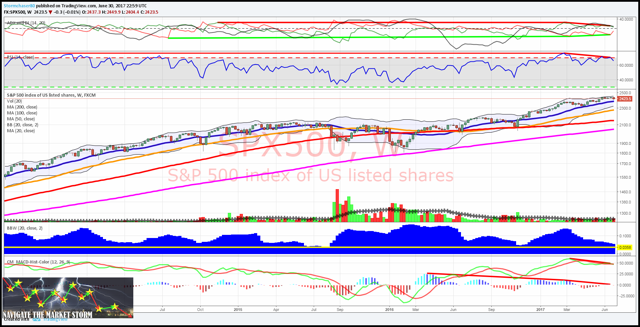 Supporting charts and much more FREE analysis at my site (http://navigatethemarketstorm.com) However be advised that I do ask folks to take a few seconds to register for a log-in, making sure you agree to my legal documents. On my site, be sure to check out the real-time Trading Platform (look for it on the top menu). I am taking feedback!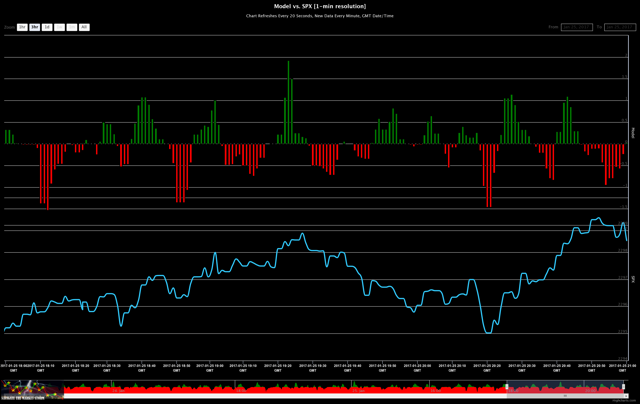 Disclosure: I am/we are short SPY.