My volatility model based on S&P500 statistics shows that we are only trading more volatile than 1.1% of all trading days since 1990. My contention is we are still in consolidation with a bit more upside thereafter. This is based on both of my trading models remaining BULLISH since 7/12/2017 and my proprietary technicals model (cumulative) made an All Time High today. SPX A-D line however did not, though it remains well above its 20 dma. VIX is on an hourly SELL MACD signal with little direction due to a very low ADX, but weak upside is possible due to 2 positive divergences at today's lows.
Looking at the S&P500 hourly chart, note that a lower low is needed in order to create positive divergences on its technicals. My eyeball was drawn to near 2463 which is both a lower low and yet would solidify this zone as a support zone.
SPX Daily had a string of 7 real and 10 total Hindenburg Omens since late May. Be careful this run-up as it may be the last before a BIG turn lower. I say this as my proprietary Technicals Model made its 8th negative divergence vs. SPX since mid-April, and the first one of its kind since 3 positive divergences since late June. Yet another higher high in SPX is still possible to once again negatively diverge with my model.
Internals, Breadth and Participation have come back to life as one would expect, only well well off their peaks. This gravy train WILL NOT go on forever. Yield curve starting to turn lower, as deflation risks come back to the table after a several week reprieve. Neither are strongly trending but will need to keep an eye on. Oil remains choppy with no clear sign of trend at this time.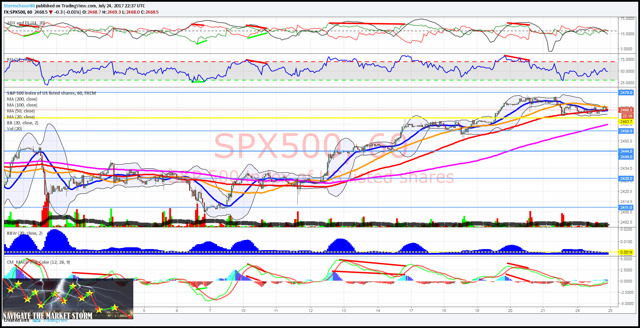 Supporting charts and much more FREE analysis at my site (http://navigatethemarketsto...) However be advised that I do ask folks to take a few seconds to register for a log-in, making sure you agree to my legal documents. On my site, be sure to check out the real-time Trading Platform (look for it on the top menu). I am taking feedback!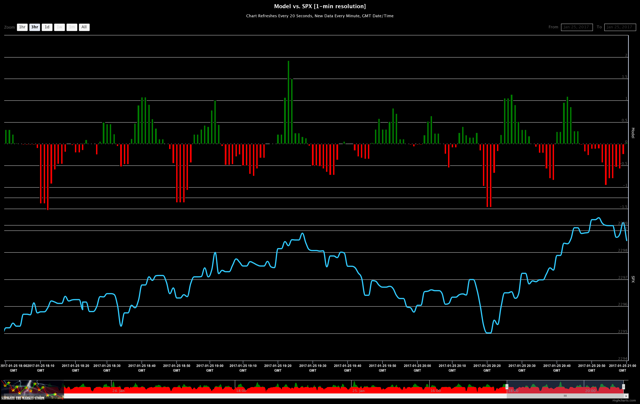 Disclosure: I am/we are short SPY.