OK, not to be an alarmist, but I am getting the feeling a major TOP is in. The price spike Tuesday followed by a swift pullback is a move that can be considered as a final thrust. My swing trade signals are still bearish (7/28 and 7/31). Internals, Breadth and Participation, are well off of recent highs, have been pulling back, and certainly would support a bigger drop in the market. VIX finished higher, and maintained a hourly MACD BUY signal. However, I think in the short term VIX should drop due to negative divergences on ADX DI and RSI.
My proprietary cumulative Technicals Model DID NOT make another All Time High today, with its daily reading back below zero for the 2nd day in a row. Neither SPX nor SPX A-D made a new All Time High today. SPX Weekly and Daily would support a major top at anytime due to long lasting negative divergences. The SPX McClellan has been negative now 8 of the past 9 days.
The market despite recent relative excitement, is tightening. You can see it in the Daily Bollinger Bands, with the Daily Bollinger Band width at historical narrowness. This proceeds big moves. My Proprietary Volatility market only has this period of time being more volatile than 1.8% of the time since 1990. Bearish Elliot Wavers would say the leading markets (NASDAQ and RUSSELL 2000) finished a W2 higher, and the other markets that made ATH finished their run up. We'll see if that's the case.
SPX Daily had a string of 7 real and 10 total Hindenburg Omens since late May. Today marked the 8th Real SPX Hindenburg Omen. The usually occur before peaks, less often during a significant pullback, and rarely at bottoms. This one may be the first within the pullback period, after the 10 that occurred before the All Time High Tuesday.
Be careful this run-up as it may be the last before a BIG turn lower. I say this as my proprietary Technicals Model made its 10th negative divergence vs. SPX since mid-April, and the third one of its kind since 3 positive divergences since late June. Yet another higher high in SPX is still possible to once again negatively diverge with my model, but you can clearly see that the technical indicators on SPX stocks are weakening quickly.
With today's Hindenburg Omen and Tuesday's daily bearish reversal candle, followed by historically narrow Daily Bollinger Bands, and bearish indicators that are not yet ready to cycle higher, I can only be bearish here.
Also, please refer to an article on my old site (https://stormchaser80.wordp.... There is a TOTAL solar eclipse on Aug 21 over 'West in Europe, North/East Asia, North/West Africa, North America, Much of South America, Pacific, Atlantic, and Arctic'. A full moon occurred on Aug 7th, with the New moon on Aug 21st as well. Read the short article for more insight.
Been calling this Oil rally pretty well. Got the pullback that I warned about. I think a new high forms in oil to put in widespread negative divergences.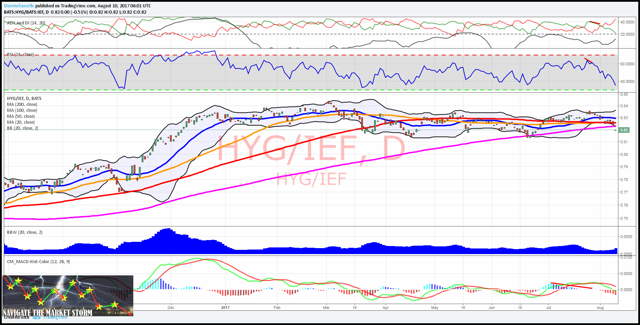 Supporting charts and much more FREE analysis at my site (http://navigatethemarketstorm.com) However be advised that I do ask folks to take a few seconds to register for a log-in, making sure you agree to my legal documents. On my site, be sure to check out the real-time Trading Platform (look for it on the top menu). I am taking feedback!