SPX made a significant bounce as alluded to on Friday today, closing just below its 20 dma. Volume was lower. SPX hourly chart shows how quickly it sliced back up through all pivots and resistance lines lost during last week's downdraft. A few negative divergences occurred at today's top so a pullback is likely here before a likely new recent high. VIX cratered as I suspected on Friday, but should continue lower as it only made 1 minor positive divergence at today's lows.
Both my swing trading signals remain BEARISH (since 7/28 and 7/31). Internals improved today, yet maintain a downward trend. Likewise for participation. SPX A-D line did spike above its descending 20 dma, remember it did not confirm the last SPX All Time High. The SPX McClellan was improved but still made its 11th negative reading in the past 12.
My proprietary Technicals Model was a little higher today, but still made its 6th negative reading during the past 7 days. This is the chart of the day and I will display it below.
HYG:IEF bounced back into its Bollinger Band but remains well below all major moving averages. Plus no positive divergences were made at its bottom last week so its most likely still in a downtrend. Oil had a big loss today, probably money rotating back over to stocks. I am surprised the consolidation/pullback has taken this long, for my theory of new oil highs to be correct, it needs to turn around soon.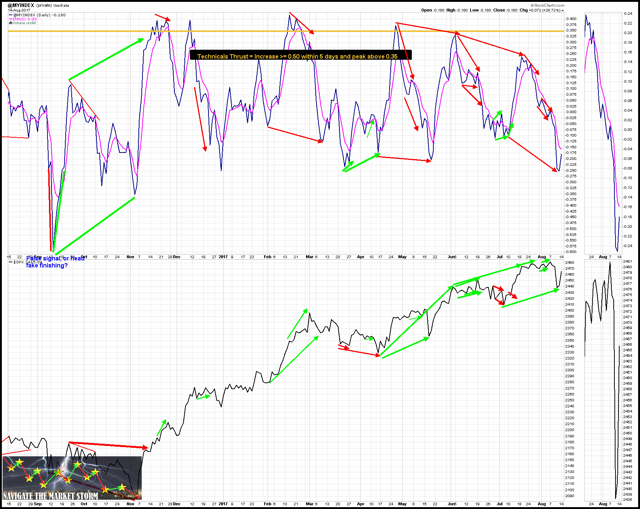 Supporting charts and much more FREE analysis at my site (http://navigatethemarketstorm.com) However be advised that I do ask folks to take a few seconds to register for a log-in, making sure you agree to my legal documents.
I want you to know I am quite serious about developing my site the right way, I am in this for the long haul, and I will improve my services at every opportunity I have. Traders this next part is for you! I recently uploaded a significant upgrade to the Trading Platform (see top menu of my site for the link). I offer 3 diverse models for the SPX AND the consensus of all 3 models, at time-periods of 1 min/5 min/10 min/15 min/30 min/1 hr and soon longer periods. No matter how frequently you like to trade, I will have you covered. I even have the ETF GLD (GOLD) available at the 1 min timeframe. These timeframes, available trading vehicles (why not oil, why not china etf?), and models will continue to expand over time! If you are an active trader, you will view my site as something more than just a daily analysis of the markets. I want traders to live here during market hours! I want us all to make money!