Tuesday I decided to go short via SPX Oct Puts near the close. Looks like I got in too early, but suspect that this larger downturn is not complete. All my 401k remains in interest cash accounts.
My proprietary Technicals Model was slightly less negative today. It had previously wiped out forming positive divergence vs. SPX a couple days ago, so I think there is more time in this pullback/downdraft. My model now has been lower 14 out of the past 15 trading days. SPX McClellan was lower again today for the 19th out of the last 20 trading days, but does maintain its positive divergence.
SPX runup does not look complete as the SPX hourly chart lacked negative divergences, and VIX lacked significant positive divergences on Tuesday. However Wednesday, VIX did trigger a MACD BUY signal. I'm just not that confident in this one based on the technicals.
All Summer I have been warning on the lead-up to the new SPX All Time High that a major top was coming. This was based on my proprietary Technicals Model which had been negatively diverging at times since mid April, and about 10 pre-top Hindenburg Omens. I also wrote about the historically narrow SPX Daily Bollinger Bands (going back to 1970) and very low readings coming from my statistically driven Volatility Model. Low volatility like this can proceed large moves. Then came a sweet SPX reversal candle on August 8th.
3 Hindenburg Omens on the SPX last week. Read more about it under the Techniques menu at the top of my website. But just as a refresher, they mainly come before major tops, can occur during significant downdrafts and rarely do trigger at important bottoms. I am classifying the 5 that came after SPX ATH as the second category.
Did you get to enjoy the total solar eclipse on August 21st? Well there was also a Black Moon on 8/21 (third New Moon in a season with four New Moons). Read about Puetz Crash Windows under the Techniques menu at the top of my website. It doesn't say a crash must occur in these conditions, just that the more significant ones tend to across all markets. The previous FULL moon was on 8/7 which was 1 day before the SPX ATH, and the next one is Sept 6th.
Both my swing trading signals remain BEARISH (since 7/28 and 7/31). Internals slackened today, and remember they are maintaining a downward trend, but yes, some are coming off their bottoms. Participation was lower for all indicies except small caps. SPX A-D line remains below its descending 20 dma, remember it did not confirm the last SPX All Time High.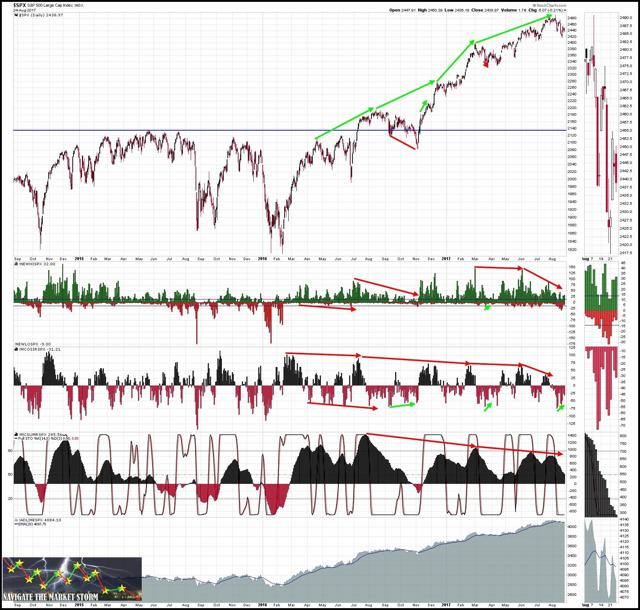 Supporting charts and much more FREE analysis at my site (http://navigatethemarketsto...) However be advised that I do ask folks to take a few seconds to register for a log-in, making sure you agree to my legal documents.
I want you to know I am quite serious about developing my site the right way, I am in this for the long haul, and I will improve my services at every opportunity I have. Traders this next part is for you! I recently uploaded a significant upgrade to the Trading Platform (see top menu of my site for the link). I offer 3 diverse models for the SPX AND the consensus of all 3 models, at time-periods of 1 min/5 min/10 min/15 min/30 min/1 hr and soon longer periods. No matter how frequently you like to trade, I will have you covered. I even have the ETF GLD (GOLD) available at the 1 min timeframe. These timeframes, available trading vehicles (why not oil, why not china etf?), and models will continue to expand over time! If you are an active trader, you will view my site as something more than just a daily analysis of the markets. I want traders to live here during market hours! I want us all to make money!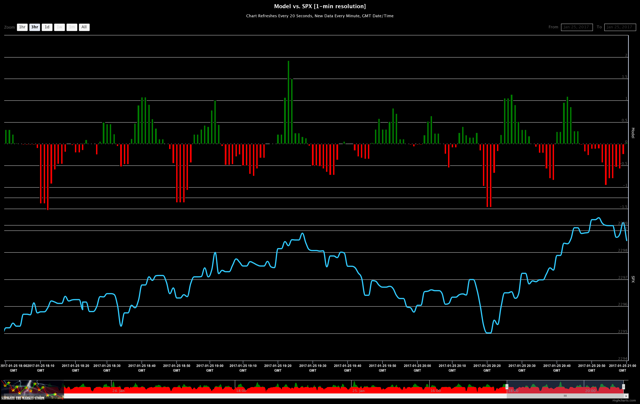 Disclosure: I am/we are short SPY.
Additional disclosure: Cash 401k