After 85 trading days, the SPX 20 dma has slipped below its 50 dma for the 2nd day in a row.
My swing trading signals have been BULLISH since 8/25 and 8/29 respectively. My proprietary Technicals Model was higher for the 6th day in a row, with a positive divergence at Friday's peak vs. SPX. It was an odd bottom as the Model did not positively diverge as it usually does in advance. My statistically driven Volatility Model continues to decrease in volatility.
8/29's SPX Hindenburg Omen ended up being a bottom reversal variety. Many HO in June and July leading up to the All Time High, then 5 more during the decline in mid August. None since then.
SPX has pulled back through several key support levels. With 2 minor negative divergences on the SPX hourly chart, a lower low is likely before sustained bullish activity.
VIX generated its hourly MACD SELL signal today. Drilling down to the 15-min chart, positive divergences were put in at today's lows. Higher VIX is likely in the short term.
Market Internals, participation and breadth indicators slightly improved today, many of them in positive territory, yet well off peaks earlier in the year. SPX A-D line in an exception, making a new All Time High Friday, obviously above its 20 dma which is now ascending. SPX McClellan made its 5th positive reading in a row.
The Yield Curve is flattening which continues to support the notion of a weak economy. This as TLT:TIP shows deflation fears have been climbing since Spring.
Oil jumped higher today, likely wont succeed a challenge of both its 200 dma and upper Bollinger Band for any significant time. Oil performed terribly during the tropical system in the Gulf which shuttered rigs (If Harvey couldn't boost prices an east coast Irma shouldn't help much either), and all Spring/Summer, last peaking at the beginning of the year.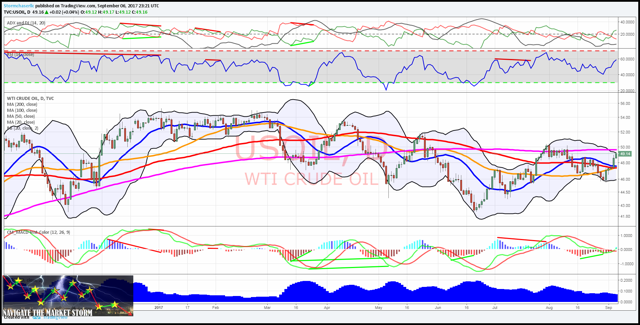 Supporting charts and much more FREE analysis at my site (http://navigatethemarketsto...) However be advised that I do ask folks to take a few seconds to register for a log-in, making sure you agree to my legal documents.
I want you to know I am quite serious about developing my site the right way, I am in this for the long haul, and I will improve my services at every opportunity I have. Traders this next part is for you! I recently uploaded a significant upgrade to the Trading Platform (see top menu of my site for the link). I offer 3 diverse models for the SPX AND the consensus of all 3 models, at time-periods of 1 min/5 min/10 min/15 min/30 min/1 hr/2 hr/4 hr and soon longer periods. No matter how frequently you like to trade, I will have you covered. I even have the ETF GLD (GOLD) available at the 1 min timeframe. These timeframes, available trading vehicles (why not oil, why not china etf?), and models will continue to expand over time! If you are an active trader, you will view my site as something more than just a daily analysis of the markets. I want traders to live here during market hours! I want us all to make money!