My complete blog post is open to the public each weekend. If you like the post, you can sign up for a FREE subscription to view this analysis daily at the bottom my blog post! To concentrate my efforts on my development, posting to this blog will only be done twice weekly, each Wednesday and for the Weekend.
New All Time High for SPX today, but then weakness. SPX 20 dma has regained its 50 dma Thursday after 7 days in a row of the reverse being true.
My swing trading signals have been BULLISH since 8/25 and 8/29 respectively. My proprietary Technicals Model was higher for the 13th day in a row, with a positive divergence at 9/1's peak vs. SPX, foretelling of this bullish run. The Model is off the high on 9/13. It was an odd previous bottom as the Model did not positively diverge as it usually does in advance. The Cumulative Version of the Technicals Model made a new All Time High 9/15. My statistically driven Volatility Model has significantly diminished through this past week, reloading for a new run higher.
8/29's SPX Hindenburg Omen ended up being a bottom reversal variety. Many HO in June and July leading up to the All Time High, then 5 more during the decline in mid August. None since then.
SPX Weekly indicators continue to negatively diverge since at least Spring, and as far back as 2013 in the case of RSI. It finished the week at its upper Bollinger Band. SPX daily is near its top Bollinger Band and above all major moving averages, though negative divergences are set from the March 1st high. At the hourly scale, the 2479 pivot was taken out. A short pullback may occur here with negative divergences seen once again at today's top, with the uptrend likely to resume thereafter given new uptrend highs for RSI Tuesday 9/12.
VIX hourly MACD continues to flash a BUY. Today it made a lower low, which allowed additional positive divergences to be put in, so VIX could rise from here. Drilling down to the 15-min chart, a couple of very weak positive divergences on a ADX DI occurred at the lows Friday. VIX continues to struggle to put in a firm low.
Market Internals, participation and breadth indicators were higher today. Many of these are in positive territory, yet are well off peaks from earlier in the year. SPX A-D line in an exception, making a new All Time High on 9/15, obviously above its 20 dma which is now ascending. SPX McClellan made its 12th positive reading in a row.
The Yield Curve may have put in a higher low this week, and that would be bullish for the economy and financials should it be the case. This as TLT:TIP shows deflation fears have been climbing since Spring.
Oil remains at both its 200 dma and upper Bollinger Band. Do not expect any significant amount of time much above these levels, unless a gas shortage occurs due to tropical weather activity. Oil performed terribly during the tropical system in the Gulf of Mexico which shuttered rigs (If Harvey couldn't boost prices an east coast Irma shouldn't help much either), and all Spring/Summer during typical peak price season, last peaking at the beginning of this year. HYG:IEF made a lower low last Friday 9/8, which only served to strengthen significant positive divergences in doing so. This suggested that Risk-On should return soon, and this bullish run has come to fruition during the past week!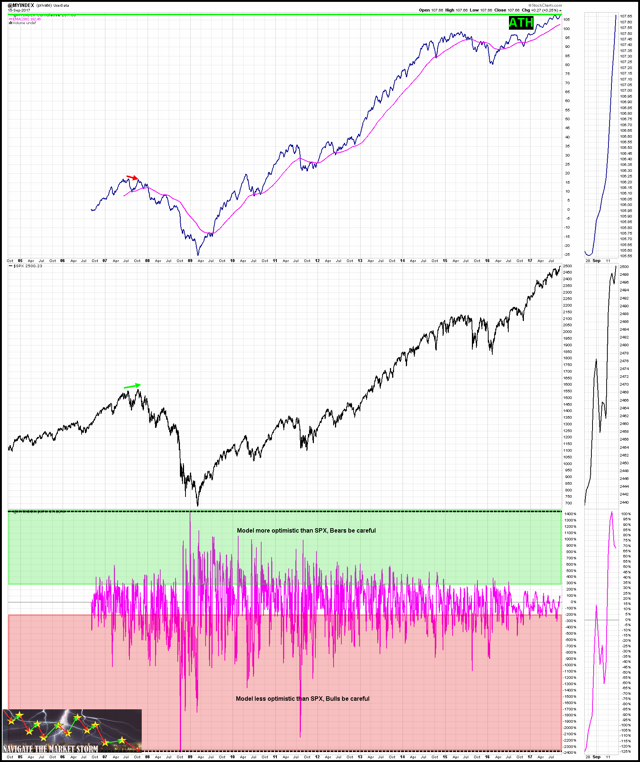 Supporting charts and much more FREE analysis at my site (http://navigatethemarketsto...) However be advised that I do ask folks to take a few seconds to register for a log-in, making sure you agree to my legal documents.
I want you to know I am quite serious about developing my site the right way, I am in this for the long haul, and I will improve my services at every opportunity I have. Traders this next part is for you! I recently uploaded a significant upgrade to the Trading Platform (see top menu of my site for the link). I offer 3 diverse models for the SPX AND the consensus of all 3 models, at time-periods of 1 min/5 min/10 min/15 min/30 min/1 hr/2 hr/4 hr and soon longer periods. No matter how frequently you like to trade, I will have you covered. I even have the ETF GLD (GOLD) available at the 1 min timeframe. These timeframes, available trading vehicles (why not oil, why not china etf?), and models will continue to expand over time! If you are an active trader, you will view my site as something more than just a daily analysis of the markets. I want traders to live here during market hours! I want us all to make money!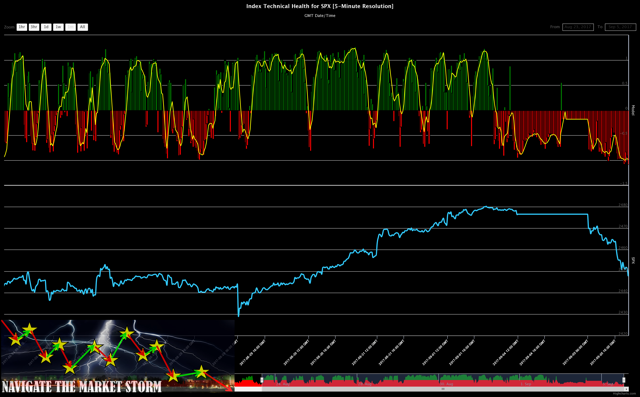 Disclosure: I am/we are long SPY and 401K.