Hello everyone! To concentrate my efforts on my development, posting to this blog will only be done twice weekly, each Wednesday and for the Weekend. But you can sign up any day to see FREE and FULL content by visiting http://navigatethemarketsto...
My Awesome Swing Trading signal turned BEARISH 10/17 at 2559.36. I got out of stocks in my 401k and am looking to go short SPY with PUTS.
My proprietary Technicals Model was higher for the 36th day in a row, with a positive divergence at 9/1's peak vs. SPX, foretelling of this bullish run. The Model made a nominal new high in early October which could be counted as a double top. The Cumulative version of the Technicals Model made a new All Time High 10/18. My statistically driven Volatility Model is historically low, meaning a big move should be developing shortly.
SPX daily is above all major moving averages, though negative divergences are set from the March 1st high. At the hourly scale, at today's highs, negative divergences were strengthened across the board (for the past 10 days), so SPX is likely setting up to head lower in the not too distant future.
VIX finished lower today, on a hourly MACD SELL signal. Positive divergences on the 15-min chart at today's lows, yet none on the hourly chart, so any bump in VIX should be minor and brief.
Market Internals, participation and breadth indicators were mixed today. Many of these are in positive territory, yet are well off peaks from earlier in the year. SPX A-D line made a new All Time High on 10/16, obviously above its 20 dma which is ascending. SPX McClellan made its 2nd negative reading in a row.
Oil may have ended its extended consolidation with a large gain Monday, though negative divergences at the recent top mean a new high is not for certain.
HYG:IEF is off last week's highs, though with negative divergences, may have been a top (BEARISH for market?)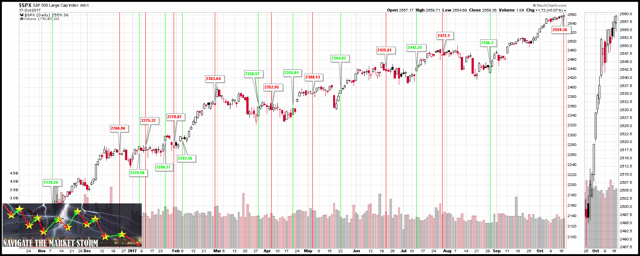 Supporting charts and much more FREE analysis at my site (http://navigatethemarketsto...) However be advised that I do ask folks to take a few seconds to register for a log-in, making sure you agree to my legal documents.
I want you to know I am quite serious about developing my site the right way, I am in this for the long haul, and I will improve my services at every opportunity I have. Traders this next part is for you! I recently uploaded a significant upgrade to the Trading Platform (see top menu of my site for the link). I offer 3 diverse models for the SPX AND the consensus of all 3 models, at time-periods of 1 min/5 min/10 min/15 min/30 min/1 hr/2 hr/4 hr and soon longer periods. No matter how frequently you like to trade, I will have you covered. I even have the ETF GLD (GOLD) available at the 1 min timeframe. These timeframes, available trading vehicles (why not oil, why not china etf?), and models will continue to expand over time! If you are an active trader, you will view my site as something more than just a daily analysis of the markets. I want traders to live here during market hours! I want us all to make money!