Hello everyone! My complete blog post at http://navigatethemarketsto... is open to the public each weekend. If you like the post, you can sign up for a FREE subscription to view this analysis daily at the bottom my blog post! To concentrate my efforts on my development, posting to this blog will only be done twice weekly, each Wednesday and for the Weekend.
The market has definitely been weakening of late internally, despite rising prices. As of Thursday both of my Swing Trading indicators have gone BEARISH.
HYG:IEF formed negative divergences across the board with its peak on 10/25. It has already rolled over losing all major moving averages along at the bottom Bollinger Band. After another go at a run higher, this ratio is just below support again. Keep a close eye on this chart!!
SPX daily hit All Time Highs Friday. Negative divergences remain across the board since at least March 2017, and countless Hindenburg Omens have occurred since this summer. Still feel its likely that the next top will be a SIGNIFICANT TOP. SPX hourly shows negative divergences back to late November for many indicators, therefore I am expecting it to turn lower soon.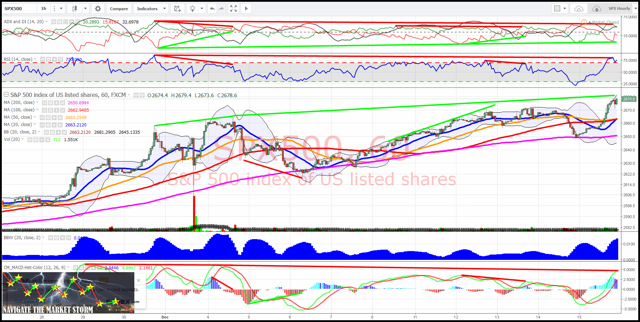 My proprietary Technicals Model was higher for the 21st day in a row, with a positive divergence at 9/1's peak vs. SPX, foretelling of this bullish run. On 11/30 it fell just short of making a Technicals Thrust. The Cumulative version of the Technicals Model made a new All Time High 12/15. My statistically driven Volatility Model has recoiled back to low levels awaiting another run to occur.
VIX finished much lower Friday, on a MACD SELL signal, with no positive divergences at Friday's lows (another low is expected). VIX 15 minute chart shows positive divergences on most indicator, therefore a short term uptrend in VIX is expected.
Market Internals, participation and breadth indicators were higher Friday. Many of these are in positive territory, yet are well off peaks from earlier in the year. SPX A-D line made a new All Time High on 12/15, obviously above its 20 dma which is rising. SPX McClellan has been positive for the 1st day in a row.
While most talking heads are yammering about the downward trend in 10Y-2Y (The Yield Curve is flattening), my work dating back to 1990 using the slope of linear regression at all maturity levels shows since 2010 the yield curve has been rising (Bullish Economy) and is well off the levels that showed a recession in 2000 and 2007.