Markets Update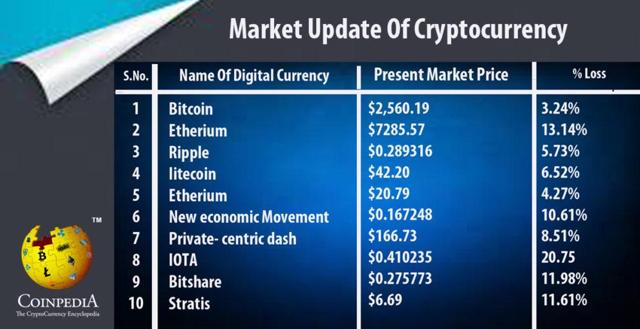 Bitcoin has minimised its loss from the weekend to negative 3.24 percent which is the least decline for the day. As at 12:30 GMT on Monday, its market cap was a little more than $42 Billion and was selling at $2560.19.
Ethereum has lost as much as $150 of its market price since Saturday. It slumped 13.14 percent and sold for $285.57 to become the second most depreciating currency for the day.
At number three, Ripple was no good news either with a market price of $$0.289316. Its downward adjustment was 5.73 percent.
Then again, Litecoin after a brief recovery yesterday slid back again to post a 6.52 percent decrease. Anyway, its market price was $42.20.
Ethereum classic can be bought for $20.79 and its the 5th most valuable cryptocurrency. In fact, today it has lost 4.27 percent.
New Economic Movement is at number six even though it lost 10.61 percent to sell at $0.167248. It is actually having a tough time in recent weeks.
Private-Centric Dash has fought back to take over number seven again after losing it to IOTA over the weekend. It is diminished 8.51 to sell at $166.73.
IOTA has ranked 8th again with the biggest drop of the day which is a whopping 20.70 percent. It was sold for $0.410235.
Bitshare kept the last but one position to finish 9th with a market price of $0.275773. It gave away 11.98 percent.
At the bottom, Stratis also dropped 11.61 percent. It gained a market price of 6.69 percent to become the 10th most valuable virtual currency.