Car manufacturer Tesla Motor Inc. (NYSE: TSLA) was founded in 2003. The automaker's shares have been breaking record highs so far, this year, and expect to continue breaking more records. Tesla's market value is now around $62 billion which puts them above General Motors (NYSE: GM), Ford (NYSE: F), Honda (NYSE: HMC), and BMW (NYSE: OTCPK:BMWYY). To date, there are only 3 car manufacturers with higher market values than Tesla; Toyota (NYSE: TM), Daimler (NYSE: OTCPK:DDAIF), and Volkswagen (NYSE: OTCPK:VLKAF). Even though Tesla lost $648 million on revenue $7 billion, investors are in love with the company. Tesla offers the opportunity of mass growth, something that the other top car manufacturers can't offer. Tesla's ultimate goal is to sell 500,000 cars in a fiscal year by 2020. The chart below shows Elon Musk's initial plan to achieve that goal. They will most certainly attain that goal because their new Model 3, Tesla's first mass market car, already has over 300,000 preorders.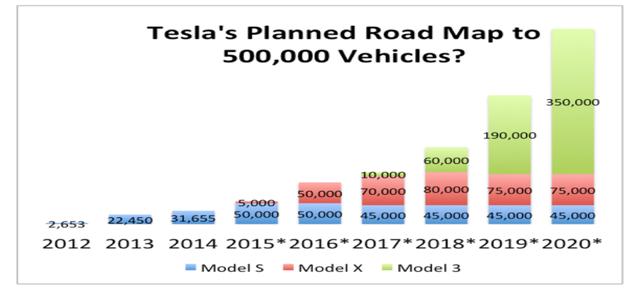 Although Tesla has only had two profitable quarters since going public in 2010, it is the future of the company which attracts investors the most. Despite below industry average financial ratios, money manager Ron Baron told CNBC that shares of Tesla could reach $1,000 by 2020. One reason for this is the new Model 3, which has a list price of $35,000. All Model 3's come capable to have full autopilot capabilities. Musk recently said that when Tesla turns on the autopilot features for the M3, it will be ten times safer than a normal driver. Tesla is also trying to develop a fully solar powered car and the first electronic 18-wheeler. Those are some of the reasons that investors are loving Tesla.  Another reason, is that Musk is moving Tesla beyond the automotive industry. With their acquisition of SolarCity, it gives Tesla the opportunity to take advantage of the growing demand for solar roofs, battery-operated homes and businesses. Elon Musk doesn't just want to make cars, he wants to make an impact on the world. So far, many people have faith that Musk will indeed make that impact. The innovative CEO has even discussed a desire to colonize Mars. He recently laid out his ideas of building a city on Mars and his plans to make it affordable.
Tesla's biggest obstacle so far is convincing the public that owning an electric car is a convenient and affordable mode of transportation. They believe sales will skyrocket with the creation of charging facilities here in the U.S and abroad. Some people question if Tesla is ready to become a mass market provider that they soon will be, but Elon Musk believes he and the company are ready for the jump. Only time will tell if Tesla can live up to their high expectations or collapse.