Fed's economic projections this Wednesday may not signal a 4th rate hike, potential short USD/JPY after FOMC.
FOMC this Wednesday will create huge volatility across all asset class as not only a decision on interest rates will be announced, it also compasses FOMC economic projections and statements. The market has already priced in a 100% chance of a quarter point hike despite string of economic data that has prompted downward revisions on Q1 GDP estimates below 2% and a slower retail sales figure. The only saving grace is that US economy added 313K jobs last month, service and manufacturing activity expanded, and CPI growth accelerated YoY.
The main focus for this week FOMC will be the monetary policy statement as well as the updated summary of economic projections. There had been speculation of a 4th rate hike for this year as FOMC voters has encourage investors to price in a 90% chance of a 100bps rate hike. However, there is a high possibility that Fed might not signal a 4th rate hike just yet due to 3 reasons:
Raising rates during Powell's first FOMC meeting aside from his testimony is already seen as hawkish and any signalling of a 4th rate hike would be overdone.


Given the current economic health, it would be astute to keep market's expectations modest so as to assess the strength of the economy later into the year before warranting a 4th hike.


The odds of a 4th rate hike fell after February inflation report and decent NFP reports. The markets were worried that faster rate hikes could be detrimental to business whose borrowing cost could increase is rates increases.
Even though the flexibility in tariffs whereby Canada and Mexico are exempted and possibility even more countries has revive the risk appetite of investors, instability in the white house and other tariffs could have pressure on the dollar. Rex Tillerson, fired as secretary of state, is the fifth key personnel being replaced in the White House in the short period of 2 weeks.
Moreover, there was also new reported that President Trump might impose 60 billion worth of tariffs on Chinese imports targeting the technology consumer electronics, and telecommunications sectors. This rekindled the fear of a possible trade wars between two giant economies which would hurt the global economy and market.
The potential tariffs on Chinese imports, chaos in the White House and adding the possibility that a 4th rate hike will not be announced could cause dollar's rally to be short-lived on Wednesday.
Our Picks
USD/JPY – Slightly bearish.
The rate hike on Wednesday has already been priced in. Instead, market would be looking for signals of a 4th rate hike. Furthermore, Japan's Prime Minister cronyism scandal in Japan involving the sale of state-owned land could strengthened yen.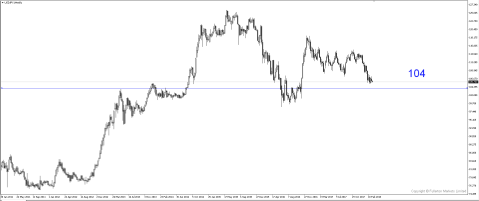 GBP/USD – Slightly bullish.
This pair has just broken out of the falling wedge formation. We expect prices to retest 1.410 price level.