China's PMI fell further in September, short AUD/USD?
China's PMI shows downward pressures from the external sector will become more intensive
US employment data for September fell to its lowest level in a year even though unemployment rate dropped to a level not seen in almost 50 years.
Nonfarm payrolls rose just 134,000, well below estimates and charting the worst performance since last September when a labour strike weighed on the numbers. Unemployment rate fell two-tenths of a percentage point to hit 3.7%, the lowest level since December 1969. After the report, the 10-year Treasury yield climbed to its highest in seven years. Stock indexes also edged higher during the opening but soon turned negative.
The figures suggest that the job market remains tight, with hiring outpacing labour-force growth and pushing the economy beyond full employment. However, it has yet to spark a significant acceleration in wages. The coming months will indicate whether pay increase and prices will finally surge in response to a historically low unemployment rate, a development which Chairman of the Federal Reserve Jerome Powell says he does not expect to happen.
The latest fall in unemployment rate pushed it further below Fed estimates of sustainable levels in the long run, reinforcing expectations for a fourth interest-rate hike this year and more in 2019. While the trade war with China poses a risk, policy makers are likely to keep raising borrowing costs as President Donald Trump's tax cuts are juicing economic growth and supporting demand for labour, though employers are lifting workers' pay only gradually.
Data from the world's largest economy on Friday showed that the unemployment rate fell to a 48-year low, justifying Powell's description of enjoying a "particularly bright moment." However, activity elsewhere is weakening due to the higher Federal Reserve interest rates, and Trump's trade war with China. Global manufacturing is growing at the weakest pace in almost two years and exports shrank last month for the first time since 2016.
About 50% of the value added in Chinese exports to the US comes from the rest of Asia, so other countries will also be impacted if the trade war continues to escalate. The confluence of factors may be enough for the IMF to trim the forecasts it has maintained so far this year for the world economy to expand 3.9 % in 2018 and 2019. The IMF will update its World Economic Outlook from Bali, Indonesia on 9 October 2018. It has not revised projections down for a year ahead since October 2016.
Our Picks
EUR/USD – Slightly bearish.
This pair may drop towards 1.1460 amid a strong dollar perspective.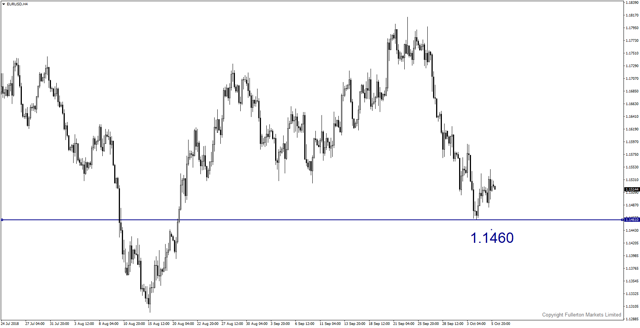 AUD/USD – Slightly bearish.
Further slowdown in China's growth may drive this pair lower towards 0.7020.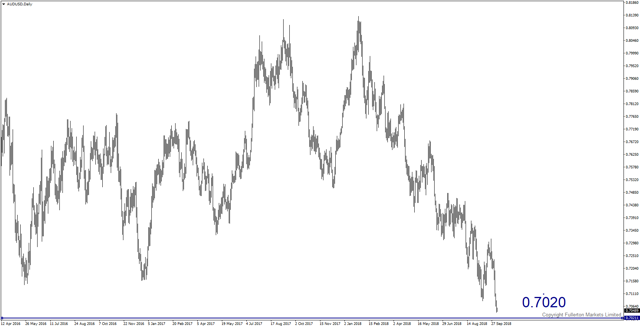 XAU/USD (GOLD) – Slightly bearish.
We expect price to fall towards 1192 this week.