Fed's Powell may show his bias towards patience in his testimony this week, short USD/JPY
US GDP set to grow slower in 4Q
A much anticipated read on US fourth-quarter economic activity which is broadly expected to disappoint was delayed previously due to the government shutdown. The question now is disappointing by how much? This has led to traders who are bullish on dollar to stay cautious.
A puzzlingly sharp decline in December retail sales, which appeared at odds with retailers' reported results, led to a broad swath of forecasters reducing their projections for fourth-quarter GDP. However, further disappointing news on industrial production, housing, factory orders and business inventories have since added further downside risk. As a result, we are lowering our growth forecast to 2.0%.
To be sure, the economy stumbled at the end of 2018 as financial market turbulence destabilised confidence among both businesses and households. However, this impact is not likely to be sustained, given the subsequent improvement in market conditions.
The resilience in the pace of job creation over the past several months underscores the underlying resilience of broader growth momentum. Upcoming reports on consumer confidence and the manufacturing ISM should start to reveal the green shoots of an activity rebound throughout the first half.
In addition to several important data releases, a slew of Fedspeak, including Chairman Jerome Powell's semi-annual testimony before Congress will shed light on two important monetary policy issues: firstly, how passive and patient Fed is willing to be amid the current economic crosscurrents; and secondly, the details surrounding a soft landing for the Fed's balance sheet manoeuvres.
For Asia, we expect a slew of weak data – China's manufacturing PMIs slipping deeper into contraction, India's GDP growth slowing, and Japan's industrial production extending its declines. The Bank of Korea is expected to stand pat. In China, the official and Caixin manufacturing PMIs may have fallen further below the 50-threshold between expansion and contraction in February. Looking ahead, we see potential for a bounce in March.
Our Picks
AUD/USD: Aussie may rebound from the dip as US-China trade talks may show some positive sign this week. This pair may rise towards 0.7160 this week.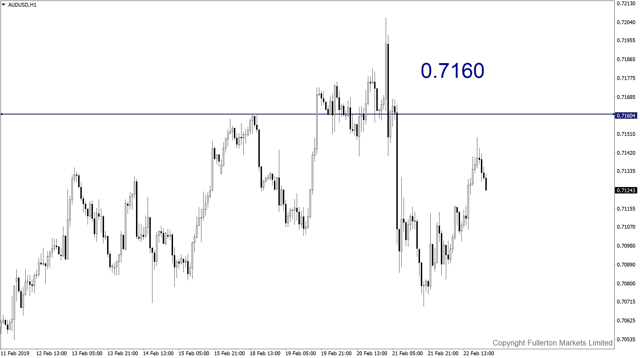 USD/JPY: This pair may fall towards 110.25 as Fed may express its patience this week.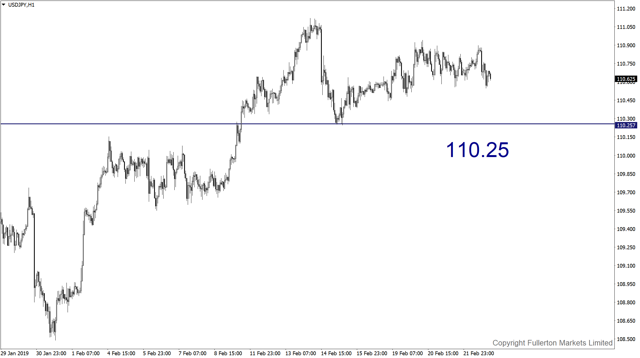 XAU/USD: This pair may rise towards 1333 this week.