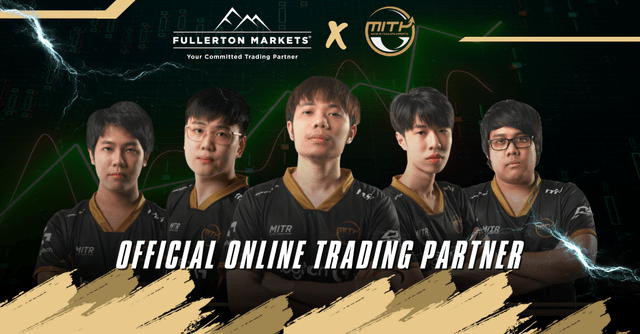 Fullerton Markets has officially announced its sponsorship of one of Southeast Asia's most popular esports teams, MiTH.
Home to some popular esports athletes and live streamers in Thailand, MiTH was founded in 2012. The team's founders both have a professional gaming and television host background and are widely respected within the community as the early pioneers of esports in Asia. MiTH also recently came under the portfolio of Ampverse, the fastest growing esports company in the East, which completed a majority stake acquisition of MiTH.
The strategic partnership will enable Fullerton Markets to feature its intellectual property across all MiTH team assets which include their pro kit and jerseys, always-on team content, and brand ambassador channels.
Said CEO of Fullerton Markets Mario Singh, "We are thrilled to partner with Ampverse, the region's leading esports organisation to expand our reach to young professionals via their favourite esports teams. As we segment and target different audiences, we have spotted parallel interests in today's youths who are both immersed in esports and also well-informed about trading and investing. This partnership with Ampverse and MiTH offers the perfect opportunity for Fullerton Markets to engage this lucrative Gen-Z demographic. More than ever, our youths are invested in stocks, currencies and crypto. We see ourselves playing a big part in providing them with world-class education, products and services as they blaze their trail in the financial markets."
Added Ampverse Co-Founder and Chief Gaming Officer Matthias Meti Beyer, "We aim to work with esports communities which are driven by passionate, smart and hungry founders. I am thrilled to welcome Fullerton Markets as a long-term strategic partner across MiTH's PUBG PC and FIFA pro teams. We share similar values and can't wait to work with Fullerton Markets to take our partnership to the next level."
The worlds of gaming and finance will collide as esports revenue is expected to accelerate globally, with some brands taking their businesses to the next level and investing in esports communities to reach Gen-Z audiences across the region. We expect to see more partnerships with these industries in the future.
About Fullerton Markets International Limited
Fullerton Markets is an award-winning broker recognised for being a disruptive force in the trading industry. Committed to delivering unparalleled safety of funds, lightning-speed execution and a reliable system of wealth creation, it offers its global clients direct access to the world's largest financial market and promises price stability at competitive rates through its tier-one liquidity providers. Equipping clients with the necessary tools and knowledge, Fullerton Markets empowers traders to effectively compete in the market.