I'm starting a new series of ETFs for individual investors who have little investing experience in ETFs. This series is particularly tailored to Canadian investors as all ETFs that I will mention are Canadian ETFs. I will try to keep each article 3 minutes short and use simple words. Easy read!
Investing in an ETF is buying an index. One of the most common misconceptions is that all indexes represent the broad market, which should bring us safe returns overtime. This is not true. For example, one of the best performing ETFs this year, BMO China Equity Index ETF (TSX:ZCH) has appreciated 19.7% YTD. In contrast, BMO Junior Oil Index ETF (TSX:ZJO), one of the worst performers, has declined 33.6% YTD. These may be extreme, but the point is that not all indexes are made equal.
There are about 500 ETFs in Canada, tracking numerous indexes. Index, in a nutshell, stands for a portfolio of securities (usually stocks) that meet certain criteria. Different indexes have different criteria. Though each index contains a number of stocks, it doesn't necessarily represent the broad market. As such, we should thoroughly study the rules and holdings of any ETFs before investing in them.
ETF of the day:  BMO China Equity Index (TSX:ZCH)
ZCH holds 39 stocks of Chinese companies listed in the U.S. exchanges (ADRs), such as Alibaba (BABA), China Mobile (CHL), Baidu (BIDU), etc. Holdings are capitalization-weighted. The biggest sector is technology, making up 40% of the ETF. MER is 0.72%, relatively high comparing to most ETFs.
Who should invest in: Investors who are confident about the outlook of China's macroeconomics, or who look for exposures in emerging markets or geographical diversification for their portfolios.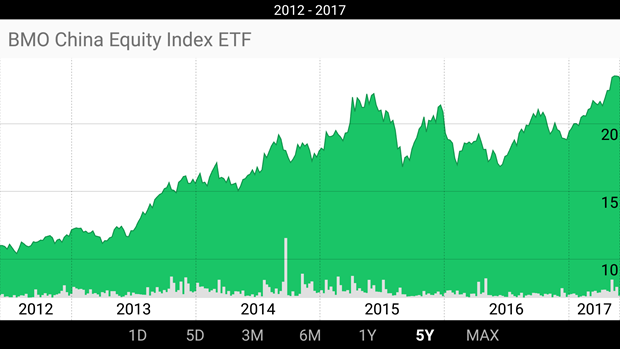 Source: Yahoo Finance
Disclosure: I/we have no positions in any stocks mentioned, and no plans to initiate any positions within the next 72 hours.
Additional disclosure: I wrote this article myself, and it expresses my own opinions. I am not receiving compensation for it (other than from Seeking Alpha). I have no business relationship with any company whose stock is mentioned in this article.

Investors are always reminded that before making any investment, you should do your own proper due diligence on any name directly or indirectly mentioned in this article. Investors should also consider seeking advice from a broker or financial adviser before making any investment decisions. Any material in this article should be considered general information, and not relied on as a formal investment recommendation.