Some of the biggest competitors in the industry are:
Starbucks, Yum Brands (KFC, Pizza Hut and Taco Bell), Chipotle, and Domino's pizza, etc.
Comparing Mcdonald's to its competitors, we can reach a few conclusions:
Mcdonalds has the highest market cap: 134,764 mil compared with 4,325 mil average.
Second is Starbucks which has 81,298 mil.
-> is the dominant player in the market
2. Its PE ratio is slightly below the industry average 24.5 compared with the 27.3 average. Slightly undervalued.
-> not a bad value investment
3. Also, it has an impressive dividend yield 2.2%, the second highest in the industry.
-> shows Mcdonald's as a good dividend investment
4. Its operating margin is 31.2%, which is also impressive because its the second highest in the industry.
-> proves Mcdonald's operational efficiency despite falling revenues
5. However, its 5 year revenue CAGR has been underperforming, but there is a reason for this, so this is not necessarily interpreted as a negative sign
6. Finally its interest coverage is not the best, but it is optimal, which is 8.8.
Overall, Mcdonalds has by far the biggest market cap, the best dividend yield, and the best operating margin.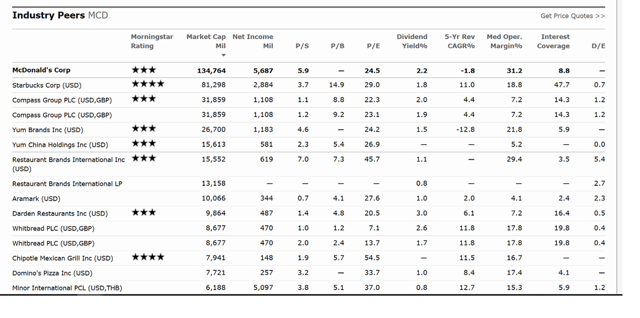 Also comparing, Mcdonalds with Coca Cola in the past few years, we can reach some conclusions too, as the following:
Both companies decided to refranchise their business. MCD is doing it with its restaurants and has almost completed its transformation. KO is refranchising its territories to bottlers where it once performed very well. Both companies are transferring ownerships and responsibilities to local hands in the hope they will do a better job than the head office. Coca Cola's president says that they are reshaping their business and accelerating their transformation to become a total beverage company.
While this move should boost earnings in the short term, this also reduces gross revenues. In its latest quarterly earnings, KO reported a revenue drop of 15% with a refranchising negative impact of -18%. MCD reported similar figures with a global comparable sales increase of 6%, but a negative refranchising impact of -10%.
If you have a look at the earnings graph, you can see that no wonder MCD stock surged over the past 3 years when you look at how management boosted its earnings since 2015. Latest earnings included an EPS growth of +55% where it comes down to EPS growth of +9% when excluding sales of the company's business in China. When you look at MCD's margin, you can tell how its strategy works.
Disclosure: I am/we are long MCD.