I read a lot about investing, and often I am amazed at the things people will invest in based on speculation and misunderstanding. I am not suggesting you go with Peter Lynch's broken "Buy what you Understand" Theory...but there is something to be said for understanding the drug approval process when an investor wants to buy a biotech company. But the real added bonus is doing scientific reading beyond a biotech's financials and charts to fully understand the science you are investing in.

The big issue I am highlighting here is that micro-cap biotech stocks are unlike any other part of the stock market. Investors look for the possibility of the company being wildly profitable, even knowing there is a huge failure rate among the industry. It seems investors treat this sector more like a lottery ticket than an investment. Even massively overvalued tech stocks have SOME growing revenue! But micro-cap biotech stocks usually do not have any revenue until they can get a drug through the grimly chanced FDA process. This is why I have developed a system to combine the scientific, quantitative, statistical, and technical angles of choosing a biotech company that will make it to the finish line.

The beginning of any research experiment begins with understanding the issue. I looked at the FDA's website for information on how drugs are screened through their process. This is a great place to start, but it doesn't do enough justice. The problem with many investors is they don't read enough before they get started! I am guilty of it too; I look at a stock go to my key metrics…within 5 minutes I could give you a determination if I would buy, hold, or sell. And most of the time, I don't really understand the company.

Benjamin Graham said it best in the Intelligent Investor: "Invest only if you would be comfortable owning a stock even if you had no way of knowing its daily share price."  The lesson for biotech stocks is that not all drugs are the same, not all sectors are the same, and not all companies are the same. I had to understand the system, sector, and company before I spent anything.  
I dove into "Drugs, Devices, and the FDA: An Overview of Approval Processes for Drugs" by Gail A. Van Norman MD. His paper gives a better synopsis of how the FDA screens drugs. The chart below is the best resource to explain what each phase is really about: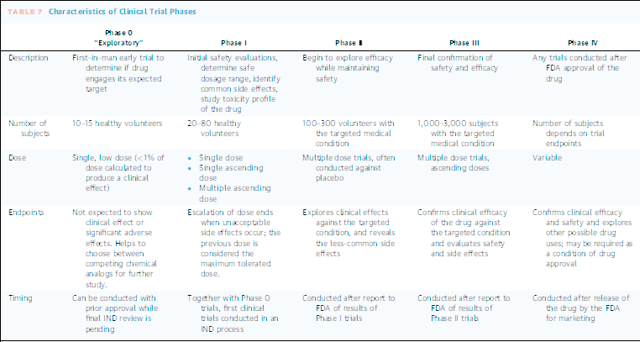 Looking at this chart, we can see how easy it is to get to Phase II, but we can understand why it is hard to get a drug to the end from there. Phase II is where the real testing begins and the sample sizes are statistically large enough to show differences. Understanding what each of the parameters on the left side means is highly important as well. Many articles will say "failed to meet primary endpoints". But that's just a fancy way of saying there wasn't enough statistical evidence to say the drug was effective. The background reading is over and it's on to the statistics!

*Look for my next post, where we get busy breaking down with the numbers.