Today's equity bull market run has created a historically low volatility market environment. The VIX, which is an indicator of market volatility and often referred to as the "fear gauge," has been consistently trading around 10. This is half of its long term average of 20. Consequently, hedge funds and money managers, who historically take advantage of increased market price fluctuations, are under-performing. Nevertheless, even in a low volatility market, there are multiple strategies that can be utilized to deliver strong returns.
One such strategy is to target individual stocks and asset classes that are experiencing large price movements. Individual stocks such as Hibbett Sports (NASDAQ:HIBB) and Applied Optoelectronics (NASDAQ:AAOI) have both been experiencing large price swings with an average intraday spread of 6.6% and 6.2% respectively. The 52-week price range for HIBB is $9.40 - $43.40 and for AAOI is $21.88 - $103.41. During a time when individual equity volatility has been so muted, stocks that are still experiencing large price swings present an opportunity to profit off of those swings.
Besides individual stocks there are additional asset classes that are typically more volatile. Specifically, commodities tend to experience more price fluctuations than equities and are generally the most volatile of the popular asset classes - bonds, currencies, and equities. For instance, crude oil quarterly volatility has ranged from 12.63% to over 90% over the last few decades. Over the same time period, natural gas quarterly volatility has ranged from 22.56% to over 80%. For context, the quarterly historical volatility of the E-Mini S&P 500 index, a proxy for the equity market as a whole, has ranged from 5.35% to 27.23% over the last two decades.
In addition to commodities and individual stocks, there are cryptocurrencies and other creative ways to seek out volatility such as exchange-traded notes (ETN) like the XIV. Since their inception, cryptocurrencies have been quite volatile because it is difficult to determine where they derive their value. One of the most well known cryptocurrencies, bitcoin, has ranged from 0.81% to 15.91% in 30-day volatility and the lesser known Litecoin has ranged from 0.77% to 27.15% by the same metric.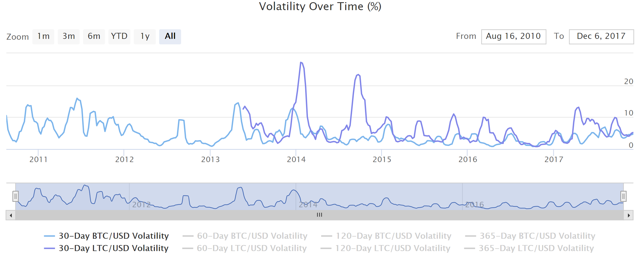 Moreover, the VelocityShares Daily Inverse VIX Short-Term ETN (NASDAQ:XIV) is an exchange-traded note that delivers returns based on the inverse performance of the underlying index, the S&P 500 VIX Short-Term Futures Index. This ETN is the ideal investment for this low volatility market environment because as long as volatility remains low, it will continue to have increased returns. Year-to-date the XIV has created nearly 150% in returns, not to bad for a year long investment.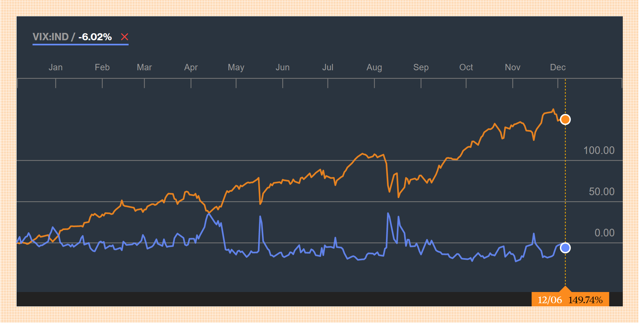 Disclosure: I/we have no positions in any stocks mentioned, and no plans to initiate any positions within the next 72 hours.