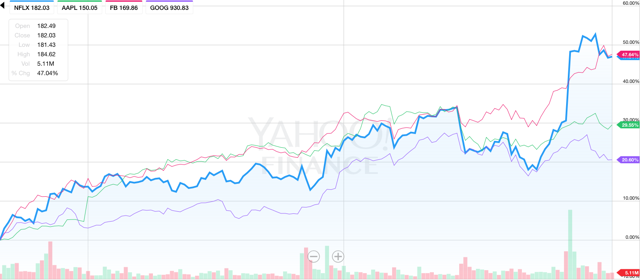 FANG Stocks YTD (NFLX in BLUE)
As part of the FANG group, NFLX has been a leader of the S&P500, outperforming the index 3-fold since the start of the year. Netflix (the Company) can attribute its success this year to its original content, which boasts a whopping 91 Emmy nominations, and fast growth of its international subscribers. Despite current quarter expenditures of $472M growing faster than subscribers, the market continues to like NFLX. This article will focus on the best way to value and interpret moves in NFLX. So far in 2017, how management guides its own value and how the market sees value have been near opposites.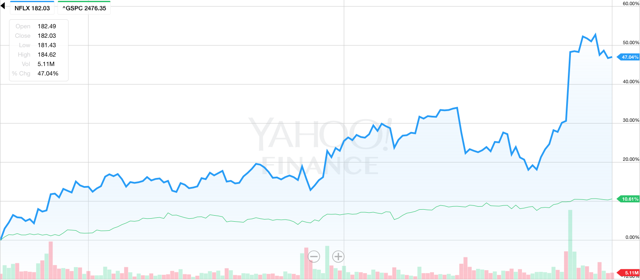 NFLX (NASDAQ:BLUE) vs S&P (GREEN)
How the Company Values NFLX:
In the 2017 Q1 earnings call, Netflix encouraged Wall Street to value the Company based on revenue and operating profit growth and not by headline total subscribers. Total subscriber growth, measured as new domestic subscribers and new international subscribers, was the primary driver of the stock's run from late 2016. Management suggested to focus on top line and operating profit was given when Q1 earnings missed subscriber growth but a beat growth in revenues and operating profit. This is a signal of slowing subscriber growth and maturing revenues, maybe an internal focus on efficiency. Is it now more appropriate to look at top-line and margins like most tech companies?

How the Market Values NFLX:


The market responds strongly with subscriber growth.

Consensus on the Street is that domestic market is saturated and international market penetration is just beginning. Currently comprising of 30% of the Company's business, its fast growing but also exposes the Company to Forex risk, of which took a bite out of Q1 earnings (pictured 3rd).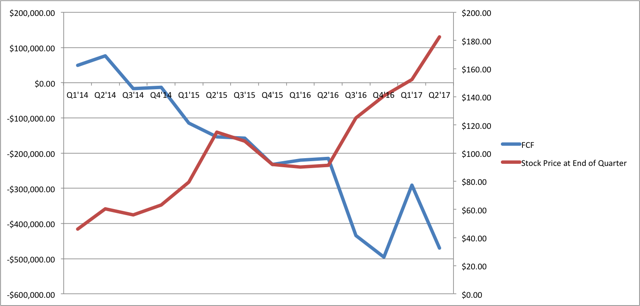 Free cash flow against the stock price. Diving free cash flow is a surprise to no one based on strategy. The Company plans on -$2.5B FCF for 2017.

Earnings per share against the stock price. The drop in EPS for Q2'17 was a one-time unrealized loss. Among the FANG group, NFLX has 4 times the forward price-to-earnings than FB, GOOG, and AAPL. 
The Street is too focused on headline subscriber number and ignoring a weakening balance sheet, outflows exceeding growth, and future content challenges.
How NFLX Should be Valued:

Headline subscriber information is not as important as previously perceived. It represents market penetration but with two caveats; Forex risk and password sharing. 
Foreign exchange took a bite out of Q1'17 earnings and recent moves in the dollar prove the company needs to be well hedged. The Company has yet to solve the password sharing issue that leaves subscribers on the sidelines. At a time where loyalty and recognition is as high as ever, Netflix has been poised to pull the trigger on stricter sharing standards for a while. The absence of such action shows they either can't afford this option or the technology is not there. Investors are mistaken if they are valuing current subscriber numbers to include password-sharers. 

The final risk for the Company relies on their original content. The Hollywood industry itself is unreliable. Management acknowledges they will have content flops but is confident there will be more home-runs than flops. Future stock price is tied to the chance of home-runs like House of Cards.
Netflix is in a new portion of their growth phase and it's now appropriate for investors to focus on revenues and efficiency, especially important as the Company continues to increase leverage. When both cash flows and earnings move opposite of stock price, its time to sell this big mover.

Disclosure: I/we have no positions in any stocks mentioned, and no plans to initiate any positions within the next 72 hours.