For many cryptocurrency investors, 2017 will be a year that they never forget. Millions were being made overnight and car dealerships were busy satisfying all the new lambo orders. Although the euphoria of those returns was incredible, this year has taken us all back down to earth.
While many new investors are likely disappointed with the year-to-date performance of Bitcoin (BTC-USD) and other cryptocurrencies, they need to remember the long game. And that game, if you want to call it that, is to seek out projects that will succeed over the long-term. The next few years are likely to generate substantial gains for the most deserving projects and one of those projects that investors should be paying attention to is Encrypgen (DNA-USD).
Background
Encrypgen is a genomic blockchain network that provides customers and partners with best-in-class, next generation, blockchain security for protecting, sharing and re-marketing genomic data. This creates a fair marketplace for a person's DNA that can be stored privately and sold (if a person wishes to do that). A person's DNA can also be shared privately and securely with their physician for their personalized care.
Typically, people can send their DNA off to a lab to find out who they are and where they come from. As fun as that might sound, there is a significant security problem that the public needs to be made aware of. The problem is that most genetic testing companies retain results for their own use so that the data can be resold to research and development companies. It would be better for people to retain control over their own DNA results and that's where Encrypgen steps up to the plate.
Encrypgen's Value Proposition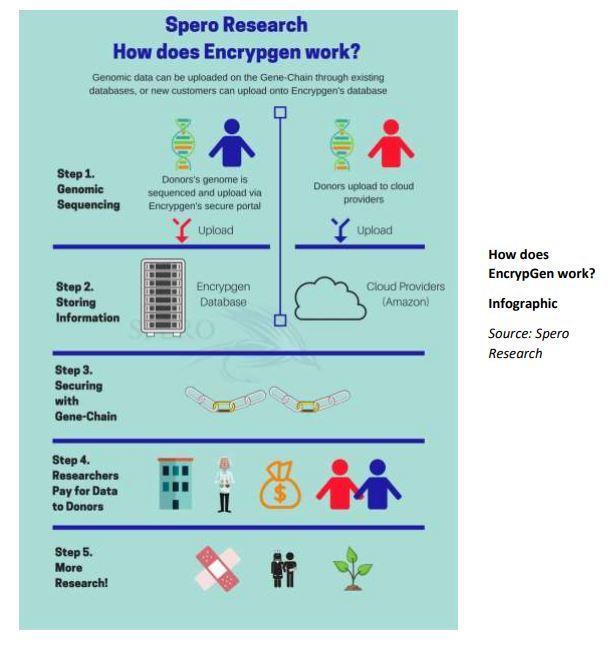 The graphic above is self-explanatory but it essentially details the benefits to donors. Donors can upload their genome via Encrypgen's secure portal which then goes into the company's database. That genome will be secured with Encrypgen's revolutionary Gene-Chain (soon to be released). One of the most exciting parts is that donors can get paid when researchers want to buy their data. It's a win-win for everyone involved; the science community gets to do more research, donors get paid for their data, and Encrypgen receives a cut of all transactions for facilitating.
Gene-Chain Launch in August – Major Driver of Revenue
The main reason why I'm writing this article now is because token holders and the science community at-large have an exciting event to look forward to; the launch of the Gene-Chain platform. The company anticipates this will be ready by the end of August although expectations should be tempered because coders/programmers are notorious for needing extra time. While my hope is for the end of August, it's possible that the ETA will slip into September.
The Gene-Chain platform will be built for professional Genomic Data Users; R&D Pharma, Medical Centers, Institutional Academia, and Sequencing companies. The platform will allow for securing, sharing, searching, buying, and re-selling high volumes of data. Encrypgen is already reaching out to the professional users to begin the revenue generation phase.
Encrypgen currently has roughly 3 million DNA tokens that are reserved for the platform. Researchers will be able to purchase these tokens direct from the company at a soon to be determined price. In turn, the revenue generated from the token sales will allow Encrypgen to continue product development, fund operations, and allow the company to go back to the exchanges to continually replenish its supply of DNA tokens that will be made available for purchase on the Gene-Chain.
Year-To-Date Results
Unfortunately for token holders, 2018 has not been very kind. YTD, DNA tokens have dropped in value by more than 90%.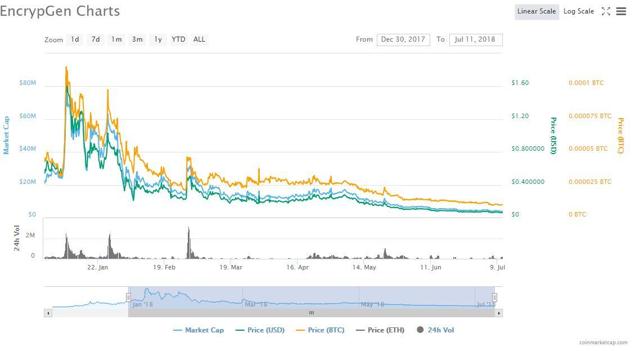 While most of the drop can be attributed to the overall decline in cryptocurrencies, some of it is due to DNA being a utility token. Utility tokens represent future access to a company's product or service. In other words, they are not designed as investments. The value will be derived from the use of the product (or platform in DNA's case). Fortunately, for new investors, they don't have to worry about the drop. Instead, they can look forward to Encrypgen's revolutionary Gene-Chain platform which is expected to launch by the end of August.
Potential for 1,000% ROI
The possibility of achieving this type of return is very real. As of July 12th, the value of each DNA token is currently $.06 which gives the company a market capitalization of roughly $3.7 million. This appears to be a significant undervaluation given the expected growth of the global Genomics market and comparable company analysis.
According to Research and Markets, the global Genomics market is expected to grow to $23.88 billion by 2022. The reasons for this growth include the following:
Growth in genomic research activities
Continued rise in start-up companies
Increased importance of focus personalized medicine
Venture Capital Investments
Amount of government grants
In addition to industry growth, it's important to look at comparable/related companies. One company that comes immediately to mind is 23andMe. 23andMe is a genetic testing company that received FDA approval for the application of 10 different tests in April 2017. The company collects DNA samples from customers, analyzes the genetic makeup, and synthesizes these findings into personalized reports with analysis on ancestry and genetic predisposition to health risks based on each customer's unique genetic variants. The really encouraging part is that 23andMe confirmed a $250 million financing round led by Sequoia Capital. Fidelity Management also took part in the funding round. The funding brings the valuation to a whopping $1.75 billion.
23andMe has been around for a while now so it's certainly not a surprise for them to be valued significantly higher than Encrypgen but the important takeaway is the potential. Encrypgen is the leader in it's niche space and has the added benefit (in my opinion) of blockchain technology. Although cryptocurrencies have been in a bear market for almost all of 2018, many agree that the future is bright.
In January, Encrypgen traded as high as $1.97 which gave the company a market cap of approximately $88 million. While that occurred during the explosion of the crypto market, that also occurred when Encrypgen was nowhere near reaching its milestones. Now that those catalysts are closer to being realized, and after a lengthy crypto bear market, it isn't at all unreasonable to think that company could trade again at 60 cents (1,000% ROI from today's levels). I believe 60 cents is easily attainable within the next 12 months, if not much sooner.
Catalysts
The next 6 months should prove to be a very exciting time for the company as there are several catalysts that token holders can look forward to:
Gene-Chain Launch in August/September 2018
Additional exchange listings for trading
Venture Capital funding
Revenue Generation
Encrypgen's DNA token is currently listed for trading on Cryptopia, Okex, and Kucoin. The company has stated it's their intention to get listed on additional larger exchanges that will be accessible to more crypto traders. The problem with some of the larger exchanges like Binance and Bittrex is that they typically require a large payment to get listed. With a small company like Encrypgen, where managing financial resources is of paramount importance, it doesn't make senses to pay a large fee simply for a listing. However, once the company begins generating substantial revenue in Q4, I have no doubt that these additional prominent exchange listings will be coming.
Risks
When it comes to Encrypgen, investors should be aware of the following:
Start-up risk
Value pegged to Bitcoin
Funding Risk
Competitive Landscape
As with all start-up companies, investments are extremely risky. The company will be faced with dealing all types of new problems including managing limited financial resources, navigating regulatory hurdles, and fighting off the competition. Investors need to be aware that loss of total principal is always possible when investing in these types of companies. Because of that, should an investment be warranted, investors are always advised to risk only what they can afford to lose.
At present, it appears that the value of almost all cryptocurrencies are pegged to the value of Bitcoin. When Bitcoin rises, cryptos rise. When Bitcoin falls, cryptos falls. Wash, rinse, repeat. Because DNA-USD is a utility token, it's possible that the value will become unpegged from Bitcoin at some point based upon platform usage and revenue generation. But until that point, investors need to be aware that the price fluctuations of the DNA token will likely be determined by how Bitcoin trades.
Encrypgen is currently seeking additional funding from venture capital firms. Although it is anticipated that the company will be successful in doing so, it's always possible that they won't. And if they can't raise additional funds from investors, the company will be dependent on revenue generation which is anticipated as soon as Q3/Q4 of this year.
Lastly, investors should be aware that while there is no other similar threat that has had an ICO (Initial Coin Launch), there are several companies pursuing the same goals as Encrypgen. Those companies include Nebula Genomics and Luna DNA. However, Encrypgen is significantly ahead of them in terms of reaching milestones and navigating all the regulation hurdles that exist when dealing with confidential medical information.
Conclusion
While I do have an investment in Encrypgen, it's always important to remember that the DNA token is a utility token. The value will be derived from platform usage, NOT price speculation. Although the risks are significant, the potential growth of the industry along with the coming catalysts show that Encrypgen could be set up for a very bright future.
Disclosure: I am/we are long DNA-USD, BTC-USD.