Buy The Dip Or Fear The Bubble? [Weekly Update]
Please Note: Blog posts are not selected, edited or screened by Seeking Alpha editors.
Insider Ownership, Undervalued growth, Leading businesses, Outperforming stocks
Seeking Alpha Analyst Since 2017
Voor Nederlandstalige beleggers - bezoek beleggersuniversity.com als je wil uitgroeien tot een succesvolle belegger

Founder of Insider Opportunities / A new way of investing (insiders+algos) with 43.6% annualized returns since 2010 / Made hundreds of investors successful and confident in this challenging market environment
During my Master of Business Administration at the University of Ghent (Belgium), I got passionated by finance. When writing my master's thesis I got attracted by the under-appreciated power of the insider investment strategy.
The theory is simple: by following insider (CEOs, CFOs, board members...) purchases, well-respected researchers have proven that you can outperform the market significantly. That's because this "smart money" knows better than anyone else when their stock is undervalued.
But adopting it in your investment practices is not easy: there are 850 purchases reported by the SEC each month, off which only a small fraction is valuable to follow up. As I enjoy challenges, I decided to dedicate my life into building a strategy around this very promising theory.
After years of empirical research, I discovered a revolutionary strategy based on insiders and algorithms which generated 47.2% annual returns since 2010 (3x the S&P 500). My IO Golden Value, Growth and Biotech algorithms pick out the winning insider purchases (on average 6 per month) based on fundamentals and valuations.
I understood this unique strategy could be extremely valuable to investors like you, enhancing returns and strengthening one's confidence in the market. To start improving investors' wealth generation, I decided to find Insider Opportunities in 2020.
Click here to discover Insider Opportunities 14 days for FREE.
By joining our community, you'll have an edge compared to other investors to find undiscovered, undervalued stocks. You'll get exclusive access to our daily Insider at Breakfast articles, outperforming portfolios, weekly market updates, group chat with other investors, and much more.
I'm always happy to talk with other like-minded investors and help them out. Don't hesitate to contact me any time!
Yours sincerely, Robbe
Summary
Last week the S&P 500 index lost 2.45% due to concerns around rising interest rates. Momentum and growth stocks went down a lot more.
In contrast, by focusing on undiscovered, undervalued stocks our Insider Outperformance Portfolio gained a staggering 5.36%.
We are on the edge of an important multi-year break-out in favour of value stocks.
Which stocks should you buy on this dip? Our revolutionary insider strategy discovered five great investment opportunities last week.
There are 8/30 places left for our exclusive 15% discount at Insider Opportunities. Don't hesitate to try out our 14-day FREE trial now!
Dear follower,
Last week, again, proved that extreme investor greediness always gets punished. The S&P 500 had a bad week, losing 2.45% of its value. This was primarily caused by the intra-week rise of long-term interest rates by more than 200 bps.
Over the past months, many investors have been buying into momentum and growth stocks without regard for their valuations. Most of them faced a terrible week as their portfolio is highly sensitive to rising interest rates. Here are just some of last week's momentum returns: Tesla (-14%), Nio (-17%), Nvidia (-8%), Shopify (-11%), Plug Power (-14%), Fuelcell (-16%)...
In contrast, investors who bought into undiscovered, undervalued stocks had an amazing week, including our Insider Opportunities members. In fact, our Insider Outperformance Portfolio was up by 5.36% for the week, a phenomenal performance. 
Our members are very happy with this performance:

It's not just about this week. We have been calling the sector rotation from growth to value stocks since July 2020 (read here) and adjusted our portfolio based on these expectations.
Even despite the 25% outperformance of value stocks (Russell value index) compared to growth stocks (QQQ index) since November, we believe this sector rotation will extend over the coming quarters. Interestingly, we are currently at a crucial level to break out from a multi-year trend: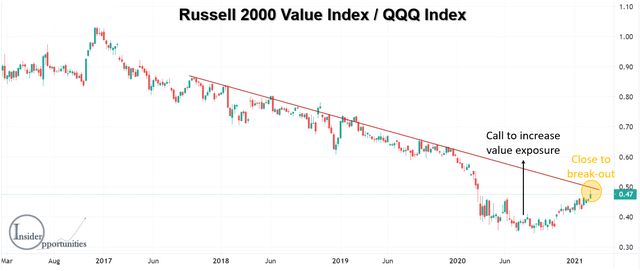 (Source: Insider Opportunities with Tradingview)
What is next? Should you buy the dip in momentum stocks or should you fear the bubble?
We are not sure whether last week was the ultimate top of the bubble. Bubbles are very hard to time as the market can remain irrational for a very long term. The new $1.9 trillion stimuli package which passed the Senate this weekend could further inflate the bubble in the short term. 
We do know that buying momentum stocks on the dip today is extremely risky and will generate weak returns in the mid-to-long term, similar to the dot com bubble. You should definitely fear the market bubble.
In contrast, you could still be able to generate strong returns by looking for undiscovered, undervalued stocks in the market today.
That's what we do at Insider Opportunities with our revolutionary insider strategy.
The week at Insider Opportunities
Following insiders purchases and sales can be very informative in volatile markets like today. Insiders (CEOs, CFOs, board members...)  know better than anyone else when their shares are undervalued.
Only 218 insiders bought the dip last week, compared to 1404 insider sales (ratio of 15.5%). This is significantly lower than last week (ratio of 18.0%) and the average since 2018 (56.3%). This indicates that insiders are still bearish on future returns as valuations are still sky-high.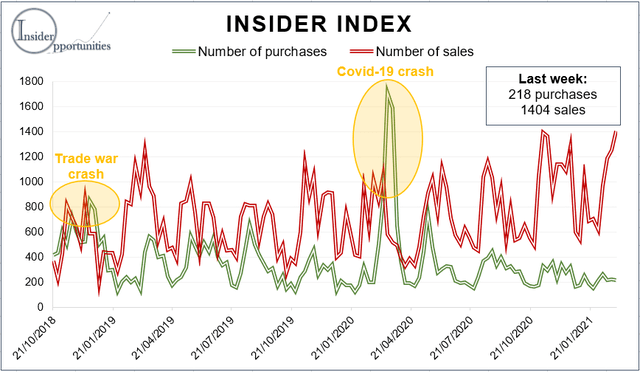 (Source: Insider Opportunities Research)
Despite the low insider activity, our algorithms have discovered some great investment opportunities for our members last week via our daily Insiders At Breakfast updates.
Our members can be confident in their strong returns as stocks picked by these algorithms have more than tripled the S&P 500 performance over the past decade.
Monday 02/22:
A director purchased $500,000 worth of shares of a strongly-growing producer of wellness products at a P/E of only 12x (60% upside).
A CEO purchased $826,500 worth of shares from this Covid-19 tests developer which is growing by 432% (33% upside).
Tuesday 02/23:
A CEO purchased $55,038 worth of shares of a high-potential biotech stock with a lot of cash on hands (135% upside).
Wednesday 02/24:
No picks by our algorithms. 
Thursday 02/25:
A director purchased $476,495 worth of shares of a high-growth semiconductor company (25% upside).
Friday 02/26:
A director purchased $213,000 worth of shares of a high-quality anti-bubble stock at at P/E of 12x.
Now is the best time for you to discover Insider Opportunities: an all-in investment service which provides winning stocks via a revolutionary insider strategy.
We started a 15% exclusive discount last week for the first 30 members, but there are 22 places gone already! So don't hesitate to try it out!
With our 14-day FREE trial you have nothing to loose, but everything to win!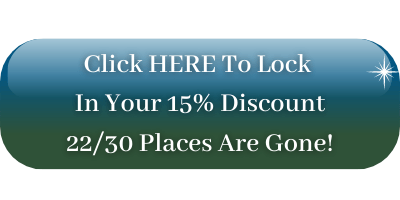 Many investors like you decided to pull the trigger and start a membership at Insider Opportunities to find winning investment ideas. It improved their investment success forever. Here are just two examples: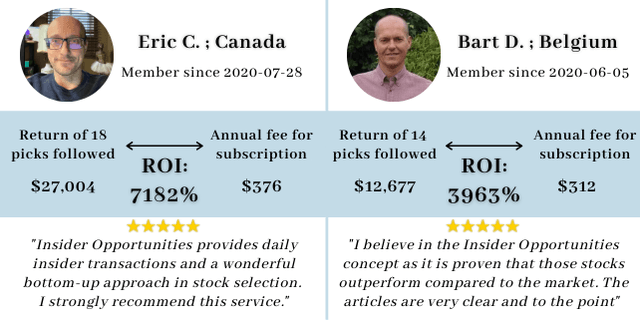 Seeking Alpha's Disclosure: Past performance is no guarantee of future results. No recommendation or advice is being given as to whether any investment is suitable for a particular investor. Any views or opinions expressed above may not reflect those of Seeking Alpha as a whole. Seeking Alpha is not a licensed securities dealer, broker or US investment adviser or investment bank. Our analysts are third party authors that include both professional investors and individual investors who may not be licensed or certified by any institute or regulatory body.